Faculty, alumni and seven students from the Master of Fine Arts in Creative Writing program dove into all things literary when they headed to the Association of Writers & Writing Programs Conference.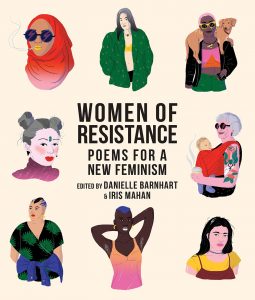 Faculty, alumni and seven students from the Master of Fine Arts in Creative Writing program dove into all things literary when they headed to Tampa, Florida, March 7 to March 11 for the 2018 Association of Writers & Writing Programs (AWP) Conference. Each year,hundreds of universities send participants, who attend activities such as panel discussions with renowned authors, readings, book fairs and networking opportunities.
For more than a decade, Adelphi has provided funding for M.F.A. students to attend AWP, and I was fortunate enough to be one of those students.
The eight other Adelphi graduate students and I attended panel discussions examining the craft and criticism of genres, artistic stewardship, the business side of publishing, and creative writing pedagogy. These panels included tips on how to introduce protagonists when screenwriting and how to teach poetry and select a literary agent. Students also attended panels where their favorite authors read their work and signed copies of their books. I attended "Truer Words Were Never Spoken," a panel on the challenges of writing about family in creative nonfiction/memoir, where I was able to network with writers such as Bridgett Davis and actress Bethany White.
"To have all my favorite writers in the same room—Ada Limón, Kaveh Akbar, Joy Harjo, Melissa Febos, Rachel McKibbens—I could have never prepared for such wonderful conversations," said Adelphi M.F.A. student Michelle Bermudez.
M.F.A. students Lydia Renfro, Kelsi Swenson, Sarah McGrail, Michelle Bermudez and Clara Burghelea, and alumna Jordan Rindenow '14, M.F.A. '17, working the Adelphi booth
Professional authors weren't the only presenters at the conference. Three Adelphi alumni—Jordan Rindenow, M.F.A. '17, Chris Eder, M.F.A. '17, and MJ McGinn. M.F.A. '17, —led panel discussions ranging from the future of Florida fiction, the language of sports in creative writing and the balance of being a professor and student.
At a daily book fair, universities, including Adelphi, marketed their programs, publishing companies advertised their books, and students networked with authors, poets, teachers, professors and publishers. Adelphi students worked the Adelphi booth, telling passersby about the M.F.A. program and promoting the book launch of Women of Resistance, a poetry collection edited by Danielle Barnhart, M.F.A. '15, and Iris Mahan, M.F.A. '14.
On the last day of the book fair, the anthology was available for purchase at our booth, and by midday we were sold out. Luckily, we were able to point readers to the Or Books website, where they could order copies online.
On the evening of March 9, dozens of people attended the book launch at Spain Restaurant in downtown Tampa. Poems featured in the collection were performed by Adelphi Professor and English Department Chair Jacqueline Jones LaMon, J.D., adjunct professor Mahogany L. Browne, and poets Safia Elhillo, Dorothea Lasky, Ed.D., Cynthia Dewi Oka, and Jenny Johnson, among others.
The restaurant was packed, but somehow I was able to find a seat at the front where I could see the expressions of the poets as they read from their work. There was something intimate about hearing these poems come to life—the emphasis on certain syllables, the energy of stanzas and the volume of vocabulary. What made the experience even more special was that many of the poets were people from Adelphi, doing what all of us M.F.A. students yearn to do: Share our words with the world.
Next year's AWP conference will be held in Portland, Oregon. I hope I'll be able to attend and even have my own panel. In any case, the M.F.A. newcomers truly do have an experience to look forward to.
"It was an amazing experience, where I met so many wonderful, wise people," said M.F.A. student Anna Atoria. "I can't wait until I can go again!"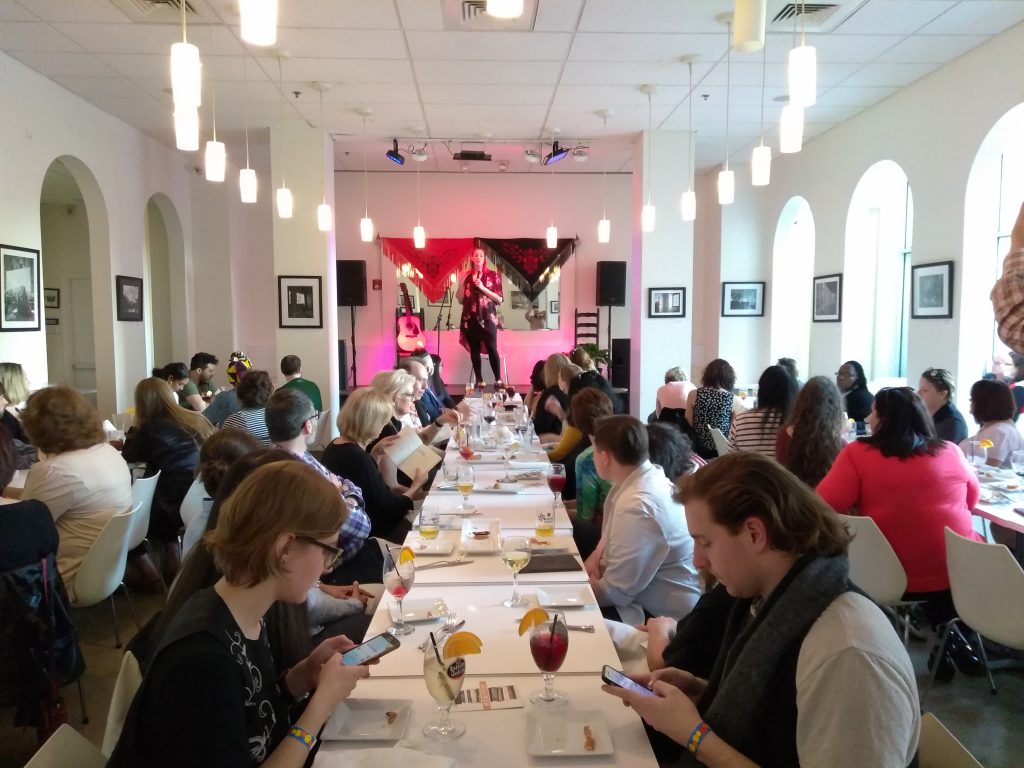 ---
For further information, please contact:
Todd Wilson
Strategic Communications Director 
p – 516.237.8634
e – twilson@adelphi.edu