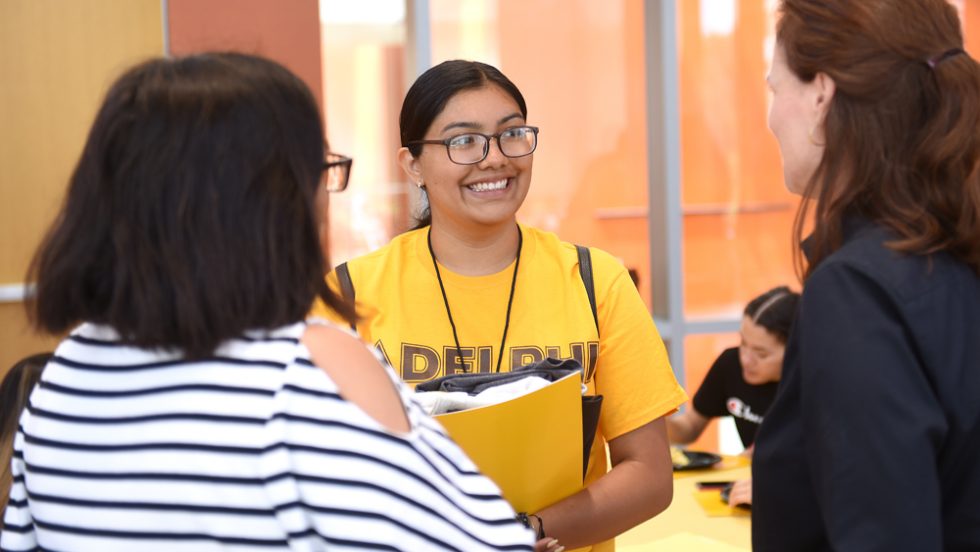 The 17 high school students who participated in the Hispanic Community Partnership Program, Adelphi's first college-readiness initiative aimed at Hispanic students, came away with a better understanding of college life and the importance of pursuing higher education.
Created by Adelphi's Office of Diversity and Inclusion, this free four-day college preparation initiative attracted 120 applications from seniors in the tristate area who were nominated by their high school counselors, teachers and parents.
During their August 1 to August 4 stay in Adelphi's residence halls, the 17 high schoolers took part in a variety of informative and entertaining activities.
Estefania Zea, project coordinator in the Office of Diversity and Inclusion, said that one of the program's objectives was to ensure that each student left with tools and resources to pursue college with confidence.
For Analiz Giron, 17, from A. Philip Randolph Campus High School in Manhattan, it was mission accomplished.
"I feel like I know what to expect when I start college in the fall of 2020," Giron said, adding that now she is also aware of the support systems available to college students.
"I have been considering Adelphi University for some time," she said, "but I had never been to the campus nor explored its programs. The opportunity to live on campus for free and with people from my ethnic background was something I wanted to be a part of."
Giron, who is co-captain of her school's tennis team and president of the Gateway Institute for Pre-College Education chapter at her school, said being part of the program also taught her to respect divergent opinions.
"I learned how to effectively argue a point without yelling and patiently waiting for my turn to speak," Giron added. "I also learned that everyone's ideology is different, so I can't get upset if I hear something I don't like, because everyone is entitled to their own opinion."
In addition, the students participated in reading, writing and STEM workshops as well as workshops that focused on time management, overcoming adversity, navigating the college application process, the importance of mentoring, financial literacy and more.
They also had fun. They engaged in a scavenger hunt at Adelphi's Swirbul Library and a yoga session, and they took a trip to the Museum of the City of New York.
More evidence of success: Adelphi's college-readiness program for Hispanic students will return in Summer 2020. Perry Greene, PhD, Adelphi University's former vice president for diversity and inclusion, said, "This is the first year, so we kept our numbers relatively small. But we hope to make the program even better next year."