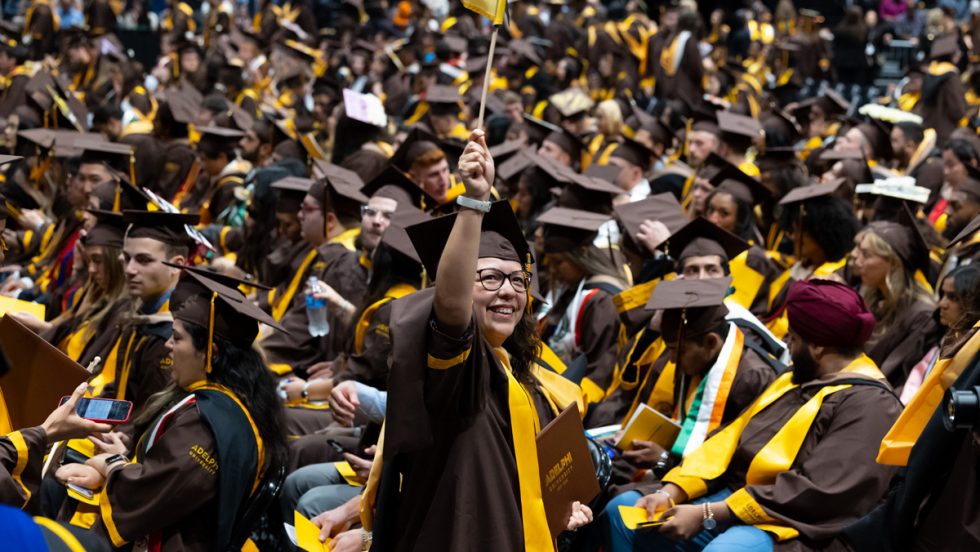 Adelphi's Class of 2023 celebrated their accomplishments with family and friends at the University's 127th Commencement ceremony on May 23 at Nassau Veterans Memorial Coliseum in Uniondale, New York.
President Christine M. Riordan conferred degrees on the 2,500 Adelphi students in the class who hail from 29 states and 42 countries. The oldest member of this year's class is 68 years old and the youngest is 17.
"You have all persevered through incredible shifts and changes during your time at Adelphi," said President Riordan to the audience of more than 7,000. "If I can leave you with one piece of advice today, it is to always keep learning."
Adelphi University Board of Trustees chair Mark S. Strachan '81 encouraged the graduates to "achieve more than you can imagine. Shake up the world and let them know you are here!"
Among students graduating this year, 1,295 undergraduate degrees and six undergraduate certificates were awarded, along with 828 graduate degrees and 127 graduate certificates. In the Doctoral Hooding ceremony held on May 22 at the Adelphi University Performing Arts Center on the Garden City campus, 58 doctorates were conferred. This year, the most popular undergraduate degree was the BS in Nursing, with 457 graduates, while the Master of Social Work (MSW) was the most popular graduate program, with 242 graduates.
Entrepreneur and humanitarian Hamdi Ulukaya, CEO of Chobani, delivered the keynote address and received an honorary doctorate. He shared his story of attending Adelphi's English language program in 1994 after emigrating from Turkey at the age of 21 and before continuing his education and launching the number-one selling yogurt brand in the United States.
He also focused on changes that members of the graduating class would face. "Life happens and forces you to change. Here is what I've learned: Your life gets disrupted and you may not have control. But you have complete control over what you do and how you react to it. When that day comes, you have everything you need to face that change and come out on the other side. Trust yourself, trust the unknown."
Four graduating students—Brooke Beck, Matthew Ingrao, Sabrina Ramirez and Bethany Wright— kicked off and closed the ceremony by singing the national anthem and the "Alma Mater," respectively.
Senior Class President Miguel Velasquez, Student Government Association President Tyler Masure and Graduate Student Council President Helen Kouridakis '20 shared remarks with the graduates and their guests.
Velasquez spoke of the bonds formed and experiences shared during his years as an undergraduate student majoring in history in the prestigious Levermore Global Scholars program. "Adelphi's community is so special because of how many people come together to support each other," he said and urged his fellow graduates to "make every day count and remind people how much they mean to you … the community you find or help build makes a difference in so many lives."
The Commencement and Hooding ceremonies were both live-streamed and can be viewed online at adelphi.edu/commencement.