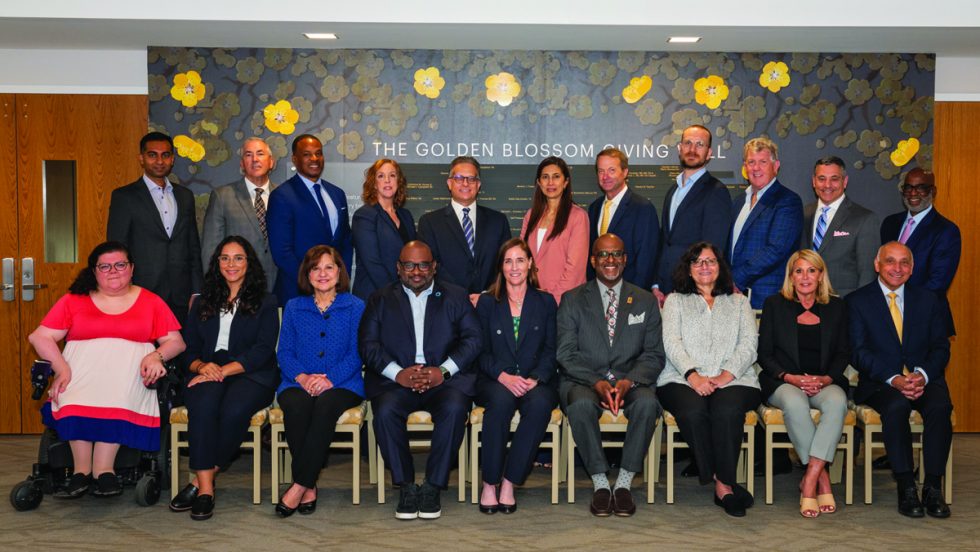 Recently, Adelphi welcomed five new members to its visionary board of trustees. The new trustees join us at a dynamic time in Adelphi history; they will guide our path as we take the first steps in achieving our transformative new strategic plan, Momentum 2.
The Adelphi University Board of Trustees recently welcomed five new members with dynamic business and leadership experience to help guide the University through its innovative Momentum 2 strategic plan and beyond.
The new members, including three Adelphi alumni, are industry experts in healthcare, finance, higher education and human resources. Their unique talents, knowledge and passion for service strengthen the board during a time of growth and transformation at the University and in higher education. Now comprising 27 members, the board consists of more than 80 percent Adelphi alumni and includes 10 women, 12 members of diverse populations and four young alumni.
Adelphi is proud to introduce these new trustees to the community and thank them for dedicating their time to ensuring the University's long-term success.
Doug Flynn '89

Doug Flynn is a certified financial planner and co-founder of Flynn Zito Capital Management, LLC. Flynn works with high-net-worth individuals and their trusts, including business owners, media personalities, professional athletes and other high-profile clientele. He specializes in comprehensive financial planning, private wealth management, strategic and tactical asset allocation and full, independent investment management services.
Flynn has contributed to five best-selling personal finance books. He is also a recurring guest on several financial TV shows, discussing various economic, investment and financial planning topics. Flynn often appears as a financial expert in major media outlets such as FOX, CNN, CNBC, ABC, The Wall Street Journal, The New York Times, Financial Times and Reuters. He has spoken at engagements across the United States for organizations such as American Express, Goldman Sachs, the National Hockey League Players' Association and New York Yankees. Flynn generously donates resources to several worthy causes and presently sits on the board of a prominent local charity serving the needs of the underprivileged. In 2010, Flynn and his business partner, Richard J. Zito, established the Flynn Zito Capital Management Scholarship Fund to award an annual scholarship to Adelphi finance students in need. Before joining the board of trustees, he also offered his time and expertise as a President's Advisory Council member.
Nicholas Iadevaio Jr., MBA '00

Nick Iadevaio's 35-year career spans multiple industries and functions across Fortune 500 global companies. His expertise includes diversity, equity and inclusion, executive coaching, leadership development, conflict management, cross-cultural communications, global awareness and team building. Before joining the board of trustees, Iadevaio brought his valuable experience and perspective to the President's Advisory Council and Robert B. Willumstad School of Business Dean's Advisory Board. He has also served as a guest lecturer at Adelphi.
Iadevaio is currently the vice president of diversity, equity and inclusion (DEI) at L'Oreal USA, after almost 15 years leading human resources strategy for multiple L'Oreal brands. During his time there, he has successfully worked with, coached and developed employees from all levels—C-Suite, senior-level executives and store employees—across all professional functions such as marketing, finance, sales, information technology, human resources, digital, education, distribution, and research and development. In his DEI role, Iadevaio leads the veterans/military, disability, supplier diversity, and age/generations strategies, serves as an adviser to the HR teams, and delivers much of the DEI educational content across the business. He has been a mentor, speaker and volunteer for numerous veteran and disability support organizations, and he serves on the Community Advisory Board for Employment Horizons, a disability employment agency.
Joseph Moscola, MBA '06

With a unique blend of executive leadership and clinical expertise, Joe Moscola has advanced Northwell Health's mission and brand nationally, impacted revenue and improved quality for the past 20 years. As executive vice president of system operations at Northwell, he has guided the organization into the digital age by implementing system solutions, including strategy development, tactical deployment, service-level agreements and budgeting. Moscola oversees nearly 30 million square feet of space throughout the entire Northwell system and founded two for-profit companies within Northwell—FlexStaff and Northwell Direct—dealing with internal and external staffing needs and direct-to-employer care delivery.
Moscola previously served as Northwell's chief people officer and created a strategic roadmap to elevate team member engagement. As a result of the work Moscola started, Northwell placed on Fortune magazine's 100 Best Places to Work and number one on DiversityInc. As a cardiothoracic surgery physician's assistant, Moscola brings a unique customer perspective to his executive leadership roles. In addition to his new role on the Adelphi University Board of Trustees, he also serves on the boards of the American Hospital Association, Greater New York Hospital Association, Northwell Direct and Northwell Health Plans Holding Company.
Kimberly Sluis, EdD

Kimberly Sluis, EdD, is an equity-focused, creative and collaborative higher education and nonprofit leader. She serves as vice president for programs at Strada Education Foundation, a national nonprofit working to ensure that education provides equitable pathways to prosperity. Dr. Sluis spent most of her career in campus-based higher education roles focusing on student success. She served as dean of students and vice president for student affairs and held executive-level responsibility for strategic planning. Before moving to Strada, Sluis also worked in higher education consulting, supporting institutions on projects ranging from organizational redesign and technology transformation to mergers and creative partnerships.
Dr. Sluis earned her doctorate in higher education management from the University of Pennsylvania, her master's in higher education and student affairs from Indiana University, and her bachelor's in sociology from North Central College. She is an alumna of the 2014 Harvard University Institute for Educational Management; was chair of the alumni board for the University of Pennsylvania's Executive Doctorate in Higher Education program; and was a member of the board of directors for the nonprofit 360 Youth Services. She is also a returned Peace Corps Volunteer who served three years as a health and water sanitation volunteer in Ghana, West Africa.
Greg Carey

Greg Carey is chairman of the Public Sector and Infrastructure group at Goldman Sachs and head of the firm's Global Sports Finance and Advisory practice. His many innovative transactions span various infrastructure sectors, from project finance and surface transportation to major stadiums and arenas across the country and Europe. Seven of Carey's team's financings have earned The Bond Buyer, Institutional Investor or Project Finance "Deal of the Year."
Carey's notable municipal transactions include financings for Yankee Stadium; Barclays Center; Grand Parkway, Houston; Central Texas Turnpike, Austin; North Texas Tollway, Dallas; and New York Power Authority. He has spent 40 years in public finance banking and has been a financial adviser to the Suffolk County Water Authority since 1987. He joined Goldman Sachs as a managing director in 2004 after working at Citigroup for 22 years, where he co-headed the firm's infrastructure group. He earned an AB in Economics from Harvard University in 1983. Carey is the former vice chair of the Tisch Center Advisory Board at New York University, where he taught a course on the business of sports facilities. He previously served as chairman for the Children's Academy in New York, an innovative specialized school teaching children with speech and language delays.