Before starting a new semester, new year and new decade, here's a look at what we accomplished at Adelphi University in 2019.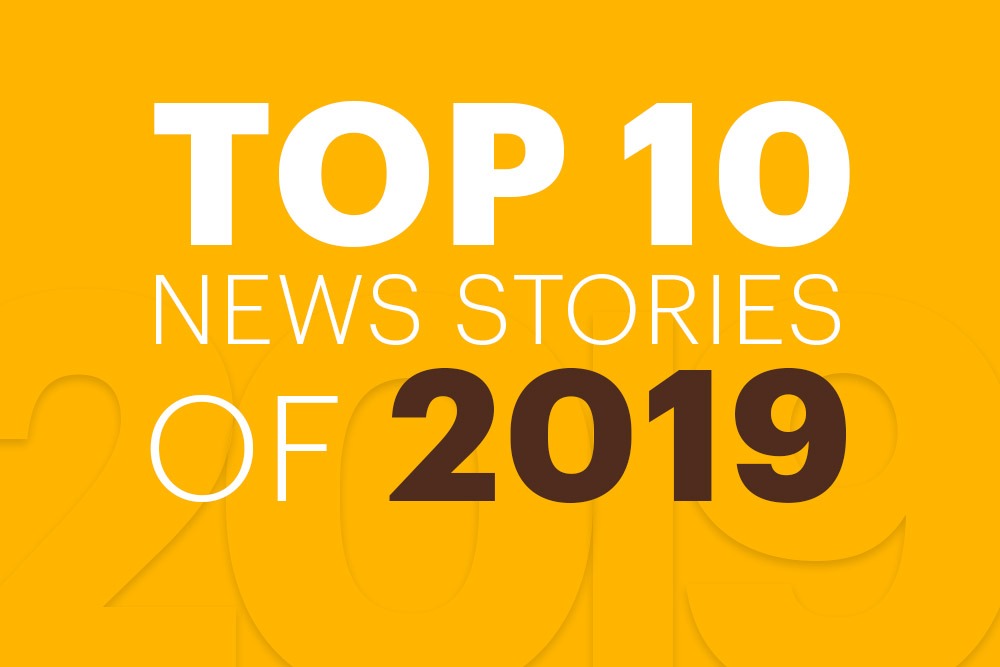 Top 10 News Stories of 2019
Before we jump into a new semester, a new year and a new decade, let's pause to look back once more on what we accomplished in 2019. Here are our top 10 news stories (follow-up stories included) in chronological order.
1. Recognition for the College of Nursing and Public Health
The College of Nursing and Public Health started 2019 with great news about our students' test pass rates on a crucial exam: the demanding National Council Licensure Examination (NCLEX). In January, we announced that for the four quarters of 2018, Adelphi's first-time pass-rate average rose to 85 percent. And in the third quarter of 2018, the average pass rate was 89.4 percent, which was the highest rate in eight years.
That was just the start of a great year for our nursing programs. In March, we reported how the College rose 49 spots in the U.S. News & World Report 2020 rankings for Best Graduate Schools. In August, the National League for Nursing recognized the College as offering one of 10 nursing programs from across the country and gave us a four-year designation as a Center of Excellence in Nursing Education-Advancing the Science of Nursing Education, and Nursingprocess.org named our RN to BSN program one of the Top 10 Best Accredited RN to BSN Programs in New York state for 2019.
2. Two New STEM Programs Prepare Students for Today's Hot Jobs
The STEM (science, technology, engineering and mathematics) fields are booming, and Adelphi continues to introduce programs to prepare future professionals for careers in these areas. In May, Adelphi added a new minor in scientific computing—the first of its kind in New York state—in partnership with the U.S. Department of Energy's Brookhaven National Laboratory. In July, we announced we were partnering with SUNY Upstate Medical University to launch the Adelphi-Upstate Accelerated Scholars Program, a guaranteed medical school entrance program for new undergraduates.
3. National Science Foundation Grant Promotes STEAM Education
Adding the "Arts" to STEM education (STEAM) is a great way for teachers to engage students in math and science. In May, the National Science Foundation awarded Adelphi a $1.2 million grant to support The New York Noyce STEAM Pipeline: Preparing Next Gen Science Teachers at Adelphi University. This program aims to recruit, support and prepare 24 science teachers, including those from typically underrepresented groups, to take science teaching positions in high-needs school districts. In November, the program received the Inspiring Programs in STEM Award from INSIGHT Into Diversity magazine, the oldest and largest magazine devoted to diversity in higher education.
4. A Generous Scholarship Transforms Lives of Students Overcoming Physical Challenges
In May, Adelphi received a $900,000 donation to create a scholarship in honor of the late Trustee Emeritus John J. Gutleber '68, MBA '70, with the board of trustees matching the annual payout of the endowment in perpetuity, doubling the impact of this undergraduate scholarship for graduates of the Henry Viscardi School. In August, Peri Finkelstein and Christopher Alvarez became the first two recipients of this transformative award.
5. Our Students Take on New York City
Our students take advantage of New York City from before they set foot in the classroom their first year through senior year and graduate school. In July, we reported on how incoming first-year students were heading to the Big Apple as part of the University's required First-Year Seminars and how students gain valuable experience by interning for New York City financial firms, entertainment companies, healthcare systems or nonprofits.
6. Spotlight on Community Service and Faculty Research
We published new issues of our two flagship publications: Adelphi University Magazine and Academic and Creative Research Magazine. Adelphi University Magazine featured the ways Adelphi students, faculty and staff are involved in community service. The research publication showcases the work of our faculty, with a feature story on social justice.
7. Program Opens Doors for Hispanic High School Students
This summer marked the launch of our Hispanic Community Partnership Program, a free college-readiness program for rising high school seniors of Hispanic background from the tristate area. From August 1 to August 4, our campus welcomed 17 students who enjoyed workshops and activities that introduced them to the college experience.
8. A Grant to Keep Our Residence Halls in Good Shape
In August, we got word that we'd received a $1 million Higher Education Capital (HECap) Matching Grant from the state of New York. The funds from this grant will support residential housing projects and improve student life at Adelphi.
9. Survey Shows Great Career Outcomes for New Alumni
Our Career Outcomes Survey: Class of 2018 is released, and the results show our students leave Adelphi primed to land employment, succeed in their careers or pursue more advanced degrees. Participating undergraduate and graduate students report impressive outcomes: 95 percent of undergraduates and 94 percent of graduate students reported being employed or furthering their education within six months of graduation.
10. Adelphi Rankings Are on the Rise
U.S. News & World Report names us a "best" college in five different categories:
In addition, we received top marks from other publishers and honors for our commitment to diversity and inclusion.
---
For further information, please contact:
Todd Wilson
Strategic Communications Director 
p – 516.237.8634
e – twilson@adelphi.edu