Long Island Photo Exhibit

Graffiti on an abandoned factory in Soweto, South Africa ©Robert A. Scott
Dr. Robert A. Scott, president of Adelphi University, will have recent photographs on view in two exhibitions: Secret Artists at the Great Neck Arts Center (113 Middle Neck Road, Great Neck, NY) from Sunday, October 16 to Sunday, December 4, 2011, and Mala Mala 2011, a solo exhibition at the Adelphi University Manhattan Center Gallery (75 Varick Street, second floor, New York, NY) now through Friday, August 31, 2012.
Secret Artists is an exhibition showcasing artwork by several unknown New York area artists, including Dr. Scott. These heads of major corporations and institutions are not always known for their art, but often are artists in their own right. Dr. Scott will feature several photographs of various works of sculptures as well as of wildlife and landscapes from his international and Long Island travels. The opening reception will be held on October 27, 2011, from 6:00 to 8:00 p.m.
Mala Mala 2011, President Scott's solo exhibition at the Adelphi University Manhattan Center Gallery, features photographs that chronicle the trip he and his wife, Carole Artigiani, took to South Africa in January 2011. Their trip began as an educational foray to learn about the people and their history, and to be among native animals in their habitat, especially the "big 5"- elephants, rhinoceroses, lions, leopards, and cape buffalo. These photographs developed into a  record of these magnificent animals playing, hunting, cuddling, and resting amidst the flowers, plants, and trees that provided their protection and nourishment. The opening reception for Mala Mala 2011 will be held on Wednesday, November 2, from 6:00 to 8:00 p.m.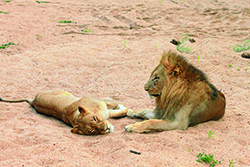 Lions in Mala Mala, South Africa 
©Robert A. Scott
Guests are welcome at both occasions, but must RVSP to Maggie Yoon at yoon@adelphi.edu one week in advance.
Dr. Scott has also been included in a newly released publication, Edwina Sandys ART. His photograph of Edwina Sandys' sculpture entitled, "Guardian Angel", which was on view at the fifth Adelphi University Outdoor Sculpture Biennial, is included in her new hardcover book. Edwina Sandys ART is available at Rizzoli's (31 West 57th Street, New York, NY) and other fine book stores.
---
For further information, please contact:
Todd Wilson
Strategic Communications Director 
p – 516.237.8634
e – twilson@adelphi.edu