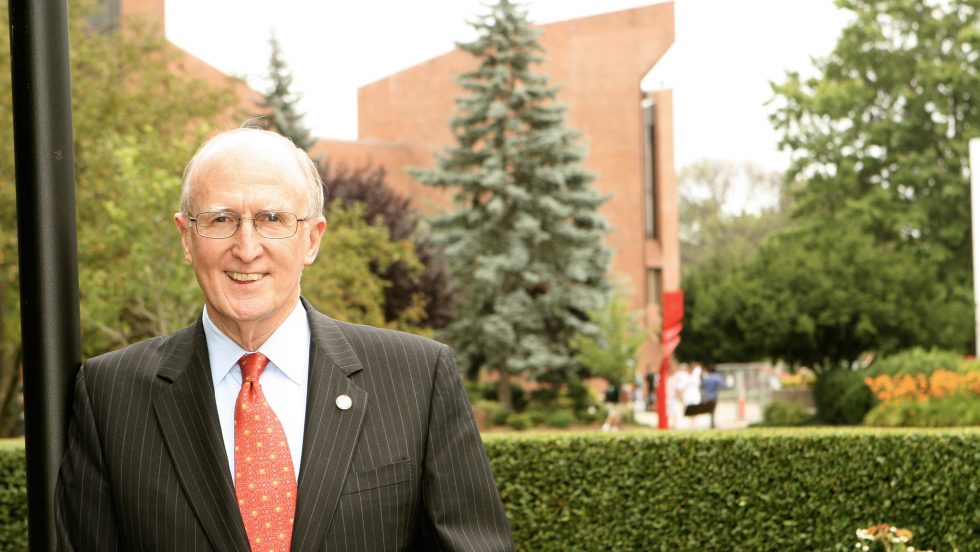 American Society for Industrial Security Honors Adelphi President
Adelphi University President Robert A. Scott has been selected as the American Society for Industrial Security Long Island Chapter's (ASIS) 2012 Person of the Year. He will be honored at the annual Person of the Year Awards Dinner, which will be held on April 18, 2012 at the Chateau Briand, 440 Old Country Road, Carle Place, NY.
Adelphi's remarkable safety records, emergency management planning and security improvements have been featured in numerous publications and news outlets: Security Sales & Integration, Campus Safety, Campus Security Report,Long Island Business News, Fox News, University Business Magazine, Campus Law Enforcement Journal and Security Management.
Since becoming president, Dr. Scott has made campus safety and emergency planning a top priority for everyone at Adelphi University. Adelphi was the first school on Long Island to have an advance emergency communications system. Other safety features implemented include the development of an Emergency Operation Center and a Mobile Command Center. Adelphi has been a model institution for installing state-of-the-art security technology that includes biometric access controls, ID management, IP video system, license plate and vehicle recognition systems, over 400 security cameras throughout campus, sprinkler systems throughout the residence halls, panic and duress alarms, emergency call boxes, and exterior public address system. There are also numerous safety events held every semester to inform students and employees of what to do in cases of emergency.
Under Dr. Scott's leadership, a Campus Safety 101 program was created to educate all incoming freshman and their parents on the importance of campus safety and emergency planning. Adelphi University partnered with the Nassau County District Attorney's Office and Nassau County Coalition Against Domestic Violence to customize a Sexual Assault prevention program to train all Adelphi Public Safety Officers and Residential Life staff.
Dr. Scott, representing The Long Island Regional Advisory Council on Higher Education, held the first forum on campus security best practices and emergency planning for colleges on Long Island. In January 2012, Adelphi University partnered with the Nassau County Police Department to host a forum to discuss active shooter situations.  In attendance were school superintendents, principles and campus safety directors in Nassau County. Dr. Scott has been a strong supporter of the Long Island & Metropolitan College and University Security Consortium.
Dr. Scott is the author or editor of more than 200 essays and articles, as well as nine books and monographs. He also hosts a regularly televised program entitled, "Exploring Critical Issues," for which he has earned three Telly Awards.  In 2003, Dr. Scott won "Outstanding Paper" recognition from the Emerald Literati Club (U.K.), and in 2010 he received the top prize for the "Print Weeklies" editorial category from the Press Club of Long Island. Since becoming president of Adelphi in 2000, more than 300 new faculty have been appointed; enrollment has increased nearly 50%; new academic programs and services have been started; new constructions for student residences, Fine Arts, Early Learning, Recreation and Sports, and Performing Arts have been completed; and, for the sixth year in a row, Adelphi was cited as a "Best Buy" in private higher education by the Fiske Guide to Colleges.
ASIS International is dedicated to increasing the effectiveness and productivity of security practices by developing educational programs and materials that address broad security concerns. By providing its members and the business community with access to a full range of programs and materials, ASIS International leads the way for advanced and improved security performance.
The Long Island Chapter of ASIS International, with approximately 300 members, contains a spectrum of security professionals who share experiences and best practices. Corporate security and law enforcement professionals, including many Fortune 500 companies and federal, state, and local law enforcement, are involved in the Chapter.
For more information about Adelphi University, please visit adelphi.edu.