Once again, Adelphi University is rated a Best Buy in the Fiske Guide to Colleges 2014.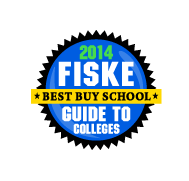 Rating comes from the top independent voice in college admissions
Once again Adelphi University has been rated a "Best Buy" in higher education by the Fiske Guide to Colleges 2014. The university has held this honor for the last eight years. To be qualified as a "Best Buy" institution, former New York Times education editor, Edward B. Fiske takes into account many qualities, such as "four- or five-star academic ratings, inexpensive or moderate price category, and quality of student life on campus."
In this 30th anniversary edition of the guide, Adelphi University is the only Long Island based institute of higher education on the list of 21 public and 20 private colleges and universities in the U.S., Canada and the U.K.
At a time when higher education is under intense scrutiny to demonstrate its relevance and value, Adelphi University has recently been recognized by national outlets that measure collegiate success including:
U.S. News & World Report ranked Adelphi University was ranked as a "Top 15 Overperformer" in undergraduate academic reputation;
Business Insider ranked Adelphi University #18 in The 25 Most Underrated Colleges In America;
The Education Trust rated Adelphi University as a "Top 25 Gainers in Hispanic Student Graduation Rates Among Private Institutions" in their "Advancing to Completion: Increasing degree attainment by improving graduation rates and closing gaps for Hispanic students;"
On sale in bookstores the Fiske Guide to Colleges is also available as an iPad app on iTunes and a Web app on CollegeCountdown.com. Fiske Interactive ($19.99) allows families to go beyond the book by viewing photos of each campus, creating school lists, and taking virtual notes. Readers will discover the real personality of Adelphi University based on a broad range of subjects, including student body, academics, social life, financial aid, campus setting, housing, food, and extracurricular activities.
---
For further information, please contact:
Todd Wilson
Strategic Communications Director 
p – 516.237.8634
e – twilson@adelphi.edu