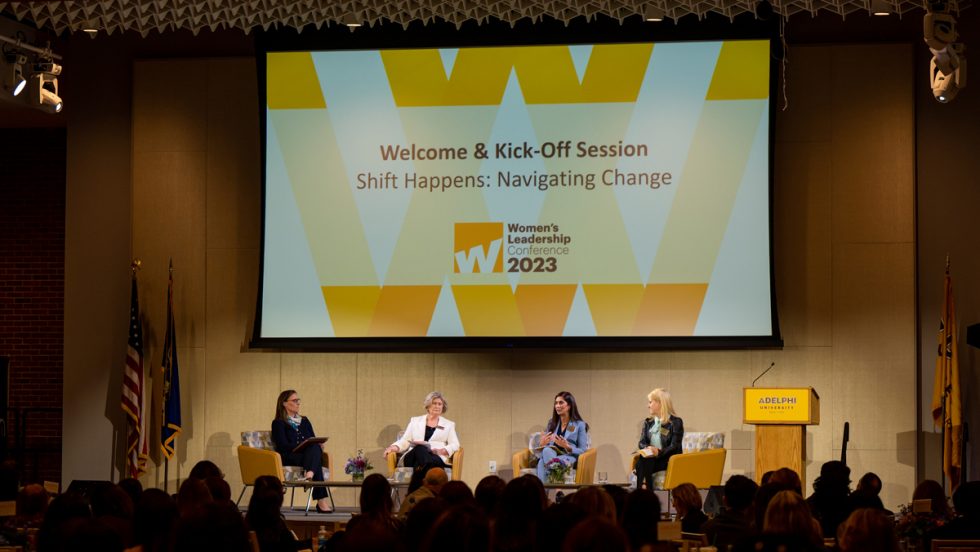 More than $100,000 was raised in support of women's leadership programs.
Adelphi had record-breaking attendance of more than 360 students, alumni and top industry leaders at its sixth annual Women's Leadership Conference on Saturday, March 25.
Since its launch in 2018, the conference has grown exponentially and expanded to a hybrid format, hosting participants at Adelphi's award-winning main campus in Garden City and online.
Additionally, more than $100,000 was raised for Adelphi's annual and endowed funds for women's leadership to support the expansion of the conference, offer robust programming and underwrite the cost of attendance for Adelphi students.
"I am extremely proud of this year's conference, the quality of programming and its impact on our community," said Thomas A. Kline, EdD, vice president of University advancement and external relations. "Our donors and sponsors provided critical support in advancing our mission of women's empowerment and helped us continue our goals to expand our reach in the community."
This year's conference, themed "Defining Leadership for Our Lives, Our Careers and Our Communities," featured seven panels and breakout sessions, which covered topics on self-advocacy, brand building, leadership styles, ethics, parenting and accessibility. Attendees networked, took professional LinkedIn headshots and made use of the TypeFocus Assessment—a professional tool for pinpointing individual areas of strength, personal values and unique leadership profiles.
The opening session set the day's tone with "Shift Happens: Navigating Change," a conversation moderated by Adelphi's first woman president, Christine M. Riordan, PhD. The powerhouse panel included LeeAnn Black '83, chief operating officer of Latham & Watkins; Humera Qazi '93, managing director at Morgan Stanley and Adelphi trustee; and Lois Schlissel, JD, former managing partner at Meyer Suozzi English & Klein, P.C., and Adelphi trustee emerita.
"The ability to adapt is going to be the number one competency for career success in the coming era," said Dr. Riordan, who is authoring a book on how to thrive in the ever-changing world of work. "Research indicates that our students will have as many as 15 different jobs over the span of their careers."
Highlighting professional enrichment opportunities such as this conference, Qazi said professionals must continually keep working to expand and develop their skill sets. "Change is constant, and embracing it will help you grow," she said.
According to Black, who is a member of Adelphi's President's Advisory Council, "Successful leaders also surround themselves with adaptable individuals. A leader's responsibility is to find and tap into the strengths in each of our team members."
raised in support of women's leadership programs at Adelphi University
"Our students are fortunate to have access to the extraordinary wisdom, talent, experience and advice all gathered in one place for our annual Women's Leadership Conference," said Anna Zinko, Adelphi's assistant vice president for student affairs. "This is an inspiring event for anyone who wants to be empowered in their career and life, so I was pleased to see so many of our students taking advantage of this opportunity."
The daylong event concluded with dinner, awards and a keynote conversation with acclaimed actress, author and immigration activist Diane Guerrero, best known for her roles in Disney's Encanto, the Netflix series Orange Is the New Black and television's Jane the Virgin.
This year's conference was made possible through the generous support of sponsors and supporters, including corporations, organizations and individuals. It also involved partnerships at all levels of the institution, including the University's Student Government Association.
"Our alumni, community members, friends and partners bring their resources, time, talent and commitment to this amazing event," Dr. Kline said. "I'm grateful for our shared commitment to advancing women in leadership; we have already started planning to make next year's event even bigger and more impactful!"