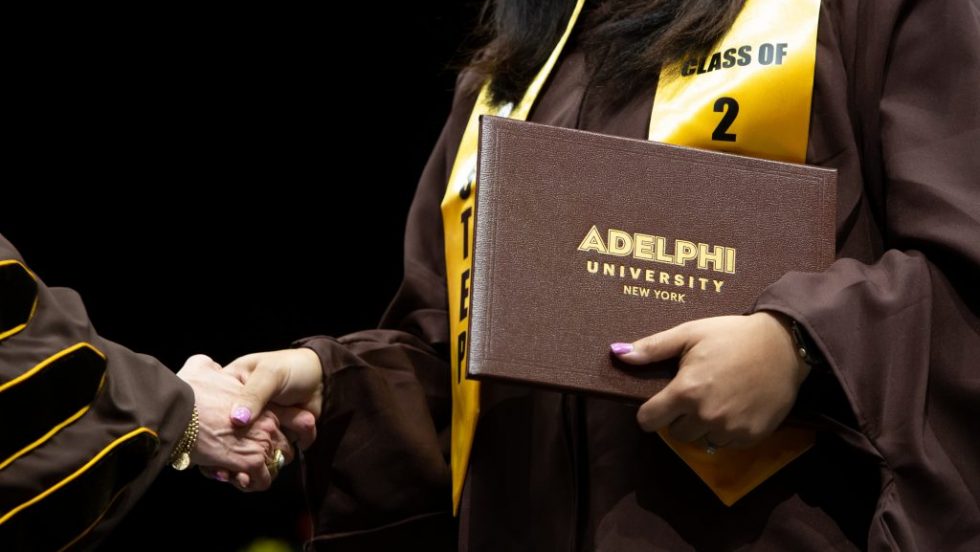 Dear Adelphi Community,
On April 12, New York state Gov. Andrew Cuomo announced long-awaited guidance on how colleges and universities can host safe in-person commencement ceremonies. Once this new guidance was released, Adelphi's Commencement Committee immediately began re-examining our plans with the goal of providing a more traditional Commencement experience for our graduates within health and safety restrictions.
We are pleased to share that Adelphi University will hold in-person Commencement ceremonies and conferral of degrees for the Class of 2020 and Class of 2021 on our Garden City campus on Sunday, May 23 and Monday, May 24. Each graduate may invite two guests to attend their ceremony.
Adelphi University's in-person Commencement ceremonies will be held in addition to our existing Grad Walk experience and virtual Commencement ceremonies.
Members of the Adelphi community and administration, including Adelphi University President Christine M. Riordan and Provost Steve Everett, will be in attendance to celebrate our graduates, who will each be recognized from their seats. Commencement ceremonies will be held outdoors, rain or shine.
Class of 2020 and Class of 2021 graduates:
Please log in to the MarchingOrder portal no later than Sunday, May 9, to indicate your interest in attending Adelphi University's in-person Commencement. Late responses are unable to be accommodated. Soon after the May 9 deadline, you will receive confirmation of your assigned ceremony date and time.
Formal Commencement attire (cap and gown) is required at Adelphi's in-person Commencement ceremony. If you have not done so already, please order your regalia no later than Friday, May 7, to allow at least two weeks for shipping. Remember, the cost of your cap and tassel are covered by Adelphi as a gift to you. Please contact the University Bookstore with any questions by calling 516.877.3900 or emailing bookstoremanager@adelphi.edu.
All attendees—graduates and guests—must submit proof of vaccination (completed at least 14 days prior to Commencement) or a negative COVID test. (Acceptable tests and timing requirements are detailed on the In-Person Commencement Ceremony Vaccination and Testing Requirements page of our Commencement website.) Please contact the Health Services Center with any questions by calling 516.877.6000 or emailing healthservicescenter@adelphi.edu.
To ensure a smooth check-in process, we request that all graduates and guests submit documentation of vaccination or a negative COVID test at least two hours in advance of their assigned ceremony.
For students, this documentation can be uploaded to your Health Portal through eCampus, on your browser or the AU2GO app.
Guests may email their documentation to covidclearance@adelphi.edu, including their graduate's name and ceremony date and time.
Each ceremony will be limited to no more than 450 students and guests. There will be a limited presence of leadership, administration and faculty in attendance and onstage, as capacity is prioritized for our students and their guests.
Please note that our Commencement plans continue to be subject to Nassau County Department of Health regulations and approval, and are contingent upon COVID-19 positivity rates remaining below approved thresholds, both for the county and at Adelphi. Temperature screenings, social distancing and masks will be required. Due to strict adherence to regulations, there can be no exceptions to the deadlines, guest limits, testing requirements or other protocols shared above.
As updates become available, we will share them by email and on our Commencement website. If you have questions or concerns please email us at commencement@adelphi.edu.
Adelphi University is excited and thankful that recently updated state guidelines have allowed us to pivot to a Commencement celebration that is more in keeping with our tradition. We look forward to the many ways we have planned to commemorate the achievements of our Adelphi graduates.
Sincerely,
Cara Terzulli, MPA
Deputy to the Provost
Commencement Committee Co-Chair
Kaitlyn Woods '12, MBA '15
Senior Associate Director of Special Events and Engagement
Commencement Committee Co-Chair