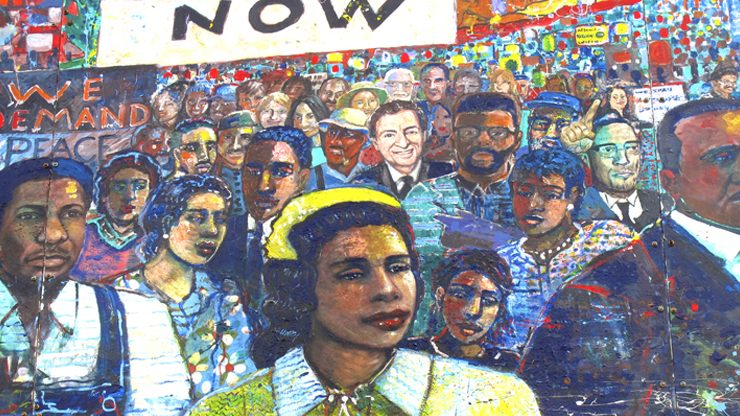 Throughout the month of February, Adelphi University will celebrate Black History Month by hosting a number of events on campus.
On Friday, February 1, a solo exhibition titled "Empire of Mythology" by Coby Kennedy, a multimedia artist from New York, will open in the Ruth S. Harley University Center, hosted in collaboration with the Center for African, Black and Caribbean Studies (CABCS). There will be a public reception on February 24, from 3:00 p.m. to 5:00 p.m. The exhibit will run until April 5.
The Department of Intercollegiate Athletics will host the 17th annual Black History Month Dinner Celebration on Thursday, February 7, at 6:30 p.m. Since 2010, two Adelphi student-athletes of color are also presented with the Cecil K. Watkins Award at the event annually, which honors sophomores, juniors or seniors who achieve academically and are involved in community service, either on or off campus, and serve as role models. This year's event will feature keynote speaker and Adelphi University Trustee Marc S. Strachan '81, chairman of ADCOLOR.
On Wednesday, February 13, Professor of History at Barnard College and award-winning author Premilla Nadasen, Ph.D., will present the John Hope Franklin Distinguished Lecture "Black Feminism Will Save Us All." Cosponsored by CABCS, the lecture begins at 7:00 p.m. in the Ruth S. Harley University Center's Thomas Dixon Lovely Ballroom.
Theater star Norm Lewis will hit the Westermann Stage at the Performing Arts Center at 8:00 p.m. on Friday, February 15. Lewis made history in 2014 as The Phantom of the Opera's first African American Phantom on Broadway. Lewis was recently seen in the NBC television special Jesus Christ Superstar Live in Concert! alongside John Legend, Sara Bareilles and Alice Cooper.
In addition, the African American Read-In will take place on Thursday, February 21, from 4:00 p.m. to 7:00 p.m. in the Ruth S. Harley University Center Fireplace Lounge.