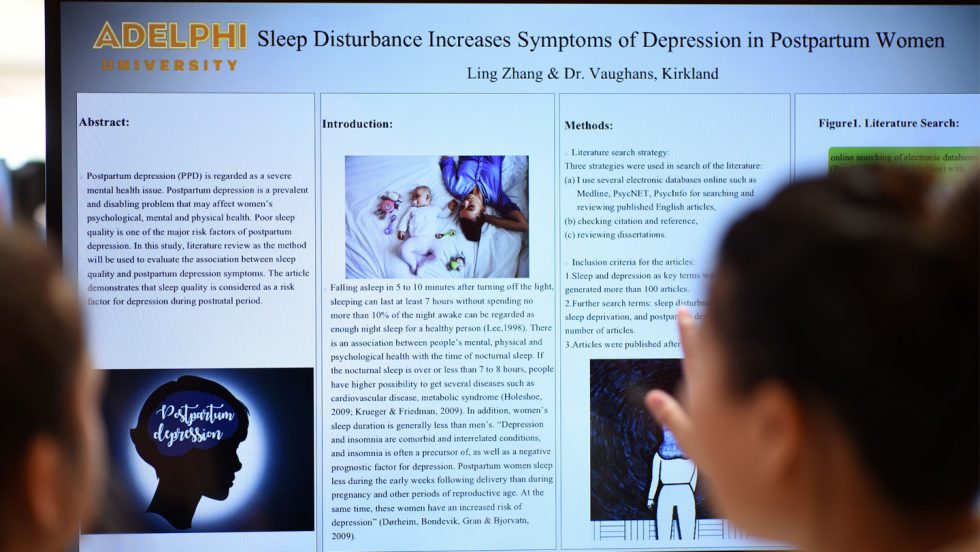 Each spring, the Adelphi community comes together to celebrate student scholarship and creativity during the annual Scholarship and Creative Works Conference.
On Tuesday, April 27, hundreds of Adelphi students from various academic disciplines, spanning from the arts and humanities to the natural and social sciences, will share their work with peers, faculty members, alumni and others.
The goal of the conference, which used to be known as Research Day, is to celebrate the efforts of students and their faculty members and expand the classroom learning experience through research. In the process, students build presentation and communication skills, learn to discuss their work and engage with other scholars, and develop an appreciation for scholarship and what it contributes to society.
This year's keynote speaker will be Emily Graslie, an award-winning science communicator and YouTube educator. As the former chief curiosity correspondent for the Field Museum in Chicago, she served as creator, host and writer of The Brain Scoop, an educational YouTube channel with over 200 episodes about natural history that have been viewed more than 32 million times. In 2020, Graslie made her broadcast television debut on PBS as executive producer, host and writer of Prehistoric Road Trip, a new series by WTTW Chicago about paleontology and geology in the Dakotas, Montana and Wyoming.
Talks, posters, creative exhibitions, etc., will be offered through a digital conference hosting platform.
With the virtual format in mind, the conference will embrace a "table-talk" approach to oral presentations this year.
"While we all wish that a celebration such as this could be in person, we are also excited about the opportunities that a virtual conference provides," said Nathan George, PhD, assistant professor in the the Gordon F. Derner School of Psychology and a conference organizer. "As opposed to presenting to a larger audience, students will present in a more intimate roundtable setting with a handful of faculty and peers. We hope this format will provide space for deeper conversations between our presenters and the attendees."
For the first time, Adelphi will welcome back alumni whose presentations were canceled last year due to the COVID-19 pandemic. "We are excited to provide them this platform that they so deserve, and to expand the reach of the conference to the broader Adelphi community," Dr. George said.
The conference will showcase more than 200 presentations, talks, posters and performances on topics including COVID-19, mental health, addiction, cyberbullying, music education, Greek mythology, food insecurity, injustice and social reform, and many more.
The conference will conclude with a ceremony recognizing award winners and congratulating the entire research community on their achievements.
"Above all, our goal this year was to maintain the community spirit of the event, even in a year in which we cannot gather together in person," said Dr. George. "All of the traditional formats, from posters, to talks, to creative displays and performances will live on in this format, and we are dedicated to providing ample opportunities for our presenters to discuss their work with both faculty and peers. We hope that everyone will consider joining us for this celebration of student achievements!"
See more about the Research and Creative Works Conference.