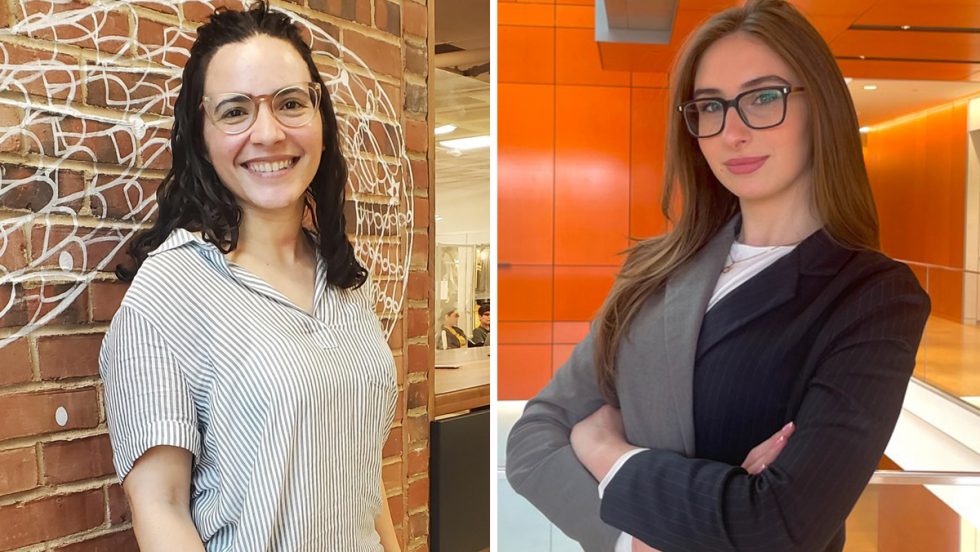 Two Adelphi students have been selected to represent the University as United Nations youth delegates. This year's representatives are Sarah Delannoy, a graduate student majoring in social work, and Nino Burjanadze, an undergraduate student majoring in political science. They will join over 550 young people from 100 countries across the globe benefiting from the program, giving them a voice on the thematic issues of concern to youth.
Established in 2009, the Department of Global Communication's Civil Society Youth Representatives Programme serves as an advocacy platform to bring together young people working within leading DGC-associated civil society organizations to focus on issues on the agenda of the United Nations. These representatives serve as liaisons for the interests of their organizations, creating opportunities for intergenerational dialogue and mentorship.
Access to U.N. Headquarters in New York City
As representatives, Delannoy and Burjanadze will have access to the U.N. Headquarters in New York and youth-related public information events, can participate in social media campaigns and youth blogs, and serve as panelists at the U.N.'s Civil Society weekly briefings and other speaking engagements. The students' role as delegates will run from February 2023 to December 2023/January 2024.
Engaging Adelphi Youth With Global Issues
Delannoy, who is working toward a social work master's degree at Adelphi, says being a delegate with the U.N. will be a valuable opportunity to meet and learn from a diverse set of youth leaders and learn more about and address important global issues.
"We live in a world that appears to destroy the progress made toward systems of oppression," said Delannoy. "Issues such as poverty, racism, human trafficking and many others are crucial to address and to advocate for change. It is important to come together for open dialogue and take actionable steps toward change."
Burjanadze, an Adelphi Levermore Global Scholar, says she has been passionate about local and global issues since high school. She hopes this opportunity as a U.N. representative will provide a platform for her to educate fellow students about the U.N.'s role in combating climate change, human rights issues, peace and security, as well as prepare her for a future career working for an international organization.
"My goal with this huge honor and responsibility will be to connect different Civil Society events and projects to Adelphi," said Burjanadze. "Youth engagement is a necessity for change, so for the next two semesters, I will be hosting, creating and leading various events to inform as many students as possible. I am privileged to be among brilliant students from different backgrounds and to have fascinating conversations with them."