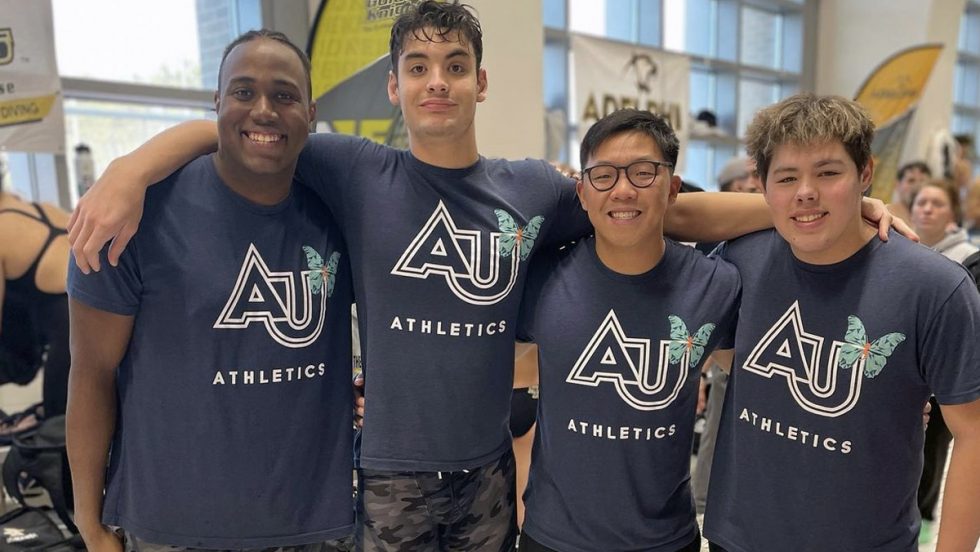 Panthers are spreading awareness of the importance of mental health for student-athletes by teaming up with Morgan's Message, a national program named in honor or a young lacrosse player who took her life.
The buzz at Motamed Field on April 12, 2023, had to do with more than the lacrosse games played that day. Athletes of our nationally ranked men's and women's lacrosse teams dedicated both games to a greater cause—awareness of mental health issues in the athletic community.
As of mid-April, 50 student-athletes representing each of the Panthers' athletic teams have used their platform to spread Morgan's Message. The foundation is named in honor of Morgan Rodgers, a Duke University lacrosse player who struggled with mental health challenges before she died by suicide in 2019 at the age of 22.
"So many people don't know how to deal with mental health issues because they don't recognize the signs that there could be a problem," said Panther softball player Courtney Wengryn. Wengryn, a junior majoring in marketing, helped start the Adelphi chapter in April 2022 after she read about Morgan's Message on social media.
Breaking the Stigma of Mental Health
The Morgan's Message website says it "strives to eliminate the stigma surrounding mental health in the student-athlete community and equalize the treatment of physical and mental health in athletics."
Nineteen Adelphi student-athletes serve as official Morgan's Message ambassadors. The list includes basketball player Andrew Delaney, who will earn degrees in finance and economics in May and then return as a graduate student-athlete. He said the monthly chapter meetings have provoked open dialogue on how others view athletes and how athletes perceive themselves.
"There's strength in vulnerability," said Delaney, who also serves on Adelphi's Student-Athlete Advisory Committee. "It's a sign of mental toughness for a student-athlete to express vulnerability and reach out for help. Athletes are seen as entertainers and as invincible at times, and to hear us talk about mental health challenges may seem out of the ordinary. But we're only human. So, it's important that athletes receive the same level of support and encouragement when they're dealing with a mental health struggle as when they're dealing with a physical injury."
Support—and Understanding—for Simone Biles
For even the most celebrated athletes, that level of support and encouragement still is not guaranteed. At the 2021 Summer Olympics, for example, legendary gymnast Simone Biles faced harsh criticism after she withdrew from several events, citing mental health issues.
"As an athlete, I understood what she was going through," Wengryn said. "But the media seemed split—half the people said we need to talk more about mental health and the other half just didn't get it. Hearing so many people say, 'Why can't she just perform?' angered me. We need to make the attitude and the stigma it causes go away."
"What we're doing by advocating for mental health could change the way coaches connect with athletes," added Delaney, "Every reason an athlete has for not being able to perform is different and every athlete's experience is different. So, coaches should not expect every one of their players to recover in the same way."
Mental Health Awareness at Adelphi
Wengryn and Delaney say they are thankful to Adelphi administrators for their support. Emily Dorko '13, MBA '15, associate athletic director for external relations/senior woman administrator, helped form the Morgan's Message chapter and has consistently championed its mission alongside Jessica Roque, associate athletic director for compliance and administration. Danny McCabe, director of athletics and campus recreation, has attended dedication games. Meredith Whitley, PhD, associate professor of health and sport sciences, taught a seminar this year on mental health and college athletics, and Tobie Langsam, PhD, MSW '22, serves as a part-time sports psychologist and therapist for Panthers teams. The department has opened up to making this part of the conversation as it can impact the student-athlete experience for everyone in its own way.
"It would be great if more colleges and universities devote more resources to mental health issues as a preventative measure, rather than get involved in a reactive manner," Delaney said. "If more coaches connect their athletes to the resources that can help them, then that will make the coach-athlete relationship stronger and make the student-athlete experience better."