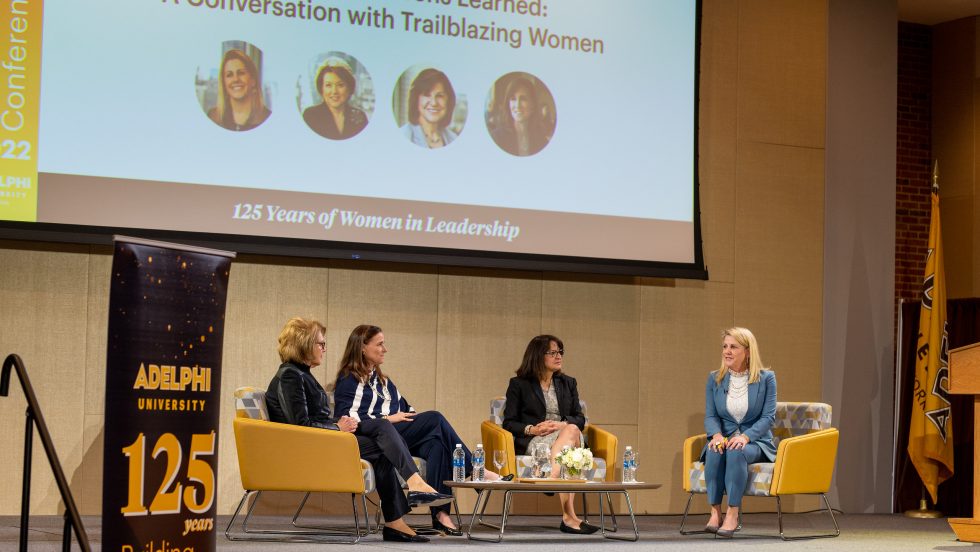 Adelphi University welcomed more than 350 participants at its fifth annual Women's Leadership Conference on Saturday, March 26. The day of learning, empowerment and career networking was held in the newly renovated Ruth S. Harley University Center on Adelphi's Garden City, New York, campus.
In honor of the University's milestone 125th anniversary, the conference was themed "125 Years of Women in Leadership." It celebrated Women's History Month and the contributions of women trailblazers from Adelphi and beyond. The conference included workshops, inspiring speakers and a keynote with gold-medal Olympian Aly Raisman. Professionals from a wide field of industries shared valuable expertise in powerful conversations throughout the daylong event.
"For 125 years, Adelphi has been educating and supporting women in leadership. Our alumnae have thriving careers and are critical contributors to our communities—locally and around the globe," said Christine Riordan, PhD, president of Adelphi University. "Our University is proud to boast a history of women trailblazers. And, as Adelphi continues to champion the mission of higher education, our annual Women's Leadership Conference will be a paramount resource for professional women into the future."
Powerhouse women—many the first to hold their roles—shared inspiring messages with conference attendees. They included New York's first woman governor, Kathy Hochul, JD, and the state's attorney general, Letitia James, JD, the first woman and first Black person to be elected to the position.
This year's conference also kicked off two new funds to support women's leadership at Adelphi. In its inaugural year, more than $50,000 was given from generous donors to ensure continued opportunities for students to learn from trailblazers in their industries.
"Adelphi University is poised and proud to support and promote women in their journeys as successful and significant leaders," said Thomas Kline, EdD, vice president of University advancement and external relations. "Our goal is to grow the Women's Leadership Conference into the preeminent women's leadership event in the region. I'm grateful to our sponsors, conference co-chairs, steering committee and generous friends who make it possible."
The conference was co-chaired by LeeAnn Black '83, chief operating officer at Latham & Watkins, Humera Qazi '93, managing director at Morgan Stanley; and Lois Schlissel, JD, counsel and former managing attorney at Meyer, Suozzi, English & Klein, P.C. Qazi is a member of the Adelphi University Board of Trustees and Schlissel is a trustee emerita.
"It was an inspiring day of learning and sharing with remarkably successful women leaders and their allies," said Black, who also moderated the conference's kickoff armchair conversation "Leadership Lessons Learned" with three trailblazing women. It included President Riordan, Marjorie Magner, founding member of Brysam Global Partners, and Carmen Ortiz '78, JD, partner, Anderson & Kreiger LLP. Ortiz was the first Hispanic and first woman U.S. Attorney for the District of Massachusetts from 2009 to 2017. She is also the vice chair of the Adelphi University Board of Trustees—the first Latina to serve in that role.
"Continuing to educate, develop and support a pipeline of future women leaders is an integral part of Adelphi's mission to transform lives and serve our communities, and an honor for me to play a role in," said Qazi.
Schlissel added, "As it has done for the past 125 years, Adelphi will continue to inspire future generations of young women to break barriers, take the lead and craft their own visions of what is possible."
The event concluded with a much-anticipated keynote with Raisman, the third most decorated American gymnast of all time. In an armchair conversation with Adelphi's Emily Dorko '13, MBA '15, associate athletic director for external relations and senior woman administrator, Raisman shared her journey of resilience and perseverance.
When asked what advice she would offer to the audience, Raisman said, "No one knows you better than you know yourself. Listen to what your body tells you and try to always speak your truth." Raisman also signed free copies of her New York Times bestselling memoir, Fierce, for all conference attendees.