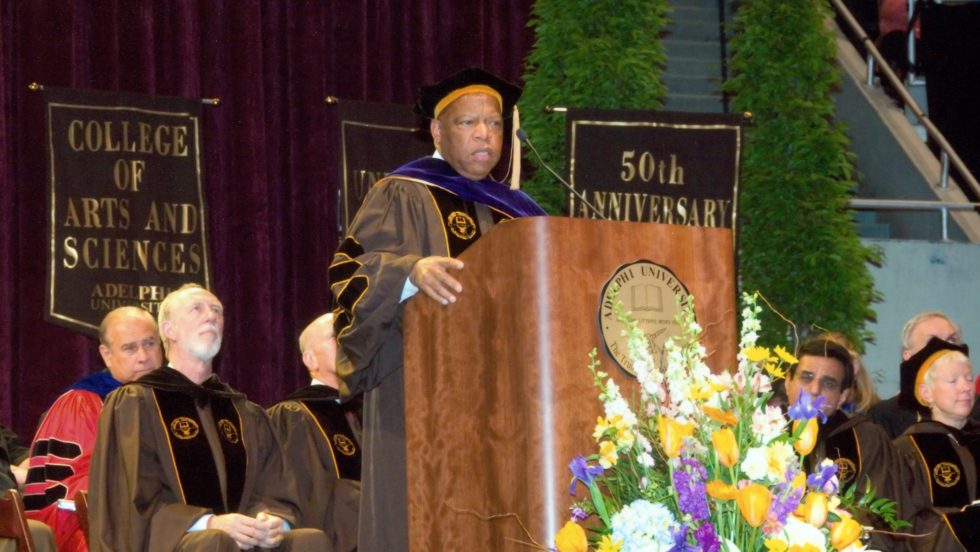 In May 2007, U.S. Congressman John Lewis spoke to Adelphi University graduates. Giving the commencement address to the Class of 2007, he said, "If you want a better, more just, more fair society, then you have to find a way to get in the way."
Our more than 2,500 graduates seated in Nassau Veteran's Memorial Coliseum that year at our 111th Commencement heard a compelling story from the Honorable John Lewis, about the racism he had experienced at a young age. He shared that his parents and grandparents advised him, "That's the way it is. Don't get in trouble. Don't get in the way."
We know that the future congressman did not heed this admonishment. The Honorable John Lewis did, indeed, "get in the way"—becoming one of the most active and inspiring civil rights leaders in American history.
By the age of 23, he was a nationally recognized speaker and leader. As a college student, he organized sit-in demonstrations at segregated lunch counters in Nashville, Tennessee, was beaten by angry mobs for his participation in Freedom Rides to challenge segregation and served as chairman of the Student Nonviolent Coordinating Committee. In March 1965, he and Hosea Williams peacefully led more than 600 protesters from Selma to Montgomery, Alabama, crossing the Edmund Pettus Bridge. That day, March 7, is known as "Bloody Sunday" for the attacks on the peaceful protesters who urged for and eventually won the Voting Rights Act of 1965 signed by President Lyndon Johnson.
The Honorable John Lewis of Georgia, one of the Big Six leaders of the American civil rights movement, died on July 17, 2020. He had served in the House of Representatives for Georgia's 5th congressional district since 1987. We mourn the loss of a great man who dedicated his life to protecting human rights and securing civil liberties.
The work, goals and message of the Honorable John Lewis remain profoundly pertinent and resonant today. I'm confident that if he could speak to our Adelphi community now, he would still say, as he did to our Class of 2007, "… whatever you care about, whether it's getting to the truth about what has happened in our own country and around the world, whether you're concerned about global warming, or the injustice of poverty, you have to find your passion and make your contribution."
At Adelphi, we have reemphasized, intensified, deepened and broadened our strategic goal for diversity, equity and inclusion. I think we can and should all heed Congressman Lewis' words.
And, we celebrate the life of Congressman John Lewis, who longed for and worked toward, as we do, a more just and equitable society.
Christine M. Riordan, PhD
President