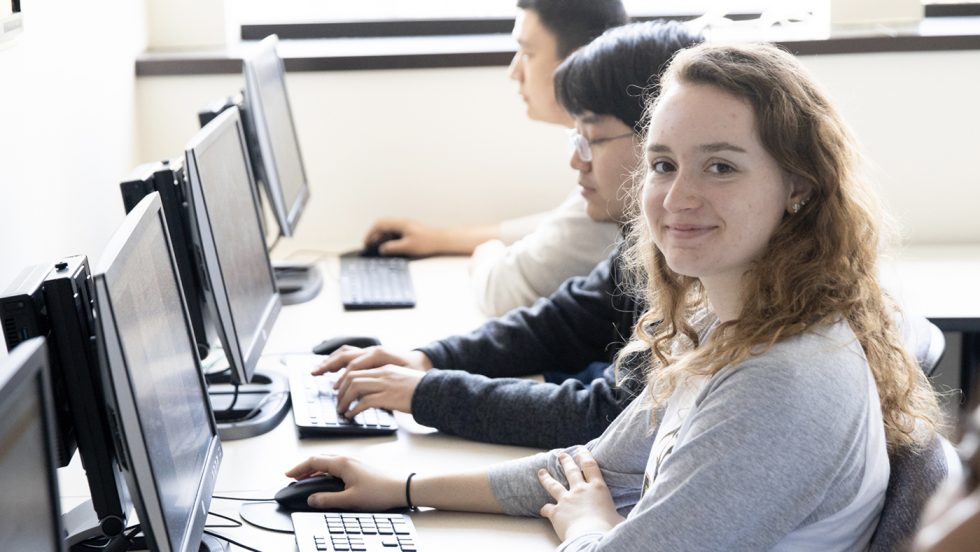 Adelphi University has earned the Reimagined Computer Science Curriculum for an Inspiring Programs in STEM Award given by INSIGHT Into Diversity magazine. This honor recognizes the effort that colleges, universities and outside organizations have undertaken to empower women and underrepresented students of all levels to succeed in the science, technology, engineering and math (STEM) disciplines.
"Awards from INSIGHT Into Diversity have played a significant role in the success of our efforts to advance the cause of diversity at the University and ensure a welcoming and inclusive environment on campus," said Salvatore Petrilli '05, EdD, associate dean for academic operations and general education in the College of Arts and Sciences at Adelphi. "Winning a 2022 Inspiring Programs in STEM Award further strengthens our efforts to bring more diverse students and women into our life-changing computer science programs."
In 2016, Dr. Petrilli and Kees Leune, PhD, assistant professor of mathematics and computer science, embarked on a holistic evaluation of the University's undergraduate computer science program to ensure that students from every background receive the best possible education and experience. Together, with the involvement of Adelphi's Department of Mathematics and Computer Science, they examined, reimagined and restructured the computer science curriculum and each of the majors in the department.
Dr. Leune and Dr. Petrilli noted that the restructured computer science program would need to strike a balance between instilling practical skills in students who planned to enter the workforce after graduation and developing a robust theoretical foundation for students who planned to continue to graduate school. To achieve that, they designed a flexible program with fewer required courses and more electives that students can use to create a specialized track or minor in cybersecurity, video game design or scientific computing—and even a second major. They also focused on reducing rigid course requirements and offering options to improve student success.
"Our ultimate goal is to increase the number of people of color and women in the computer science field as well as make sure students got what they wanted out of their education," said Dr. Leune. That goal was reached.
Launched in Fall 2017, the redesigned program has achieved impressive results, especially in the area of diversity. Over the next four years, the number of women in the program will have doubled; Black students have increased by 150 percent and Hispanic students have increased 63 percent. Overall, students of color now account for 72 percent of Adelphi's computer science students, compared to 49 percent five years ago.
The program itself grew from approximately 10 new students per fall semester to having more than 80 students in each fall semester. In evaluating the outcomes of the changes to the program, Dr. Leune and Dr. Petrilli noted that the number of computer science majors who declared minors had more than doubled: an increase from 9.5 percent to almost 19 percent.