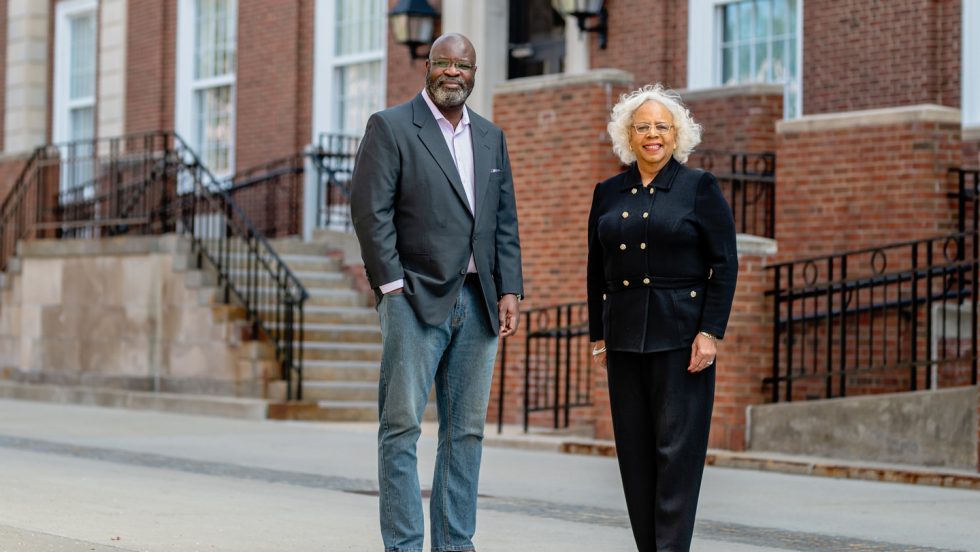 In its fifth year, Adelphi University's Leading in Community (LIC) program, offered by the University's Center for Nonprofit Leadership, has doubled enrollment and connected more local, nonprofit leaders of color than ever before.
With a goal to broaden and strengthen the leadership pipeline for people of color, The program prepares them for nonprofit and community leadership across New York state.
Thirty people have enrolled in the 2021 program. They will join a network of 60 alumni from four prior cohorts when they receive their certificate in organizational and community leadership from Adelphi this October.
"The current national spotlight on systemic racism in the United States illuminates the long-standing need for racial equity in every part of society," said LIC program director Jennifer Rutledge, who is also a principal of Delphi Consultants and teaches the Organizational Leadership curriculum. "Nonprofit organizations are driven by missions of service and many are committed to achieving equitable access to positions throughout their organizations, including top levels of leadership and governance. Leading in Community is helping to better equip and nurture the next generation of nonprofit leaders."
The LIC program was designed by A. Brian Leander, PhD, Adelphi's director of training and organization development, who teaches the Individual Leadership curriculum. "People of color are eager to take advantage of every opportunity to lead in their communities, if given the opportunity," said Dr. Leander of the program.
The Community Leadership curriculum is co-taught by Rutledge and Christina Flythe, MA '10, MSW '19, an alumna of the first program cohort, a LIC Alumni Network steering committee member and director of the Child and Adult Care Food Program at Child Care Council of Suffolk, Inc.
In the LIC program, participants receive a Certificate in Organizational and Community Leadership from Adelphi University upon completion of the seven-month program. The curriculum is delivered in three phases, focusing on individual, organizational and community leadership, and a final capstone project challenges teams to integrate their learning as they develop a strategic community initiative with a focus on social justice and racial equity.
This year, the program saw an unprecedented number of applications, which speaks to the urgency of the program and the expanded reach and flexibility of the virtual delivery model required during the pandemic. The program would not be able to include so many participants this year were it not for the generous renewal of grant support from the Long Island Community Foundation (LICF), a division of The New York Community Trust that connects Long Islanders with local nonprofits to build healthy, equitable and thriving communities.
The Advisory Council of Adelphi's Center for Nonprofit Leadership, composed of 30-plus leaders from philanthropy, government and the nonprofit sector, responded to the call for assistance by promoting the program throughout their own networks. Along with Diane Wunderlich '95, the center's program coordinator, and the Adelphi social work interns and volunteers who worked to identify and contact nonprofit organizations throughout the Long Island, New York City and Hudson Valley regions, the program was successful in reaching a larger audience than before.
Leaders of color serving in underserved communities continue to face obstacles that are common in low to moderate-income communities throughout the U.S. These challenges, as identified by the Leadership Learning Community, a national nonprofit organization focused on leadership development, include disparate access to education and training programs, a dominant culture model of leadership, exclusive rather than inclusive networks that recruit and perpetuate white leadership, economic status and internalized oppression.
"Without fair representation of people of color leading local government, nonprofits and businesses, Long Island's pattern of inequality will continue," said David Okorn, executive director of LICF. "We are proud to support Adelphi's Center for Nonprofit Leadership program and invest in successfully preparing people of color to take leadership roles throughout the Long Island community."
Sponsorship has also been provided by organizations supporting their own future leaders, including AHRC of Nassau County, Adelphi's School of Social Work, Big Brothers Big Sisters of Long Island, Center for Alternative Sentencing and Employment Services, Child Care Council of Suffolk, Dutchess One Stop Career Center, Feeding Westchester, Goodwill Industries of Greater New York and Northern New Jersey, Ice Hockey in Harlem, Mental Health Association of Nassau County, Tempo Group, Inc., The Arc Mid-Hudson, and the Butterfly Effect Project.
Enrollment for the 2022 Leading in Community program will begin in January.
Learn more about Leading in Community.
About the Center for Nonprofit Leadership at Adelphi University
At the Center for Nonprofit Leadership, our mission is Empowering Nonprofits to Strengthen Communities. Our goal is to assist nonprofits in fulfilling their important missions. We envision healthy, thriving communities served by nonprofits with inspired staff and leadership who are inclusive of members of those communities. We value social justice, the achievement of an equitable society, and nonprofit organizations that partner with their communities through impactful programming. Based in the School of Social Work at Adelphi, the center offers solutions for nonprofit organizations and training for nonprofit leaders on management, leadership, and supervision. We assist in developing the nonprofit workforce to strengthen organizational capacity for effective service.