Anne Mungai, Ph.D., and Devin Thornburg, Ph.D., recently co-edited a book that calls attention to new perspectives and voices in the much-covered, ongoing topic of school reform.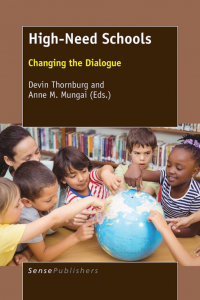 Anne Mungai, Ph.D., and Devin Thornburg, Ph.D., have found plenty of practical application for the recent book they co-edited—High-Needs Schools, Changing the Dialogue (Sense Publishers, 2016)—and for a working relationship spanning three decades calling attention to new perspectives and voices in the much-covered, ongoing topic of school reform.
In January 2017, they and some of the book's contributors came together for a lively faculty seminar at Adelphi that drew faculty and students from the Ruth S. Ammon School of Education. Much of the discussion focused on the pivotal role of teachers in reform and the potential impacts of the Trump administration.
Since the 1990s, Dr. Mungai and Dr. Thornburg have collaborated with 14 high-needs districts in New York State to make lasting reforms. Both have expertise in special education and passionately believe, in Dr. Mungai's words, "that all kids should be given a chance to learn, no matter what stones and mountains need to be moved."
Their book reflects a philosophy derived from their long experience in school districts such as Roosevelt, New York, where Dr. Mungai conducted professional development for nine years. They learned that reform works best when it is comprehensive and involves teachers and parents, not merely administrators and policy-makers. With the growing diversity in schools, they also found a pressing need to create more inclusive environments—ones in which, Dr. Thornburg said, "everyone shares responsibility for the education of all students."
As editors, he and Dr. Mungai sought contributors from across the country and overseas—many of whom have direct experience in the classroom.
One of them, Liesbeth Breek, an educator affiliated with Petrus Canisius College, writes in the forward, "Meaningful education is about more than the objective transfer of knowledge—it is about opening experiences and meanings." She adds that this transformative purpose is "being crushed by an overemphasis on measurement."
She observed in an excerpt from the book, "I am not opposed to testing," but adds, "Education has become a production line of test scores."
Other contributors—including Adelphi faculty members Pavan John Anthony, Ed.D., Carl Mirra, Ph.D., and Fayth Vaughn Shavuo, Ph.D., who teaches at Adelphi part-time—address topics such as the history of education reform, special education, multicultural education and technological innovation.
Despite the current political environment, Dr. Thornburg and Dr. Mungai have reasons to be optimistic. First, Dr. Thornburg said, "Communities are challenging this notion of a single test score dictating both policy and funding."
He and Dr. Mungai see the increasing diversification of students as an asset—a reflection of our multicultural world. A related upside is that, as the United States has grown more global in its outlook, educators and policy-makers have been reaching out beyond our borders. "We can look to countries that have been more effective" and make reform a "more collaborative process," Dr. Thornburg said.  
The book is available in print and e-book formats.