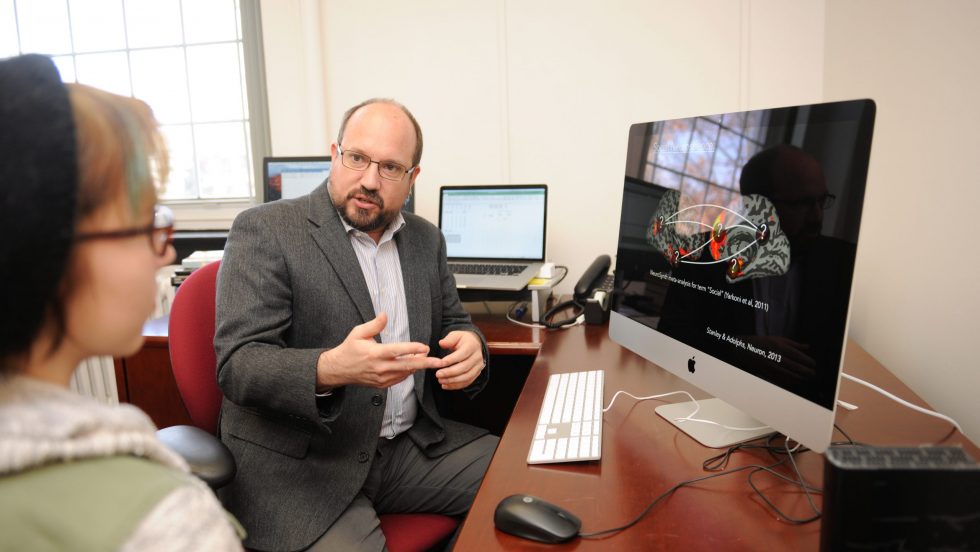 Damian Stanley, PhD, assistant professor of psychology, is working with colleagues from across the country on an ambitious research project on the psychological and social effects of the pandemic.
When COVID-19 began spreading across the globe, six professors came together to launch an ambitious study about the psychological and social effects of this unprecedented crisis. Damian Stanley, PhD, assistant professor of psychology at Adelphi, is one of them.
"It's very rare in science that you get a chance to capture such a momentous event," said Dr. Stanley, who is a co-leader of the research initiative, collaborating with professors from the California Institute of Technology, Yale University, The City College of New York and Chapman University. "It was clear that there would be large impacts across a broad spectrum of different attitudes, feelings and social behaviors that we thought would be important to capture."
The resulting COVID-DYNAMIC study uses online surveys to track changes in the emotions, relationships, moral reasoning and social decision-making of roughly 1,500 people across the United States.
"It's important work to characterize how this impacts everybody from a psychological and social perspective," Dr. Stanley said. "Understanding that will help us to cope better as a society and as individuals going forward—not just in times of great crisis but even in times of normalcy, whenever those return."
The first survey was sent on April 5, just two weeks after Dr. Stanley and his colleagues broached the idea.
"Typically, we would spend months preparing and testing," he said. "But we wanted to capture the rapid variation right at the beginning, so we had to move quickly."
Taking roughly an hour to complete, the survey covers everything from respondents' mood and political standing to whether they wear a mask or know someone who became ill from COVID-19. Participants also complete online tasks to measure social decision-making and implicit bias (attitudes they have toward other social groups). For example, they might rapidly identify how strongly they associate Asian Americans with positive or negative words, or how strongly they associate words like "give," "helping" and "sacrifice" with themselves.
"This enables us to look at relationships between psychological variables and social behaviors at a given point in time," said Dr. Stanley, whose research background is in implicit biases, social learning and decision-making. "We can also look at how these relationships change as the pandemic rolls through each person's area, because we know their general location."
Dr. Stanley and his team plan to continue sending surveys approximately every two weeks through the presidential election at the end of this year.
"Our long-term goal is to provide some information about the effects of this type of disaster on an individual and the social structure," Dr. Stanley explained. "Then we might begin to think about how to mitigate those effects and help people cope and remain resilient."
Though results and findings from the study will be mined for years to come, the researchers are already developing a few papers from the initial data sets. One paper examines the effectiveness of the Epidemic-Pandemic Impacts Inventory (EPII), a new 96-question survey that assesses individual behaviors related to the pandemic. The EPII was created by another team of researchers in April 2020 and is included in the COVID-DYNAMIC study.
"Now that we have 1,500 people who've completed that survey, we can run a bunch of analyses to evaluate its quality," Dr. Stanley said. "We can then identify questions that aren't useful and provide information about the validity of the survey to other groups who are interested in a universal measure for assessing the impact of the pandemic on individuals."
Another paper will cover the initial data release from the first four or six weeks of surveys.
"We're not only collecting this data for our own analyses, but we want to make it available to other people who might have some interesting ideas about these relationships," he said. "We want to provide this as a public resource."
Still, one of Dr. Stanley's favorite findings didn't come from a question on the survey. It was the very positive response of the participants.
"They've largely been very grateful; they're excited and motivated to do this," he said. "We've received a number of messages saying, 'Thank you,' and 'We think this is important' and 'I really want to contribute.' There's a desire to provide this information and contribute to this project."
Damian Stanley discussed his COVID-19 research in an extensive interview with local news on June 2. Watch the interview here.
---
For further information, please contact:
Todd Wilson
Strategic Communications Director 
p – 516.237.8634
e – twilson@adelphi.edu