Our newest M.B.A., based in New York City, will prepare students for the international business world.
Students from around the world will soon have another reason to study at Adelphi University. Adelphi is preparing to launch an innovative Manhattan-based M.B.A. program with a global focus. Students will gain an international perspective on business in this highly personalized, hands-on M.B.A. that will use the city as its classroom. With this new program, Adelphi will leverage its New York connections to create life-changing experiences for students from all backgrounds.
"New York is where the action is," said Rajib Sanyal, Ph.D., dean of Adelphi's Robert B. Willumstad School of Business. "Our students will be studying in a real-world, vibrant laboratory."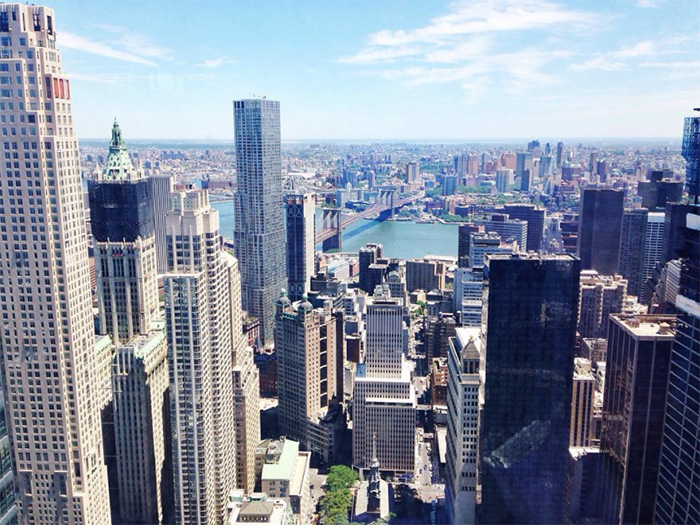 The program, which will be based at Adelphi's Manhattan Center, will help students take advantage of their prime location through field work, office visits, internships, lectures and social events. Adelphi will draw on its extensive network of alumni and partners to create connections for students. The program is both "in and of the city," said Shawn O'Riley, Ed.D., dean of Adelphi's University College.
Adelphi is intent on creating a vibrant living-learning community for students from around the world and plans to offer students convenient, affordable housing options in New York City. Students also will progress through the program in cohorts—or small groups—so that they will have a built-in community of colleagues.
Courses in the program will have a global focus, meaning that students will study international cases and issues in all aspects of business—from marketing to management to finance. Faculty from Adelphi's Robert B. Willumstad School of Business, many of whom have international teaching and research experience, have been involved in designing the program and will be teaching in it. "We have a strong and diverse faculty who bring an international perspective that is consistent with the goals of the program," Dr. Sanyal said.
Adelphi has created the program with international students in mind. Students who may need additional time to adapt to the new language and culture will have the opportunity to be part of Adelphi International (AUI), a specialized pathway program that offers language courses and support for students from around the world.
A compressed schedule makes the program especially convenient for graduate students, who will be able to complete the curriculum in just a year and a half.
Adelphi's Manhattan Center, where the program will be based, is located in the SoHo neighborhood—within easy access of the city's centers of finance, technology, media, fashion and the arts.
Dr. Sanyal points out that the combination of the unbeatable location and Adelphi's high-touch, personalized approach will make this program truly stand apart. He sees it as Adelphi's beckoning call. "Come here, live here, study here and succeed," he said.