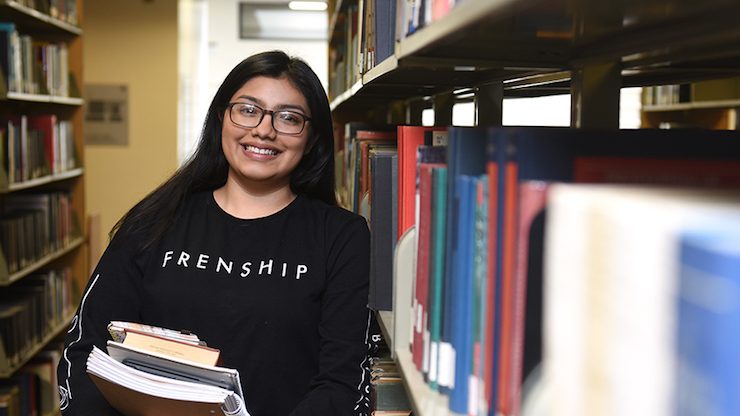 Under its new management team, the Office of Diversity, Equity and Inclusion (DEI) will continue to raise Adelphi's profile by participating in several annual diversity-related conferences.
Under its new management team, the Office of Diversity, Equity and Inclusion (DEI) will continue to raise Adelphi's profile by participating in several annual diversity-related conferences—including the Hispanic Association of Colleges and Universities (HACU) and the National Association of Diversity Officers in Higher Education (NADOHE)—while also giving its faculty, administrators and students great learning experiences.
That Adelphi presence began under Perry Greene, PhD, retired vice president for diversity and inclusion.
However, coronavirus pandemic concerns have been disrupting scheduled conferences and travel plans for 2020.
"Involvement in such national organizations is critical for the enhanced visibility of our University," said Jacqueline Jones LaMon, JD, named vice president of diversity, equity and inclusion in December 2019.
Chotsani West, MA '07, DEI executive director, who continues to direct Adelphi's Mentoring Program, has attended the annual Mentoring Matters Conference several times. This year, Estefenia Zea, DEI project manager, was unable to attend the event at LIU Post on March 12, due to concerns over the coronavirus outbreak. Last year, West was a panelist at the Mentoring Matters Long Island conference and its Western New York conference at Niagara University. At the former event, she was joined by Mario Romero Ramirez '19, a mentee in the program at the time who is now applying to law schools.
"These experiences have always been enriching as I walk away with new insight and an understanding of why this work is critical in the world of higher education—which leads to ideas about how to enhance our program," West said.
West had intended to join Dr. LaMon and CarolAnn Daniel, PhD, in attending the NADOHE conference, which also started March 12, 2020, in San Diego, California. But they decided against it because of coronavirus concerns. And Zea had also hoped to attend the College Board's conference, Preparate: Educating Latinos for the Future of America, in Las Vegas on April 23 and 24, but that was canceled.
Dr. Daniel, a School of Social Work professor, has been faculty director of DEI since 2017 and co-chairs the DACA, International and Immigration Task Force and is a past Diversity Committee chair.
Despite these disruptions, Zea said, more conferences may be added to the DEI list in 2021.
The words "diversity, equity and inclusion" were prominent at last year's diversity officers conference in Philadelphia, Pennsylvania, in its overall theme and podium signage. However, LaMon said her office's recent name change found its inspiration closer to home. "It stemmed from the work of Adelphi's Goal 3 Momentum committee, and was an original recommendation of that task force that was never implemented," she said. "I agreed with the recommendation and felt it should be part of this new chapter."
Our First Student to Attend HACU
Carla Ojeda (pictured), a sophomore majoring in anthropology and Spanish, became the first Adelphi student to attend the organization's annual conference, held in Chicago last October; she was accompanied by Estefenia Zea and Charlene Mayers, executive assistant.
Ojeda is a student worker in the Department of Languages, Literatures and Cultures, and Raysa Amador, PhD, its chair, played a key role in her selection, Zea said. After the event, Ojeda reported back on her experiences to Dr. Amador's department, the Collaboration Project and Adelphi President Christine M. Riordan.
Ojeda was among 600 students attending HACU as part of the Adelante Leadership Institute student track and got to meet students from 28 states and Puerto Rico. She enjoyed being part of "a community of university students who wanted to build their career and leadership skills."
The organization's annual event also exposed students like her to various career opportunities through networking sessions with federal agencies, corporations, graduate schools and nonprofit organizations, Ojeda said, as well as to useful information from workshops on financial literacy, résumé advisement and recruitment preparation. Also helpful, she added, were panels with recruiters and fellow attendees, who spoke about their previous experiences with the organization.
In general, the students stayed together as they attended conference sessions, except when they ventured off into breakout workshops of specific interest. In the evenings, attendees were free to hang out with friends and explore Chicago.
"Looking back," Ojeda said, "I gained a lot from HACU, whether it was by gathering more knowledge, awareness or friendships. Above all, I believe HACU showed me that there are so many opportunities out there for Hispanic students and that I shouldn't lose hope in finding them."
---
For further information, please contact:
Todd Wilson
Strategic Communications Director 
p – 516.237.8634
e – twilson@adelphi.edu