The Willumstad Leadership Scholars Program provides an opportunity for top business students to work as a team and with University executives to receive hands-on experience.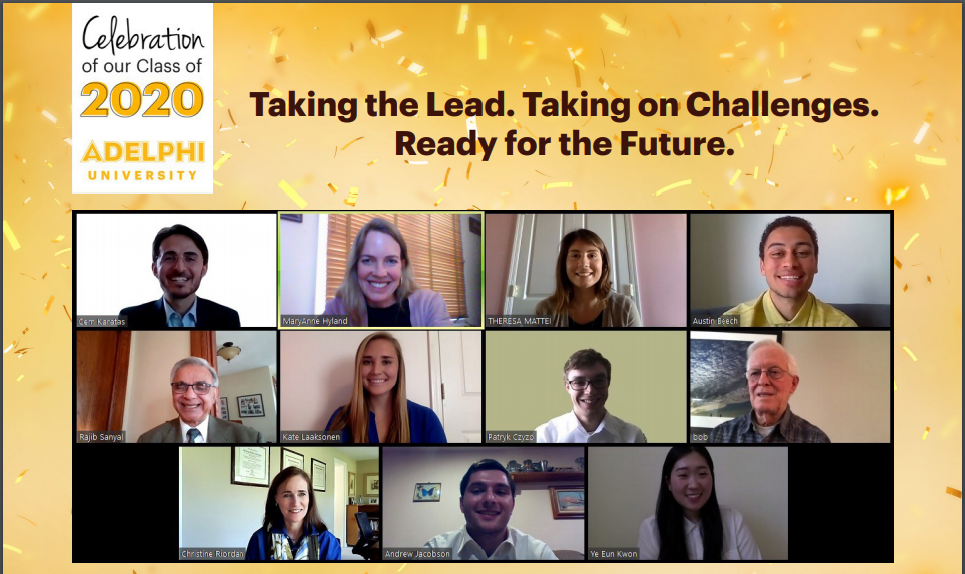 A hands-on academic program prepares top students in Adelphi University's Robert B. Willumstad School of Business to be leaders in their future careers in the public and private sectors. Adelphi's Willumstad Leadership Scholars Program offers seniors two semesters of business-specific experiential learning.
The program, now in its second year, had six promising students in this year's cohort, including Austin Beech, Kate Laaksonen, Andrew Jacobson, Patryk Czyzo, Theresa Mattei and Ye "Sunny" Kwon. They represent different majors—accounting, finance, management and marketing.
"Being part of the Willumstad Leadership Scholars program was such an honor and incredible experience," said Kwon. "This program made my senior year memorable and prepared me for the real business world. In the process, I learned a lot about working as a team and being a professional."
Students in the Leadership Scholars Program work as a team under the supervision of a faculty member on a project for Adelphi. During the fall semester, students participate in leadership development opportunities and identify their team project in consultation with University leaders. During the spring semester, the students focus their efforts on their team project, which is an initiative that directly impacts Adelphi.
This year, students in the program have been working alongside Cem Karatas, DBA, clinical assistant professor in the Willumstad School of Business, on enhancing the effectiveness of the student advising system. The student leaders are preparing an advising syllabus to further improve the process of academic advising for fellow students and providing them with the necessary guidance to graduate in a timely manner.
"This program gives an opportunity to students to get hands-on experience," said Dr. Karatas. "They work on projects that are usually done by University executives. Because they are looking at the project from a different angle, their meetings with the University executives are highly beneficial to the executives. It's not only valuable to the students but also to the University."
"The Leadership Scholars Program is the crown jewel in a glittering collection of distinctive extracurricular offerings that define the Winning Edge experience," said Rajib Sanyal, PhD, Adelphi's business school dean, referring to the Willumstad Winning Edge program of extracurricular and cocurricular activities that complement the formal program of study. "This year's team of six students were selected for their brilliance and worked collaboratively on a project to benefit the University. In the process, they learned and rehearsed the qualities of leading and serving that are designed to prepare them to be captains of commerce and communities."
The Robert B. Willumstad School of Business offers both bachelor's and master's degree programs. Learn more about the Leadership Scholars Program as well as the Willumstad Winning Edge program.