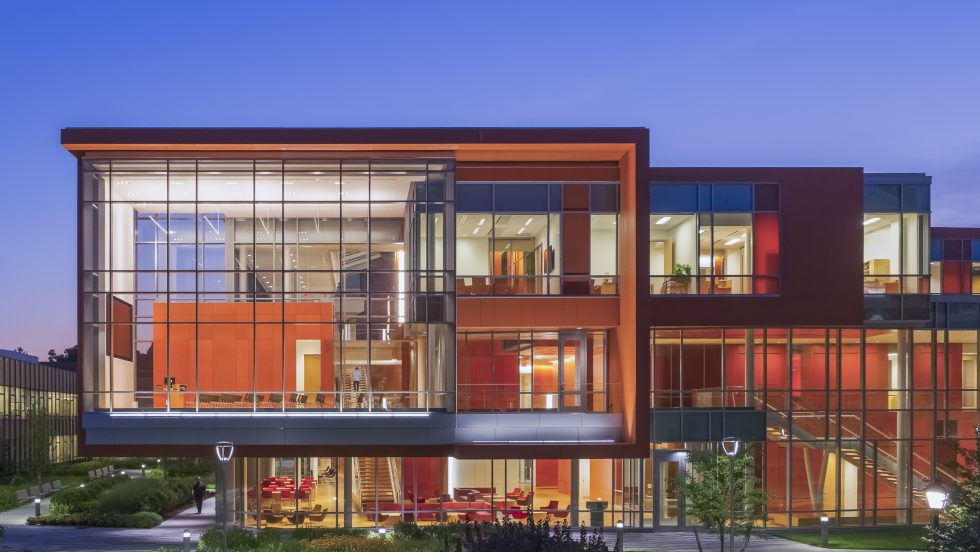 Adelphi's commitment to the environment is evident in and outside the buildings on campus.
Adelphi University prides itself on its commitment to making its campus environmentally friendly. Recently, the U.S. Green Building Council (USGBC) certified Adelphi's Nexus Building LEED Silver. Nexus is the third building at Adelphi to receive LEED certification, the others being the Performing Arts Center (PAC) and the Center for Recreation and Sports.
Adelphi is a member of the USGBC, the nation's foremost coalition of building industry leaders working to promote buildings that are environmentally responsible, profitable and healthy places to live and work. LEED, or Leadership in Energy and Environmental Design, was created by USGBC to provide a framework to create healthy, efficient and cost-saving green buildings. LEED certification is a globally recognized symbol of sustainability achievement.
Built in 2016, the Nexus Building is the state-of-the-art facility for Adelphi's College of Nursing and Public Health, as well as a hub for student services, admissions, advancement and alumni outreach. The 100,000-square-foot building also houses gathering spaces for students, a café, and meeting and presentation spaces for the entire campus. The design and environmentally friendly features of Nexus reflect Adelphi's commitment to sustainability. On Nexus's LEED scorecard, the building received credits in Sustainable Sites, Energy and Atmosphere, and Indoor Air Quality.
In addition to eco-friendly construction standards, Adelphi has also implemented many other sustainability efforts, including the installation of water filtration stations around campus. Since 2015, this effort has saved more than a million plastic bottles. Recycling bins are in all buildings on campus and most restrooms are fitted with water reduction showers, sinks and toilets. To help produce electricity for computers in the Information Commons, Adelphi installed solar panels on the roof of the Swirbul Library. Additionally, ladybugs are regularly used for pest control along with other organic landscaping practices, and the use of nontoxic cleaning products adds to sustainable practices.
"Adelphi's commitment to the environment is evident in and outside the buildings on campus," said Kathleen Watchorn, coordinator of programs and projects. "Not only does Adelphi put into practice campus initiatives, the commitment extends beyond its borders by providing the community with chances to properly dispose of prescription and over-the-counter medications as well as unused electronics each semester."
---
For further information, please contact:
Todd Wilson
Strategic Communications Director 
p – 516.237.8634
e – twilson@adelphi.edu