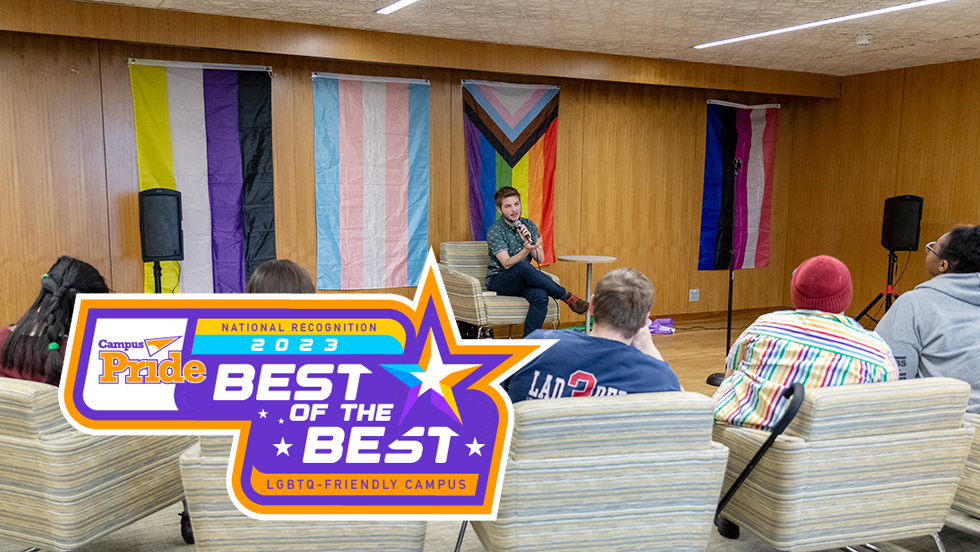 A host of new initiatives helped Adelphi earn 5 out of 5 stars on the Campus Pride Index, becoming one of just 30 Best of the Best campuses in the nation for the second straight year. Explore our most compelling ideas for creating a warm and welcoming community for all.
"Our LGBTQIA+ Task Force has done a lot of work over the years to get here."
That's how Robby Fahrenholtz, coordinator of Adelphi's Multicultural Center and a leader in LGBTQIA+ and first-generation programming, summed up Adelphi's recognition as one of the 30 Best of the Best LGBQT-friendly campuses in the nation.
Campus Pride Index, a nationally recognized measure of LGBTQ friendliness and inclusivity, named Adelphi to its 2023 Best of the Best LGBTQ-Friendly Colleges & Universities list, as well as its 2022 list the year before. Campus Pride awarded the University a perfect five out of five stars overall for its initiatives for students.
Adelphi got a perfect score on the Index's two main categories, Sexual Orientation and Gender Identity/Expression, as well as five stars on these specific inclusion factors: LGBTQ Support & Institutional Commitment, LGBTQ Student Life, LGBQT Campus Safety, LGBQT Counseling & Health, and LGBQT Recruitment & Retention Efforts.
"Adelphi University is honored to achieve the highest ranking on the Campus Pride Index for the second year," said R. Sentwali Bakari, PhD, vice president for student affairs and diversity, equity, inclusion and belonging. "This achievement underscores our unwavering commitment to sustaining an inclusive and supportive campus environment and affirms the hard work of so many people. It reflects our dedication to the empowerment of LGBTQIA+ students, staff and faculty. The achievement is also a proud moment for our university and is a cause to celebrate while remaining steadfast and vigilant in supporting our LGBTQIA+ community."
Here is the full breakdown of the ranking.
Adelphi gets an A+ for its inclusive policies
Campus Pride cited Adelphi's inclusive policies like health insurance coverage for employees' same-sex partners, the existence of a simple process allowing LGBQT students to change their name and gender identity on their ID and other university documents, and paid staff providing LGBQT support services.
Fahrenholtz said the high ranking is the result of many departments across Adelphi working together over the years. In the past year alone, Adelphi created the Multicultural Center and the position Fahrenholtz holds, formalizing the responsibilities for LGBTQIA+ life activities. He's the first-ever Multicultural Center coordinator and he's building out the University's Multicultural Affairs program.
Two student organizations, the Gender and Sexuality Alliance (GSA) and Students Beyond the Binary (SBB), plan the University's LGBTQIA+ initiatives and programming, which include:
Welcome Weekend LGBTQIA+ Social
LGBTQIA+ First-Year Empowerment Group
Out for Lunch Series
Safe Zone Training
National Coming Out Day Panel
Transgender Awareness Week Speaker Series, Transgender Day of Remembrance Vigil and Transgender Day of Visibility
Listening sessions on anti-LGBTQIA+ and anti-trans legislation
Campus Pride Festival
Lavender and Multicultural Graduation
New events in the 2022–2023 academic year included a World AIDS Day documentary screening and a Found Family Holiday Party. Fahrenholtz estimates 2 percent of Adelphi's students identify as LGBQTIA+.
A safe space in adverse times
With some new state laws threatening LGBTQIA+ inclusive policies, Adelphi's appearance on the 2023 Best of the Best LGBTQ-Friendly list is important because it sends a message that the University will protect all its students.
"We have an opportunity to give our LGBQTIA+ students a safe space," Fahrenholtz says. "We will give them a positive environment for the time that they're here."
Shane Mendez Windmeyer, the founder, CEO and executive director of Campus Pride, said Adelphi and the other schools on the Best of the Best List are doing important work in a difficult time. "In the current climate in which LGBTQ+ identities have become political talking points and laws are being weaponized against LGBTQ+ people, the commitment to creating campuses that welcome and protect LGBTQ+ students cannot be taken for granted," he said. "The colleges and universities that made our list this year deserve this recognition for the efforts they have made and continue to make."