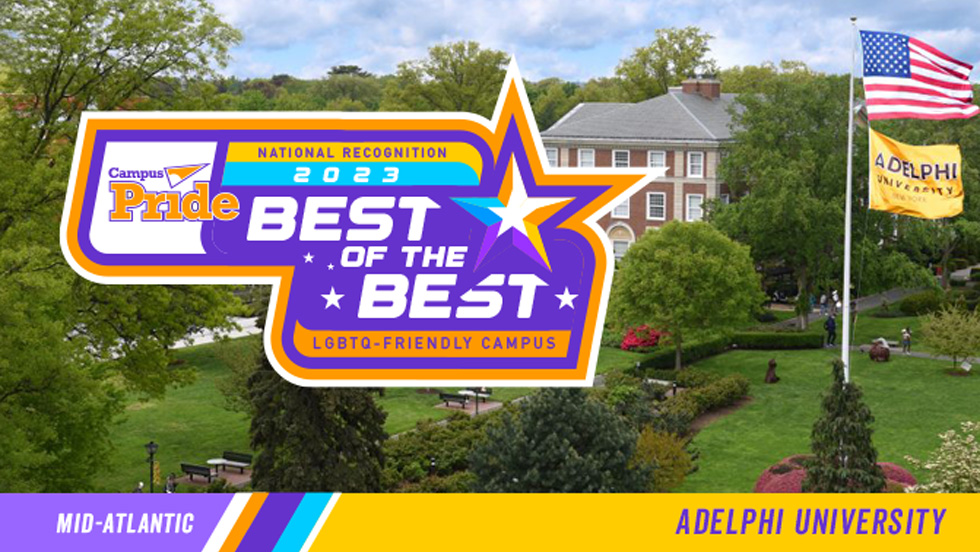 Adelphi University has once again achieved a five-star rating on the Campus Pride Index, a nationally recognized measure of LGBTQ+ friendliness and inclusivity.
Campus Pride also chose Adelphi as one of this year's top 30 Best of the Best LGBTQ-Friendly Campuses. Adelphi is the only university on Long Island included on the list.
To earn a ranking of five out of five stars, campuses receive a percentage score from 90 to 100 based on their reporting of LGBTQ+-friendly features. Campuses are scored on eight LGBTQ+-friendly factors, including housing, campus safety, academics, student life, and recruitment and retention efforts.
"Earning a spot-on Campus Pride's Best of the Best list recognizes an institution's efforts to create a safe and welcoming campus for their LGBTQ+ students, staff and faculty," said Shane Mendez Windmeyer, Campus Pride founder, CEO and executive director. "In the current climate in which LGBTQ+ identities have become political talking points and laws are being weaponized against LGBTQ+ people, the commitment to creating campuses that welcome and protect LGBTQ+ students cannot be taken for granted. The colleges and universities that made our list this year deserve this recognition for the efforts they have made and continue to make."
According to Campus Pride's LGBTQ-friendly breakdown by inclusion factors, Adelphi received a perfect score in LGBTQ+ student life, campus safety, counseling and health, recruitment and retention efforts and support and institutional commitment. Read the full rating breakdown.
"We are thrilled to hear the news of this recognition by Campus Pride, which highlights the exemplary work of Robby Fahrenholtz, coordinator of Adelphi's Multicultural Center, and our campus partners," said Chotsani Williams West, MA '07, assistant vice president of diversity, equity, inclusion and belonging at Adelphi. "Collectively, we have maintained a welcoming and inclusive environment for our LGBTQIA+ community."
Adelphi's LGBTQ+ Programming and Initiatives
Throughout the year, Adelphi offers a number of programs, student engagement events and initiatives for the LGBTQ+ community, hosted by Adelphi's Multicultural Center and Pride Committee, including:
Welcome Weekend LGBTQ+ Social
LGBTQ+ First-Year Empowerment Group
Out for Lunch Series
Safe Zone Training
National Coming Out Day Panel
Transgender Awareness Week Speaker Series, Transgender Day of Remembrance Vigil and Transgender Day of Visibility
Listening sessions on anti-LGBTQ+ and anti-trans legislation
Campus Pride Festival
Lavender Graduation
New events in the 2022–2023 academic year included Drag History Night, LGBTQ+ Inclusive Sex Ed, a World AIDS Day documentary screening, Found Family Holiday Party and a National Poetry Month speakers event, among others.
Adelphi has two student organizations involved in the planning and engagement of the University's LGBTQ+ initiatives and programming, including the Gender and Sexuality Alliance (GSA) and Students Beyond the Binary (SBB).
"Working closely with various units, the Pride Committee, task force groups and cross departmentally, while uplifting the voices of our students, this campus is a space for belonging," said Williams West. "There is still more work to do and our intentions include raising the bar for this important work."
Learn more about Adelphi Pride.