A look at what community service means at Adelphi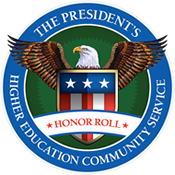 Serving the community is an everyday occurrence at Adelphi University, and the collective efforts of our students, faculty and staff make a lasting difference.
 How, you ask?
 Here's an example: In the past two years, the hundreds of students, faculty and staff who participated in Adelphi's Relay for Life fundraisers raised more than $143,000 to fight cancer.
Such widespread dedication to making a difference is one of the reasons that Adelphi has been named to the President's Higher Education Community Service Honor Roll for five years.
On the most recent honor roll, Adelphi achieved distinction in two categories: overall dedication to service and an emphasis on improving education outcomes in the community.
Service learning infuses academic life at Adelphi. Nearly 50 percent of Adelphi students participate in academic service learning. These experiences range from student teaching for aspiring educators to clinical rotations for nursing and social work students. 
Innovative career preparation programs make it possible for Adelphi students to learn, earn and do good. Students in the Panthers with a Purpose and Jaggar Community Fellows programs work in paid internships at nonprofit organizations on Long Island and in New York City.
Students frequently get creative with their fundraising and outreach. The members of Kappa Sigma fraternity, for example, use their Super Hunger Fest initiative to raise awareness of hunger and funds to fight it. During the week leading up to the Super Bowl, they solicit money and donations for Long Island Harvest—the largest hunger relief organization on Long Island. And 24 hours before the game kicks off, they fast to show their compassion for those who don't have enough to eat.
Adelphi's many centers and institutes extend faculty and staff expertise into the community. The Center for Health Innovation is deeply involved in promoting regional public health through outreach, education and research. The Institute for Parenting is devoted to promoting the well-being of young children by supporting their parents and the professionals who influence their lives.
Adelphi's commitment to community service is fully ingrained and will continue to grow, guided by the University's strategic plan, Momentum, a primary goal of which is to ensure that Adelphi is a powerfully connected university.
Learn more about Momentum here.
---
For further information, please contact:
Todd Wilson
Strategic Communications Director 
p – 516.237.8634
e – twilson@adelphi.edu