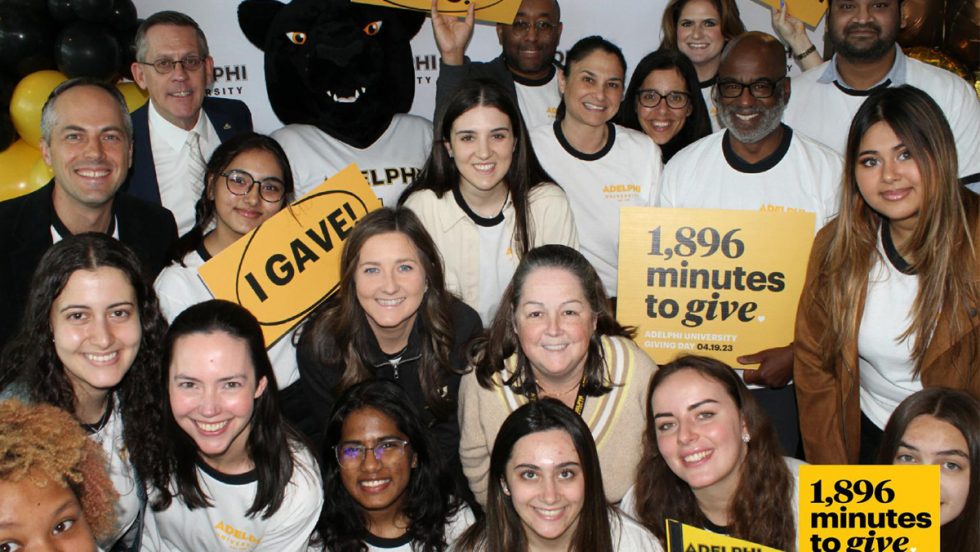 Adelphi University's sixth annual Giving Day on April 19 and 20, 2023, raised $481,430 from a record-breaking 1,902 donors, an increase of 9 percent in the number of donors over last year.
Giving Day donations will be used to support 21 causes and programs on campus, ranging from academics and research to athletics and specialized programs to a general Adelphi Fund.
"It's always inspiring to see our community come together in support of our students, our programs and our mission," said President Christine M. Riordan. "On behalf of everyone at Adelphi, I'm so grateful for every generous contribution that will create new learning opportunities for many years to come."
The annual initiative brings together students, parents, friends, alumni, faculty and staff to support the University's mission to transform students' lives. This year, Adelphi's founding year of 1896 was used to guide the 1,896-minute timeline (from 4:24 a.m. on April 19 until noon on April 20) and its goal of more than 1,896 donors.
April 19 included a number of festivities on the Garden City campus that were managed from the Giving Day command center in the Ruth S. Harley University Center. The new Student Philanthropy Center, located on the second floor of the Nexus Building, temporarily moved its headquarters to the command center, where student fundraisers were joined by staff, faculty and trustees William Fuessler '79 and Curtis Minnis '77. Fun photo ops included deans, donors and command center staff, with the snapshots accompanying giving updates on social media.
"We are grateful to those who participated in our Giving Day—donors, ambassadors, challenge creators, volunteers and our entire Panther community," said Thomas A. Kline, EdD, vice president of University advancement and external relations. "We expected extraordinary results from our community, and we got them!"
Highlights of the Day
This year's Giving Day success was driven by compelling challenges that encouraged Panthers to double their impact and extend the reach of their donations. Through 22 gifts from matching donations and challenges provided by generous campus leaders, trustees, parents and alumni, an additional $100,000 was added to the Giving Day total, a 68 percent increase over last year.
The Robert B. Willumstad School of Business raised $78,039 from 105 donors, a new record for the School. Richard Salute '71 established the Business School Dean's Fund for Excellence Endowment with a $25,000 donation. All 17 members of the Dean's Advisory Council contributed to the new endowment, helping to raise $48,000 in total for the fund. As part of an endowment matching challenge initiative, Adelphi University will match all donations to the new endowed fund, dollar for dollar, to create a $96,000 investment in business students and faculty that will live in perpetuity.
Through the leadership of Dean Susan Dinan, PhD, the Honors College secured 126 donors, coming in third place, behind athletics and the Adelphi Fund, for the highest number of donors across all University giving campaigns. Retired Honors College Dean Richard Garner, PhD, also lent his enthusiasm by encouraging alumni participation.
Each year, Adelphi's 23 NCAA Division II teams participate in Giving Day to raise funds for equipment, training and competitions. This year's goal was to raise $100,000, including a $20,000 challenge by the men's and women's swimming and diving teams.
Athletics was the day's largest recipient of funds, raising $176,955, and it secured the highest number of donors—881. Current student-athletes, alumni and parents embraced the challenges put forth by the Panther Club to go the distance as the University's sports teams competed to unlock additional Giving Day funds. The victors at the end of the 1,896 minutes were the baseball team, which raised $27,290, and the track and field programs, which received gifts from 171 donors including unlocking a $20,000 donation to the Ron Bazil Endowed Scholarship Fund.
"We are truly thankful to everyone who contributed, as all the funds will directly impact the student-athlete experience," said Danny McCabe, director of athletics and campus recreation. "The Adelphi athletics family of current and former student-athletes, and our many friends and partners, did an outstanding job, and our Panthers programs will benefit greatly from their generosity."