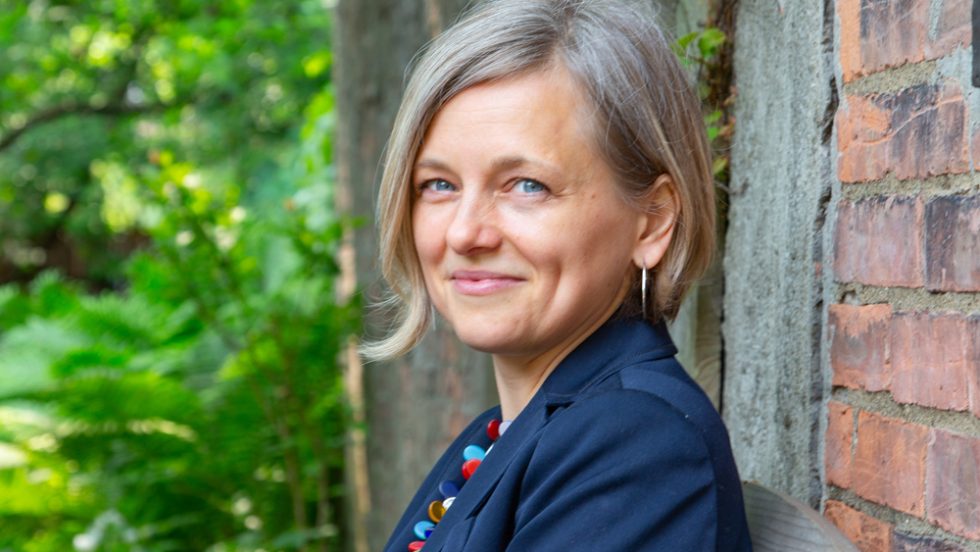 Ewa Sobczynska '04 has made a career out of concern for underserved communities.
Ewa Sobczynska '04 has built on her education to manage projects that change lives.
Ewa Sobczynska '04 has made a career out of concern for underserved communities.
She has supported projects providing direct assistance to displaced people in the country of Georgia and helping internally displaced people pursue small business opportunities in Azerbaijan.
The goal of Sobczynska's work is to improve lives around the world, but the effort isn't entirely a charitable one. Deals are negotiated for development projects in localities lacking in resources, but loans are expected to be repaid and return on investment demonstrated.
---
A Passion for Helping Others
Originally from Rzeszów, Poland, Sobczynska obtained a BA in International Studies at Adelphi in 2004. While earning her master's degree in international relations at Georgetown University, she spent a summer working with an organization that helps women from Nigeria who are trafficked into Europe on false promises of legitimate work.
When she returned to the United States, she began thinking about what led women to migrate to new countries and how to educate them so they're less vulnerable to trafficking forces and organized crime.
"I had this idea that I was going to work at the grassroots level in a developing country, but life took a different turn," she said. "I started in a junior position at the World Bank."
After more than 12 years in international development policy and research, she went on to work as a monitoring specialist in sustainable development and climate change for the European Investment Bank. She now consults with the Asian Infrastructure Investment Bank (AIIB), based in China, to help the organization build processes and policies for funding new infrastructure projects in Asia, including making sure they benefit the people they're intended to help.
---
A World of Opportunity
[pullquote direction="right"] "I grew up in a country that underwent a tremendous transition. I see change as something that's possible."[/pullquote]
Sobczynska—a 2012 10 Under 10 honoree—credits Adelphi's Honors College with putting her on the road to working on a global scale. Here, she found a community that welcomed her and professors who took the time to help her develop communication skills in her new language. In particular, Katie Laatikainen, PhD, professor and director of International Studies, provided her with the knowledge to fuel her passion.
"Her class opened my eyes to the fact that I wasn't only an international student and could speak languages but I could actually engage in international relations," Sobczynska said. "She's been my mentor ever since.
"I grew up in a country that underwent a tremendous transition," she added. "I see change as something that's possible."
---
For further information, please contact:
Todd Wilson
Strategic Communications Director 
p – 516.237.8634
e – twilson@adelphi.edu