The Princeton Review Guide ranks Adelphi as one of the most environmentally responsible colleges in the nation.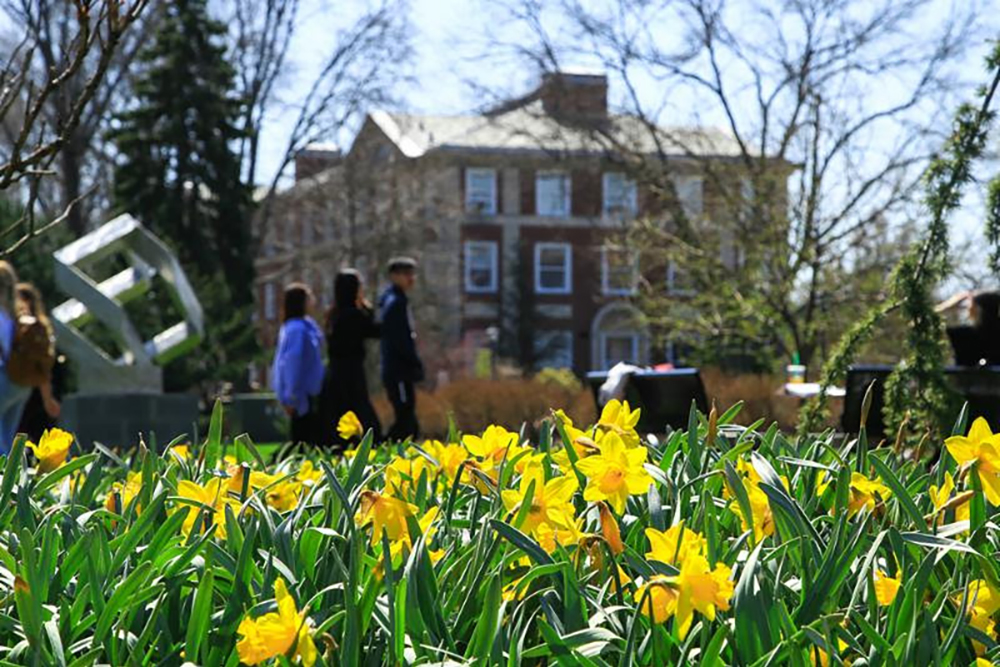 When it comes to the environment, Adelphi is committed to being green. We're taking the lead in conserving energy, reducing emissions and waste, and conserving water. And we continue to look for how we can become even more environmentally sustainable programs and policies.
Our efforts are being recognized: This year Adelphi was ranked one of the nation's most environmentally responsible colleges in The Princeton Review Guide to Green Colleges. The Princeton Review surveyed nearly 700 schools and analyzed more than 25 data points for the final selection of schools.
"These schools are standouts for their exemplary commitments to sustainability," said Rob Franek, The Princeton Review's editor-in-chief. "With initiatives ranging from solar-powered residence halls and tray-less dining halls, to robust offerings in environmental studies, they are, each in their own ways, outstanding institutions for students seeking to study and live at a green college."
Over a decade ago, Adelphi became the only higher education institution in the region to install a geothermal heating and cooling system that decreased New Hall's dependence on electricity by an estimated 30 percent. (New Hall is better known these days as Residence Halls A and B.) The University has helped offset an amount of carbon dioxide emission equivalent to that produced by nearly 3,000 cars or 2,000 average American homes. These numbers only begin to capture Adelphi's green transformation.
The University installed solar panels that provide an estimated 57,000 kilowatts annually, has had a 32 percent water-use reduction and is a pesticide-free campus. The Center for Recreation and Sports has reduced Adelphi's fossil energy use by 20 percent and is LEED-certified, as are the Adelphi University Performing Arts Center and the Nexus Building.
Many of these results wouldn't be possible without the dedication of the Sustainable Campus Council. Composed of almost 30 members of the faculty, administration, operations staff and student body, the council is responsible for driving a culture of sustainability and developing solutions that make Adelphi a truly green university.
"I am proud to work at an institution that makes sustainability a priority. We have a lot of dedicated people at Adelphi and the sustainability work has brought our community together," said Aaren Freeman, PhD, one of the chairs of the council and associate biology professor.
This isn't the first time Adelphi was commended for being sustainable. In 2006, Adelphi was recognized for its green power purchasing by the United States Environmental Protection Agency, a national agency dedicated to protecting the environment by enforcing environmental law. In 2019, for the fourth year in a row, Adelphi placed first in the Car Free Day Long Island competition, an annual international event in which people are encouraged to use mass transit, walk or carpool to raise awareness about the impact their commute has on their home and the earth. Adelphi's efforts to create a sustainable environment continue with plans of installing an additional four electric vehicle charging stations that will reduce gas emission.
"It is terrific that Adelphi has been ranked by The Princeton Review for being an environmentally responsible campus," said Brian T. Wygal, PhD, associate professor and director of Environmental Studies and Sciences and a member of the Sustainable Campus Council. "However, our work as the Sustainable Campus Council has only just begun."
---
For further information, please contact:
Todd Wilson
Strategic Communications Director 
p – 516.237.8634
e – twilson@adelphi.edu