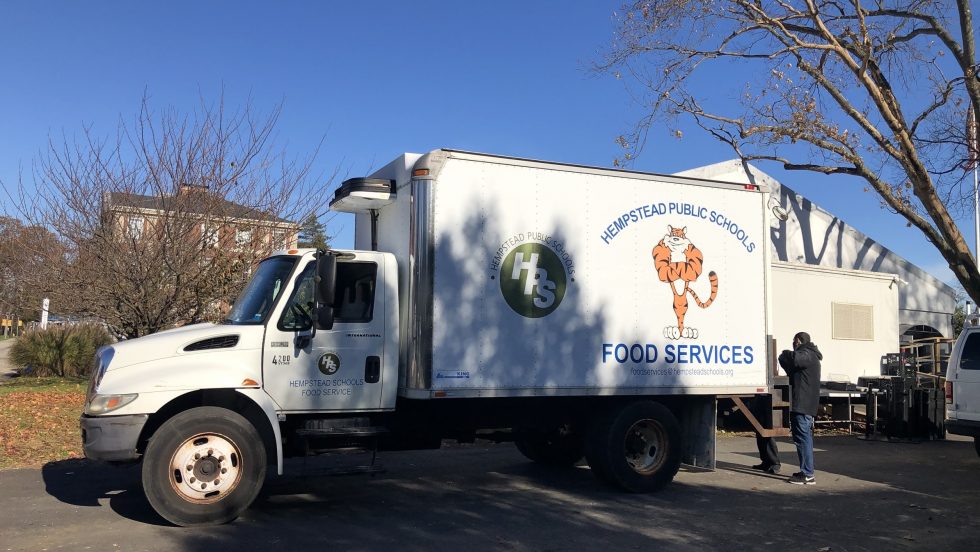 In late summer 2019, Adelphi University constructed a temporary dining hall on campus to serve meals while the Ruth S. Harley University Center (UC) was undergoing major renovations and expansion.
Called the Panthers' Den, the facility has served students and others on campus well. But with the impending completion of the UC renovations—planned reopening will be for the Spring 2021 semester—the temporary structure is being removed. The facility and most of its furnishings are being reused.
"Consistent with Adelphi's commitment to sustainability and community service, the University is donating the tables and chairs from the Panthers' Den to the Hempstead Union Free School District [HUFSD]," said James Perrino, executive vice president of finance and administration, in a recent campus announcement. "Chartwells, our dining services provider, is working with Hempstead schools to donate kitchenware such as pots, pans and utensils."
The 46 tables and 158 chairs and the dining service equipment were delivered to the school district in batches.
"The HUFSD greatly appreciates Adelphi's donation to our school community," said Ana Lovasz, district spokesperson. "Please know that chairs and tables are being used by students at Hempstead High School, Barack Obama and Front Street elementary schools. Students and administrators are very thankful."
Perrino added, "The site of the Panthers' Den will be restored to its original beauty. This includes the removal of fencing and asphalt, and restoration of the lawn, gardens and walkways."
Learn more about the UC project, as well as other environmental initiatives at Adelphi.