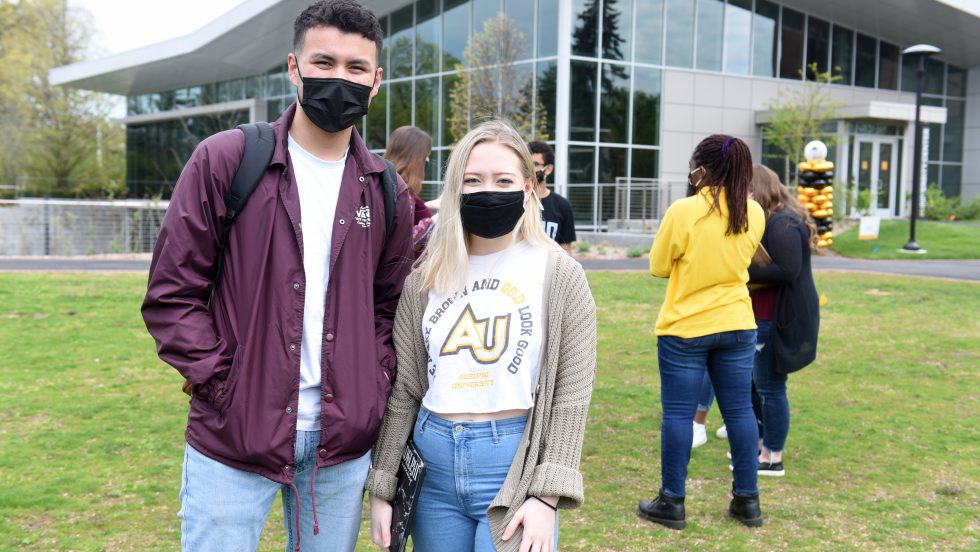 Dear Adelphi Community,
We are pleased to provide the following important updates to our COVID-19 prevention measures:
Adelphi has once again been allotted a limited number of Pfizer vaccine doses from New York state. On-campus COVID-19 vaccinations for eligible Adelphi community members will resume on Monday, May 17, 2021. Should additional doses remain, they will be made available to eligible family members beginning Wednesday, May 19, 2021.
While we see the recent announcement about relaxed mask wearing by the Centers for Disease Control and Prevention (CDC) as a good indicator of progress in the fight against COVID-19, masks will still be required indoors and anywhere social distancing is not possible on the Adelphi campus and at our centers. The CDC suggests that people who are vaccinated "can resume activities without wearing a mask…except where required by federal, state and local…rules and regulations, including local business and workplace guidance." New York state, our governing body, has not adopted the CDC's position and at Adelphi, masks are still required for the safety of our community at this time.
What You Need to Know About Upcoming Vaccinations at Adelphi
Supplies are limited and will be administered on a first-come, first-served basis. We expect to receive 400 doses from New York state through a second allocation arranged by the Commission on Independent Colleges and Universities (CICU).
Pfizer is a two-dose vaccine. This means that individuals who opt to receive their first dose between Monday, May 17, and Friday, May 21, must be available between Monday, June 7, and Friday, June 11, to return to campus for their second dose.
Type of Vaccine: Pfizer-BioNTech (two doses)
Cost of Vaccine: There is no cost to the student, employee or their family for this vaccine.
Eligibility: All Adelphi community members are eligible. (You do not have to be a New York state resident.)
Appointments Are Required:

See How to Schedule an Appointment below.
An Adelphi ID is required for student, faculty and staff vaccinations and must be brought to the vaccination appointment. Family member appointments must be scheduled by the current Adelphi community member. Family members must bring a valid ID with date of birth (such as driver's license or passport) to their appointment.
Please arrive 15 minutes prior to your appointment time.
Please come to your appointment alone—no additional visitors will be allowed.
Please wear a mask and limit the number of personal belongings that you bring with you.
If you are feeling unwell, please reschedule your appointment.
Arriving late may result in rescheduling of our appointment. Please be on time.
Following the vaccine administration, recipients will be required to remain on site for a brief, 15-minute period of observation.
When:
Monday, May 17–Friday, May 21, 2021
8:00 a.m. to 4:00 p.m. (by appointment only)
Where:
Adelphi University
Angello Alumni House
154 Cambridge Avenue
Garden City, NY 11530
How to Schedule an Appointment
Please call Adelphi Health Services at 516.877.6002 between 8:00 a.m. and 4:00 p.m., Monday through Friday, or email healthservicescenter@adelphi.edu.
Recipients must submit the online New York state COVID-19 Vaccine Form before their appointment.
Recipients should plan to arrive 15 minutes prior to their scheduled appointment and plan to stay for 15 minutes afterward.
Scheduling will be on a first-come, first-served basis from Monday, May 17, to Friday, May 21.
Additional Information and Alternative Vaccine Sites
We continue to strongly encourage all Adelphi community members to get vaccinated against COVID-19. It is in the best interest of the individual, their loved ones and society, and will help to bring this pandemic under control.
For more information and to view alternative vaccine sites:
Separate from scheduling a vaccine appointment, you can reach out to our University Health and Wellness team with questions by emailing healthandwellness@adelphi.edu or calling Adelphi Health Services at 516.877.6000.
Additional information on the Adelphi COVID-19 Vaccine Incentive Program will be forthcoming and all incentives will be offered following the August 1 deadline for submission.
Sincerely,


Nicole Gaudino
Executive Director
University Health and Wellness