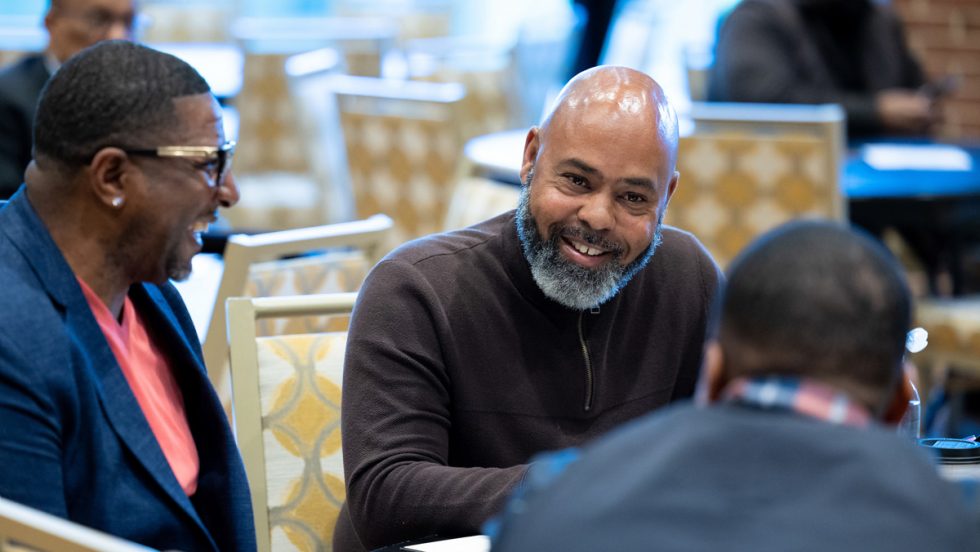 The Adelphi University School of Social Work will present "BreaKING the Ice: Black Men's Mental Health and Wellness Conference," highlighting the importance of mental health and wellness among Black men, on Saturday, April 15.
The conference, themed "From Stigma to Strength," will examine mental health from a holistic standpoint by exploring multiple issues and perspectives and how institutions responsible for health and wellness both interact with and reinforce one another.
Schanica Pickens, School of Social Work assistant dean of student affairs and director of the Master of Social Work program, said, "We must continue to raise awareness about the profound and persistent racism and discrimination that Black Americans, especially true for Black men, are linked to various adverse mental health outcomes. A call to action is needed: #blackmendeservetogrowold."
In collaboration with Arron Muller, MSW '12, CEO of Modify Wellness, Inc., and adjunct faculty in the School of Social Work, "BreaKING the Ice" will feature keynote speaker Allen E. Lipscomb, PsyD, LCSW. Dr. Lipscomb is an associate professor and director of online and offsite MSW programs as well as director of the Minority Male Mentoring (M3) and Student Success Allies (SSA) program at California State University Northridge in the Department of Social Work and a clinical psychologist and a licensed clinical social worker in California.
Moderating the conference is Alain Berrouet, Queens director for intergovernmental affairs at the New York City Department of Education. The conference will include a panel of community leaders, alumni and therapists who will share their stories, experiences, coping skills and resources for achieving mental wellness. Jumaane Williams, New York City public advocate, is a guest speaker.
"BreaKING the Ice: Black Men's Mental Health and Wellness Conference" will take place at Adelphi's Performing Arts Center from 9:00 a.m. to 4:00 p.m. It is open to the public free of charge, though registration is required. Participants can earn six continuing education credits for $30.
Panelists will include:
Allen E. Lipscomb, PsyD, LCSW, is the associate professor and director of online and offsite MSW programs as well as director of the Minority Male Mentoring (M3) and Student Success Allies (SSA) program at California State University Northridge in the Department of Social Work and a clinical psychologist and a licensed clinical social worker in California.
Sean Travis Doorn, PhD '17, is a school psychologist with the New York City Department of Education. He also works as a consulting behavior intervention specialist for nonprofit agencies in New York City that provide multiple services for people with disabilities and their families. Dr. Doorn is an adjunct instructor at New York Institute of Technology and an adjunct professor at Touro College Graduate School of Education and Psychology. He occasionally teaches classes at the Adelphi.
Dwayne James, '15, MS '16, LMSW, is a licensed practicing social worker in New York City, Boston, and Washington, DC. With a passion for youth development and mental health education, he aspires to educate as many people as he can with the foundational knowledge of mental health. He earned bachelor and master's degrees in social work with a focus on psychotherapy. In 2017, James launched the "What up Wayne" podcast and in 2018, created "Mental Wellness Mondays," a weekly video discussion touching on mental health issues, from identifying and coping with mental illnesses to self-care practices. James is in the second year of his PhD studies at Howard University's School of Social Work; he aims to research and understand the complex relationship between social media and mental health amongst Black users.
Richard James, MSW '17, LMSW, has more than 20 years of experience working and collaborating with social work, mental health, substance use services and health systems, addressing social determinants of health and improving health outcomes and equity. He has a BS in Community Health and Human Services from Saint Joseph's College and an MSW from Adelphi University. He earned his LMSW in 2022 and serves as a board member for Campbell Health Solutions. His work specializes in such fields as substance use disorder and mental health and addressing health disparities among populations such as those who are LGBTQ+, people living with HIV, and runaway and homeless youths.
Telvis Rich, PhD, is a faculty member and director of the Adelphi School of Social Work's Bachelor of Social Work program. He has 25 years of leadership and teaching experience in higher education and social work practice. As a licensed social worker and transformational leader, Dr. Rich has served as CEO of a large nonprofit organization and as a certified school social worker, college associate professor, social work department chair, director of field education, BSW and MSW director, children and family case manager, founder of Billings and Rich Investment Group, educational consultant with leading publishing companies, and director of the Court Appointed Special Advocate Program. A published scholar and national presenter, Dr. Rich's research centers on workplace engagement and inclusion, social work education, Black men in social work, and the use of coping among diverse populations.He earned undergraduate and graduate degrees in social work from the University of Georgia and a doctorate in human development and organizational leadership from Northeastern University.
D'Shawn Harris, LGPC, Born to a drug addicted mother who spent most of her life in and out of prison, Harris was a product of the foster care system. After graduating from high school, he attended community college to study criminal justice. He received a BS in Criminal Justice from Coppin State University. Harris carried out a 10- year career path in the criminal justice field starting as an intern and ending as a district court commissioner. His experience includes working with children and adults with anxiety, depression, personality disorders, foster care related concerns, addiction, LGBTQ+ issues, PTSD, trauma, school based issues, ADHD, relationship concerns and life transitions. Harris became a psychotherapist in 2021 and currently works for Maryland Counseling Associates, where he offers a safe therapeutic space to alleviate emotional pain, restore hope and promote personal growth with an eclectic approach.
Andrew Spaumer, MSW, is a PhD candidate at the University of South Africa social work program in Pretoria, a lecturer (contractor) at the University of South Africa and a director at Andrew Spaumer (Pty) Ltd. He is also a board member of the International Association for Social Work with Groups (IASWG).
Deon Brown, LCPC, is a licensed therapist in Maryland and the District Of Columbia. He has been providing mental health services to teens, adults and couples for more than 15 years. Presently, he is a licensed clinical professional counselor and clinical addiction counselor and is certified in trauma work by the International Association of Trauma Professionals. He received a bachelor's degree from Towson University in clinical psychology, a master's degree in counseling psychology from Loyola University, and a certificate in chemical dependency from Dundalk Community College. Brown is the CEO and founder of DJB Therapeutic Solutions, which provides individual therapy sessions for teens, adults and couples, mental health and substance abuse evaluations, consulting services, corporate workplace wellness training, and ministry readiness evaluations. His practice also focuses on the integration of spirituality, mental health, and community, and how dimensions interact. Known by his colleagues and clients as "The Self-Care Therapist," he released a best-selling book entitled NON-NEGOTIABLE SELF CARE.