Video of Fabian Morgan proposing to graduate Krystal Richards on Commencement day 2019 as she walked across the stage to receive her diploma has gone viral on the internet and been covered by several news outlets.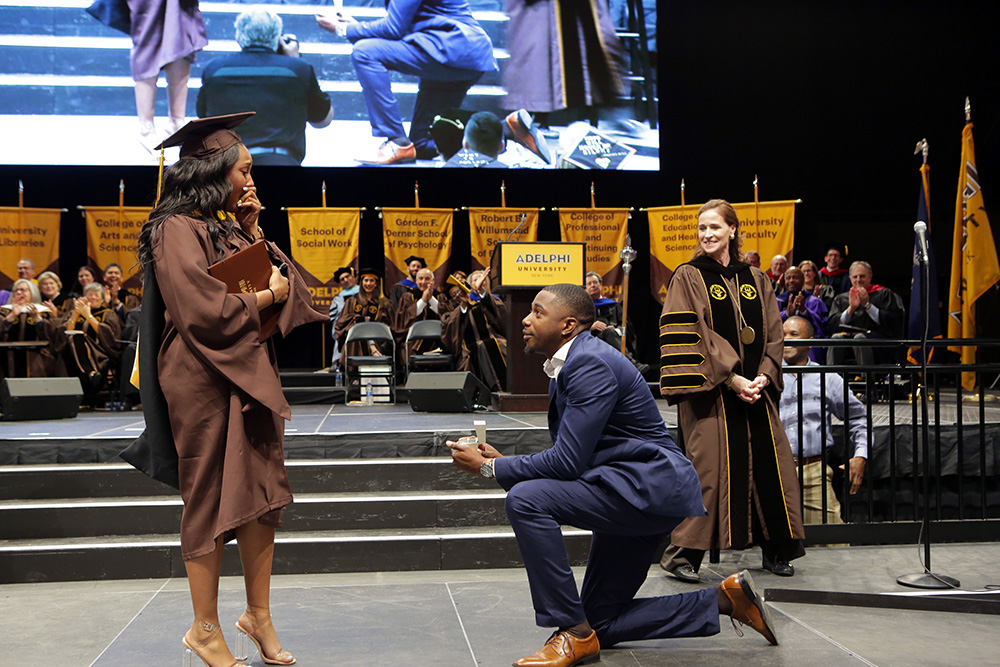 Commencement 2019 was extra special for one graduate this year. On May 19, Krystal Richards, M.S. '19, received her master's in nursing, an engagement ring, and a viral video moment, all in one day.
After receiving her diploma, Richards turned around to find her longtime boyfriend, Fabian Morgan, on the stage. To Richards' surprise, Morgan got down on one knee in front of thousands, including their families, to ask her to marry him. The crowd went wild. She said "yes!"
"My cheeks hurt from smiling so hard," gushed Richards on Instagram. "This will be a day I will never forget."
Before Commencement, Morgan, Richards' now fiancé, cleared making the proposal onstage with Adelphi's Executive Director of Public Safety and Transportation Robert Hughes—who gave the okay on one condition: that Morgan not faint on stage, as he was obviously very nervous beforehand. "I said to him 'When you get up there, you're not going to pass out on us, are you?'" Hughes said. "He assured me he wouldn't."
Since Commencement day, photos and videos of the moment have gone viral on the internet. The video has been shared on popular Instagram accounts—including The Shade Room and Black Love, as well as Adelphi's Instagram—with over 3 million views. News outlets, including ESSENCE, have even written about it.
Morgan, who, like Richards, lives in Queens, shared on his Instagram account how happy he was to have pulled off the proposal. "Today was a day I will never forget," he wrote. "Today I asked the girl of my dreams to marry me. (She said yes!!) Our journey is forever and I couldn't have asked for a better person to have by my side. Thank you for choosing me…I love you endlessly."
Now an Adelphi graduate as well as a fiancée, Richards is ready to take on a new list of goals. "Next up, boards, new job, then wedding planning."
---
For further information, please contact:
Todd Wilson
Strategic Communications Director 
p – 516.237.8634
e – twilson@adelphi.edu