At this book celebration event, members of the Maasai tribe of Africa advocated for societies to become less patriarchal.
"A long time ago someone said 'If you're not written down, you don't exist.' When we look at the texts we are using, there are very few women featured; fewer yet are women of color."
These were the opening remarks from Adelphi's Ruth S. Ammon School of Education Associate Professor Dolapo Adeniji-Neill, Ph.D., during the event titled Written in Her Own Voice.
Celebrating the publication of the book of the same name and the women who shared their stories the event was attended by Adelphi students as well as Chief Joseph ole Tipanko and members of the Maasai tribe of Africa who are advocating for these societies to become less patriarchal.
For more than 26 years, Dr. Adeniji-Neill wondered why African women's stories were being told by writers from other cultures. "Where are our voices?" she said, "Why can't I tell my own story?" From this observation came the idea for a book that she co-edited with Anne Mungai, Ph.D., professor and department chair of Ruth S. Ammon School of Education. 12 women from 11 different countries.
Dr. Mungai said, "This book is an encouragement for other women to know [having a voice] is possible and to aim for the stars."
For both Drs. Adeniji-Neill and Mungai, family support is an essential component of empowering women. Dr. Mungai spoke about the concept of Ubuntu, which roughly translates to "I am because you are."
Dr. Adeniji-Neill said acting against all odds is necessary in order to have a voice, but one does not need to act alone; there are always people who believe in what you do and are there for you, even if you don't know it. "Our lives are only rich because there are thorns in our roses," she said. "Many of these stories are about the thorns in our lives, but also the miracles that come where you don't expect them."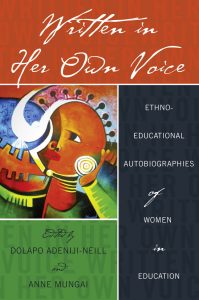 Drs. Mungai and Adeniji-Neill want to convey that the only way for African girls and women to find their voices is through education. A poem written by Dr. Mungai's husband, George Mungai, reads: "In traditional Africa, women are to be seen not heard / A woman's word is not believed until after the fact." Dr. Mungai said that this is changing because of education.
Tipanko is working to change cultural mores. He said that among the Maasai, women are a third priority, the first being men and the second being cows. He believes that all people are entitled to the same human rights. He and his wife, Cicilia, created a safe house for young girls who flee from their parents because they refuse to stop their educations and be married off to whomever their parents choose. The chief told how he and his wife provide a home and a school for these girls.
He and his companions act as cultural ambassadors, traveling the United States to schools and museums to tell about their way of life. They brought hand-made necklaces and bracelets, made by the Maasai, to sell and raise money for the safe house. Tipanko's goal as chief is to give a voice to the women in his community and bring this message from Written in Her Own Voice back to the Maasai. "The men of Maasai-land are brave and proud because they kill lions," Tipanko said, "but these two women have killed more lions than me just by writing this book."
---
For further information, please contact:
Todd Wilson
Strategic Communications Director 
p – 516.237.8634
e – twilson@adelphi.edu