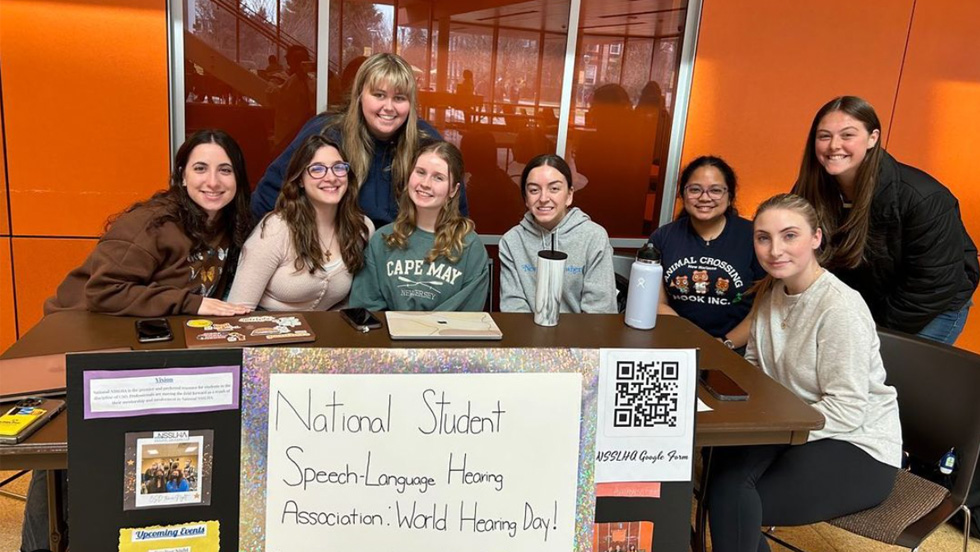 The National Student Speech Language Hearing Association (NSSLHA) is an organization dedicated to supporting students who are pursuing careers in the fields of speech-language pathology and audiology by providing resources, networking opportunities and educational support to students and raising awareness about the challenges facing the Deaf and hard of hearing community.
The Adelphi chapter of the NSSLHA has spent the past year embodying the mission of the organization.
They were honored for their efforts by receiving three 2023 Brown and Gold Awards—for Excellence in Philanthropy, Commitment to Organizational Growth and Excellence—and now a 2023 Bronze Chapter Honors from their parent organization, for attaining a high level of achievement in the areas of member recruitment and engagement, community outreach and service, legislative advocacy and fundraising during the 2022–2023 academic year.
"We are so proud of the 2022–2023 Chapter Honors awardees, and we congratulate them on all they've achieved this year," said NSSLHA Executive Council President Gabrielle Howard. "Each chapter demonstrated a deep commitment to its members, its community and the professions, and embodied NSSLHA's values in the areas of collaboration, diversity, education, integrity, leadership and service."
"I am very proud of our association for winning a Bronze Chapter badge. We worked very hard and will continue to do so in the future," said Victoria Giacobbe, rising senior and current president of NSSLHA. "We hope to increase the ranking for our chapter badge this year by continuing to do what we have done in the past as well as try to get more members to join NSSLHA."
A Growing and Welcoming Community
The award comes on the heels of the chapter garnering three Brown and Gold Awards. It was named an Organization of Excellence and received the Excellence in Philanthropy Award for fundraising for the AshFoundation and the Mungai Foundation and raising money and donating time to the Hy Weinberg Center for Communication Disorders. The NSSLHA also received the Commitment to Organizational Growth Award for creating an inclusive and welcoming environment at events and growing by offering virtual and in-person events.
Giacobbe emphasized, "This organization has grown and continues to grow by welcoming everyone on the Adelphi campus. The majority of the members are communication sciences and disorders majors, but anyone can join, including undergraduate and graduate students."