Showstopping performances by alumni and students joined heartfelt tributes to Adelphi standout supporters as the University honored its rich legacy and contributions to the arts at the 23rd annual President's Gala, An Evening for the Arts at Adelphi: Legends and Legacies, on June 10 at the Garden City Hotel.
This annual fundraising event attracted a dedicated audience of more than 300 civic, business and local leaders, along with Adelphi's campus and community members, in support of Adelphi's mission. In addition to paying homage to artists and entertainment legends who launched their careers at Adelphi, the event celebrated the 15th anniversary of the Adelphi University Performing Arts Center.
This year's gala raised $2.36 million for arts programming, student scholarships and initiatives that advance the goals of the University's Momentum 2 strategic plan, which launched last fall.
"It was a wonderful evening celebrating Adelphi's history of excellence in the arts with our community," said President Christine M. Riordan. "We are grateful for our generous benefactors, sponsors, donors, alumni and supporters who help us pursue our strategic initiatives and continue to inspire diversity, connectivity and community engagement through the arts."
The gala also included three award presentations in recognition of the honorees' support for Adelphi, its students and the community at large:
The

 

Family of Jonathan Larson '82, Pulitzer Prize-winning writer and composer of the Broadway musical

 

Rent

 

and

 

tick, tick … BOOM!, received the President's Humanitarian Award. A retrospective video of Larson's life included Lin-Manuel Miranda, who shared the impact that Larson had on his career. The Larson family, represented at the Gala by Julie Larson McCollum, endowed the Jonathan Larson Scholarship Fund with a $1 million gift, which was matched by the University. The $2 million Jonathan Larson Scholarship Endowment will support annual scholarships for students who study theater at Adelphi.
Garden City residents

 

Mary Jane '62 and Thomas Poole

 

received the President's Award for Distinguished Service for their service to Adelphi and the Garden City community. In 2015, they founded the Poole Family Broadway Series, which has brought renowned talent to the Adelphi University Performing Arts Center, including Tony Award recipient and Kennedy Center honoree Chita Rivera, Rent performer Anthony Rapp and Emmy-winning actress Susan Lucci.
Emmy-award winning producer

 

Peter Principato '87

 

received the President's Outstanding Alumni Award. Principato, who supports the Principato '87 Moving Image Arts Scholarship, is the founding partner of Artists First, a talent management and production company focused on actors, writers, directors and producers in film, television and digital media. A Garden City native and previously a member of the Adelphi University Board of Trustees, Principato sits on the Adelphi University President's Advisory Council.
"Each year, our community comes together to celebrate Adelphi and support our goal of transforming students' lives," said Thomas A. Kline, EdD, vice president of University advancement and external relations. "I'm grateful for the exceptional generosity of our loyal supporters who made this year's event so successful. Our three honorees exhibit the spirit of Adelphi and have made a tremendous impact on the arts."
The evening also featured rousing musical and dance performances. A quartet of Adelphi students and alumni danced to an excerpt from Suite Sharon Jones, Brooke Beck '23 sung "Live Out Loud" from A Little Princess, and Bistro Award-winner T. Oliver Reid performed "Make Them Hear You" from Ragtime. An emotional rendition of "Louder Than Words" from tick…tick…BOOM! was performed by Adelphi students and alumni.
For more information about the President's Gala and ways to support Adelphi, visit adelphi.edu/gala.
2023 President's Gala
More than 300 guests attended "An Evening for the Arts at Adelphi: Legends and Legacies" on June 10 at the Garden City Hotel.
Launch Gallery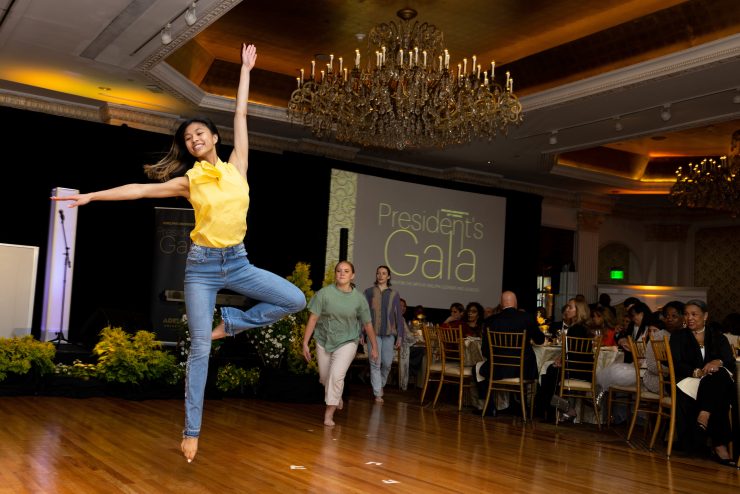 15 Photos
2023 President's Gala
More than 300 guests attended "An Evening for the Arts at Adelphi: Legends and Legacies" on June 10 at the Garden City Hotel.
15 Photos