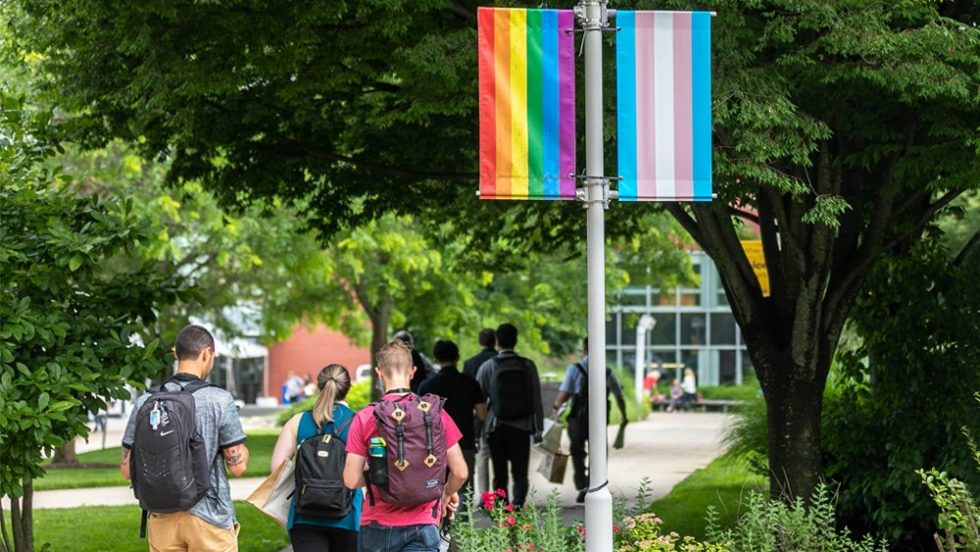 June is a time when individuals across the country and the world celebrate the LGBTQ+ community as part of Pride Month. Adelphi University, too, celebrates the many contributions of the LGBTQ+ community within our campus and honors their continued struggle for equity within our nation and the world.
Dear Adelphi Community,
June is a time when individuals across the country and the world celebrate the LGBTQ+ community as part of Pride Month. Adelphi University, too, celebrates the many contributions of the LGBTQ+ community within our campus and honors their continued struggle for equity within our nation and the world.
Adelphi is proud to be recognized as an inclusive campus for those who identify as LGBTQ+ as evidenced by our current 4.5-star rating on the Campus Pride Index . Our campus has instituted tangible signs of our support of the community through the hanging of our LGBTQ+ Pride Flag and the addition of the Transgender Pride Flag in May 2019. We are excited about our work toward attaining a 5-star rating.
Just last June, Adelphi participated in World Pride NYC 2019 and marched for the first time in Adelphi's history. Our marchers were proud to carry the Panther Proud banner demonstrating and celebrating our commitment to the LGBTQ+ community.
This Pride Month undoubtedly feels different, and we know that this year is a particularly challenging time for our Queer and Trans People of Color (QTPOC), with the convergence of worldwide unrest, which placed a light on the issues of long-standing systemic racism and inequalities. While Pride is an acknowledgment of the accomplishments of the past, it is also a reminder of the work that remains to be done.
Below, you will read an open letter from one of our community members about his authentic experience, honoring the work of QTPOC.
We remain proud of our demonstrated support of the LGBTQ+ community and grateful for the contributions of our LGBTQ+ students, faculty, staff, administration and alumni. However, we also acknowledge that this is a time to reflect on and renew our commitment to the safety and well-being of all members of our community. This includes a commitment to seeing Adelphi reach 5-star status within the Campus Pride Index and ensuring that we continue to be responsive to the experiences of you, the members of our community. It is a time for each of us to reflect on how we can be better allies to the LGBTQ+ community both at Adelphi and in the larger community. We encourage you to find time in the coming days to reflect, educate, dialogue and take action in support of the LGBTQ+ community.
In solidarity and unity,
Office of Diversity, Equity and Inclusion
LGBTQ+ and Allies Committee
LGBTQ+ Task Force
LGBTQ+ and Allies Alumni Affinity Group
An Open Letter to Our Community
I can't remember a time when I wasn't fully aware of LGBTQ+ history and fighting for the injustices that were presented before me. I've acknowledged the numerous LGBTQ+ luminaries who paved the way for my very existence on this earth, which is to be out and proud of who and what I am in this world. For their gratitude and dedication, along with a lot of perseverance, I stand resolutely here in this space, placing Black, Queer and Trans POC history as a part of the narrative. I am fully committed and ready to serve the community and share my knowledge with the next Queer generation.
As a Black Gay man, I am in constant skirmish with my own Black community and the LGBTQ+ community. Frequently, the two bump heads in the midst of some political malevolent storm. Knowing my life is not up for debate or judgement. I divide my energies between both worthy and distinct worlds, allowing no disrespect from either sphere. I continue my journey filled with joy and admiration. I am a human being worthy of love.
I honor those who came before me and those who are present. The pageantry is incredibly vibrant and thought provoking. I am in awe of what we have accomplished thus far and still what lies ahead for the LGBTQ+ community. There is work that has been done and we are fully aware not to rest on our laurels.
Our history dates back to ancient times, through wars and conflicts, to the underground societies that met in secret. The Harlem Renaissance presented the Ball Scene, complete with pomp and circumstance. We showed our flourishes of glamour. We withstood societal norms and made our own communities within the Black community. I am a product of the Balls. We provided modern-day tropes, such as vernacular and style that are in constant use today. Society has taken our flair without giving credit. But we continue to fight.
The Stonewall Riots began in earnest. We wanted to gather in public places without police brutality and the scorn of being outed in the press. Our community was treated subpar and steadily taken advantage of. We wanted the freedom to just be. So, we took to the streets; leading the way was our Black Trans Sisters and POC including Marsha P. Johnson and Sylvia Rivera and so many others. Our demands were simple: leave us alone without persecution. This act of defiance led to Pride marches, demonstrations and parades around the world, which was always about protesting the establishment. Many of us think it was a celebration. In some ways it was, but always on the minds of many, it was about progress and remaining vigilant for the rights we justly deserve. But we continue to fight.
In the 1980s, the AIDS epidemic arrived swiftly and decimated our community. This deadly disease killed most of our Black creatives. This time led by our White Gay brothers, such as AIDS Activist Larry Kramer (who recently passed away). We fought for drugs and federal legislation to protect us. But, the life-saving drugs went to our White Gay brothers first, leaving a large death toll on our Black Gay brothers. I remember this all too well, because I was on the front line protesting with a handful of Queer POC. I believed that our community was united. I was profoundly devastated. The work related to race and racism continues within the LGBTQ+ community. But we continue to fight.
Did you know that Black Lives Matter was started by three Black Lesbians in 2013? Alicia Garza, Patrisse Cullors and Opal Tometi began the movement with the hashtag #blacklivesmatter. These women mobilized a digital discourse that continues in the present day. The Black Lives Matter moniker is a reference to the Black Queer community for its manifestation. The murders of Black men and women has put the movement out in front. Protests in the United States and around the world use Black Lives Matter to point out racism as everybody's problem. Though many within the Black community continue to not acknowledge or dismiss the presence of the Black Gay community, our contributions to the cause are numerous. But we continue to fight.
Our Black Trans POC community has come under assault. We have been brazenly murdered and beaten almost without a care from our LGBTQ+ people and our country as a whole. What does that tell you, we don't matter to our own? How deliberate and what a slap in the face for humanity. I find myself in the position of an outlier in the community. Perpetually criticizing and reprimanding my LGBTQ+ people for not fighting for ALL OF US. These daily occurrences test my resolve and patience. I have hope. Recently, I attended the Black Trans Lives peaceful protest and rally in Brooklyn, New York–15,000 people strong and united. The outpouring of love was emotional and the mission to correct the circumstances is a good start. But we continue to fight.
Our Black LGBTQ+ history is vivid and alive. We have so much to give and contribute to the LGBTQ+ community and the world. A fight for equality, a fight for change and a fight to be heard is something I hold close to my heart. Our history of Black Queer and Trans POC is there for you. All you have to do is ask and listen intently, because you may just learn a thing or two. But we continue to fight.
In Solidarity,
Greg Miller
Political Science
Administrative Assistant