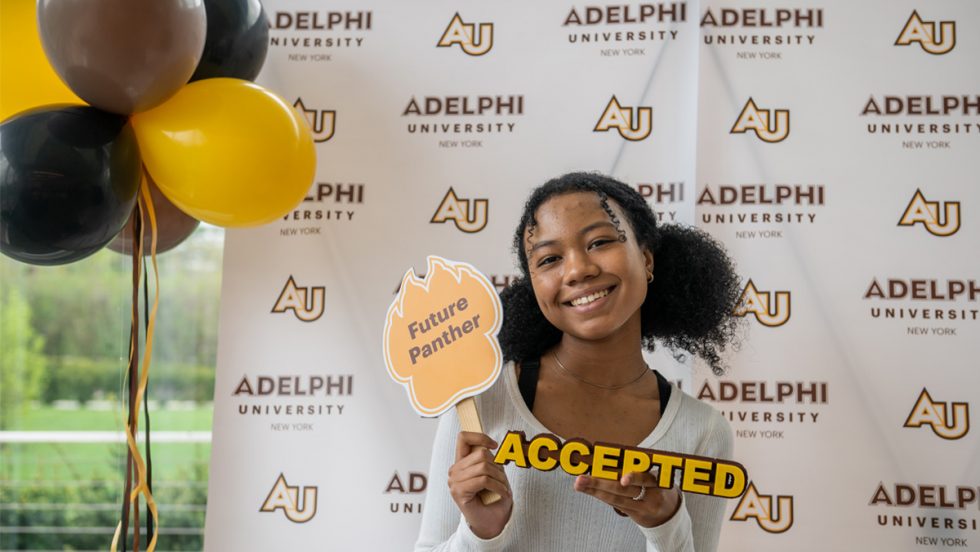 Adelphi University is hoping to welcome a record-setting undergraduate class this fall, following a 25 percent surge in deposits received by National Decision Day on May 1, 2023 versus 2022. The University has received deposits from more than 1,345 new first-year students, hailing from 26 states and 35 countries.
"We are thrilled that so many students are excited for the life-changing experiences that await them at Adelphi," said Kristen Capezza, MBA '12, vice president of enrollment management and University communications. "Our reputation for world-class academic programs, generous financial support and personalized resources resonated with this incoming class, and we look forward to welcoming them in the fall."
Focused on Affordability and Financial Counseling
Capezza attributed this year's surge in deposits to the sustained, coordinated efforts of staff and faculty throughout the University and a renewed focus on affordability and financial counseling—a commitment outlined in the University's strategic plan, Momentum 2.
"One hundred percent of our incoming class is receiving a scholarship from Adelphi," said Shawana Singletary, assistant vice president and chief enrollment officer. "If these students are exceptional enough for us to accept them, they also deserve to be recognized for their academic achievements. " Adding that student scholarships are promised all four years, Singletary said, "Students no longer need to maintain a specific GPA to keep their scholarship, allowing them to focus on what is most important—taking the classes they need to prepare for their career."
Over the past year, the University was able to speed up its timeline for communicating admissions decisions online, providing students with acceptance notifications and financial aid packages earlier than in years past. This year, special events for prospective and accepted students offered more one-to-one connections with faculty and staff in small settings, complementing the traditional larger admitted student events held in March and April.
Changing Admissions for the Better
At the end of the day, Singletary credits the Adelphi community with the final success. "Our incredible admissions team, the launch of our new One-Stop Student Services Center and our dedicated academic and campus partners engaged in the admissions process in an impactful way—they're the reason prospective students fell in love with Adelphi. The collaboration among departments reflects our commitment to student success. Hand in hand, we provide our students and families with the extraordinary support to be successful in their Adelphi journey and beyond."
This fall's entering class of undergraduate and graduate students will join Adelphi's community of more than 7,250 students from 43 states and 72 countries.