Mr. Catell joins the University to share his expertise and insights as a fellow of the Robert B. Willumstad School of Business.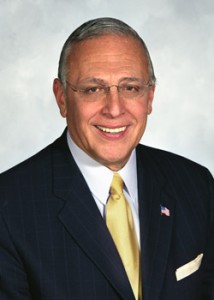 Adelphi University proudly announces Mr. Robert B. Catell '99 (Hon.), retired KeySpan chairman and CEO, as the first John J. Phelan, Jr. Fellow of the Robert B. Willumstad School of Business. As a Phelan fellow, Mr. Catell will be spending time at the University for several months and will share his expertise and insights with students and faculty, enriching the overall educational experience at Adelphi.
Mr. Catell has more than 50 years of experience in the energy utility industry. Currently, he serves as chairman of the Board of JJT Energy, an energy services company providing natural gas on Long Island and New York City to the residential, commercial and industrial markets. He is the former KeySpan chairman and CEO, chairman of National Grid US, and deputy chairman of National Grid plc. Mr. Catell serves on the Board of many organizations: a director of the New York State Energy Research and Development Authority (NYSERDA), chairman of the Board of the Advanced Energy Research and Technology Center (AERTC) at Stony Brook University, New York State Smart Grid Consortium, KEYERA Energy Management Ltd., and the New York Energy Policy Institute's Advisory Council (NYEPI).
Additionally, he is the former Chairman of the American Gas Association, Brooklyn Chamber of Commerce, Long Island Association, Partnership for New York City, Inc., U.S. Energy Association (USEA), Business Council of NYS, the Advisory Board of the City College of New York's School of Engineering and the Downtown Brooklyn Partnership. He received both his master's and bachelor's degrees in mechanical engineering from City College of New York.
Mr. Catell was honored for his exemplary service at Adelphi's sixth annual President's Gala as the 2006 Outstanding Long Island Executive. His support for the University has been invaluable. As a member of the President's Advisory Council, he provides ideas and insights to ensure the further growth and success of the University. Mr. Catell has also invested philanthropically in Adelphi as a contributor to the University's first-ever comprehensive campaign and the Annual Fund, and as a benefactor of student scholarships through his past support of the annual President's Gala and Golf Classic, and the establishment of the Catell Family Endowed Scholarship. He has also shared his professional experiences and perspectives with the Adelphi community by taking part in the Robert B. Willumstad School of Business' Distinguished Executive Lecture Series.
The John J. Phelan, Jr. Fellows program will allow executives to interact and share their experiences and insights with University students, faculty and members of the broader community at various occasions. These events include meeting groups of students over dinner, conducting master classes open to all business students, and delivering presentations to the University community on a topic related to the Willumstad School's strategic plan. The Fellows will explore new ideas and issues related to American and international business, and share their perspective on various topics ranging from professional skills required to succeed in business to ethical values and practices required for good decision-making.
The program which will become an integral part of the Willumstad School of Business, was established in 2013 in memory of one of Adelphi's distinguished alumni, John J. Phelan, Jr. '70, '87 (Hon.), to honor his lifetime service and generous support for his alma mater. Mr. Phelan was the former chairman and CEO of the New York Stock Exchange (NYSE), served as president of the International Federation of Stock Exchanges and also served on the board of various corporations. He was a member of the United States Marine Corps and an active supporter of numerous charitable organizations. Mr. Phelan became the first alumnus to serve as chairman of the Board of Trustees of Adelphi University. In recognition of his service, he was awarded an honorary doctor of laws degree in 1987 and was made Trustee Emeritus. He had also served as an Honorary co-chair of the Campaign for Adelphi, and received the award for Lifetime Service at the 2007 President's Gala.
To learn more about the Robert B. Willumstad School of Business.