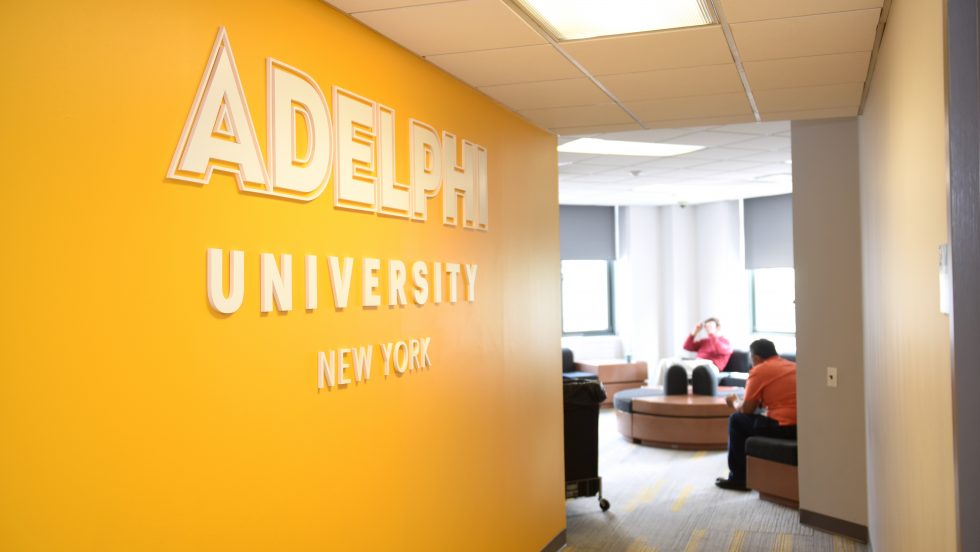 Dear Adelphi Community,
We want to take a moment to update you on our efforts to grow Adelphi's footprint in New York City — one of the top priorities of our Momentum 2 strategic plan.
As Adelphi seeks to modernize and update its presence in the New York City region, we've elected to deliver our fall 2023 semester at 179 Livingston Street in Brooklyn, leasing space in the custom-built, newly opened campus of our New York neighbor, St. Francis College.
During the fall 2022 semester, we shared our intention to relocate the Manhattan Center to an upgraded and more cost-effective building at 133 West 52nd Street. While performing our due diligence on the space, we discovered several unforeseen challenges that would have made the move more costly and less conducive to serving our students.
Rather than stay at our current 75 Varick Street, Manhattan location — which has an unfavorable increasing set of costs — we negotiated an agreement with St. Francis, which recently opened its new campus at 179 Livingston Street in Brooklyn, just three miles from our existing space. After ensuring there would be capacity for both academic programs, St. Francis welcomed the opportunity to lease us space for fall 2023.
The facility at St. Francis offers three floors (255,000 square feet) of modern learning space, completed in fall 2022. Its many impressive features include:
30 state-of-the-art classrooms

Multiple specialty labs including science and nursing labs, a FinTech lab, a MakerSpace with industry-grade equipment, a psychology lab and three multi-use computer labs

A 300-seat auditorium

A 6,600-square-foot library with ample spaces for study and research

A 260-seat cafe featuring a coffee bar, pick-up options and fresh food choices

An outdoor terrace and rooftop deck
This interim opportunity to share this student-centric space with St. Francis College will accomplish the same intended goal as our Manhattan move. Pending approval from the New York State Education Department and Middle States Commission on Higher Education, we will enhance our program offerings by taking advantage of upgraded facilities, while expanding accessibility to our students.
We are thankful for the partnership offered by the St. Francis community and look forward to an uninterrupted delivery of a world-class Adelphi education.
Christine M. Riordan, PhD
President
Christopher Storm, PhD
Provost and Executive Vice President