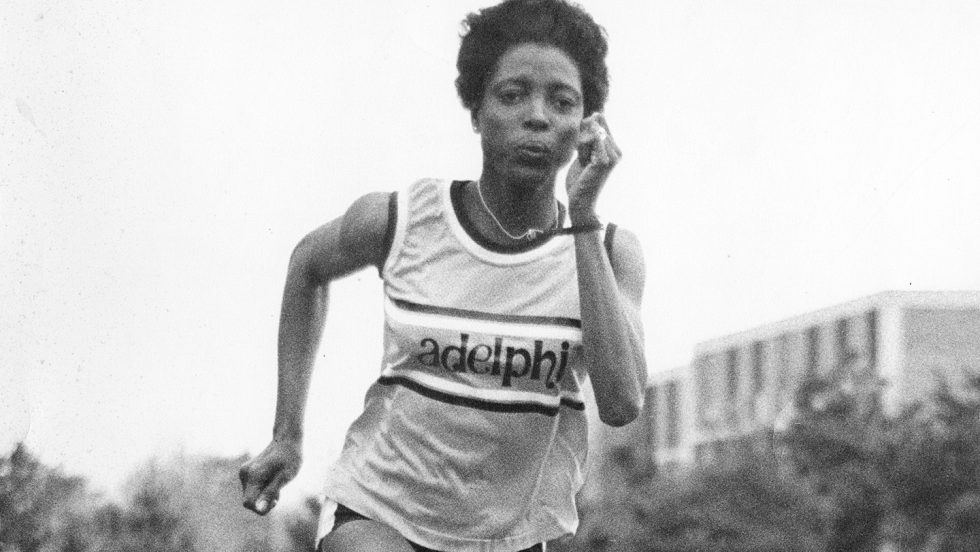 The next event in the Great Minds, Great Conversations series—"Sprinting Toward Success With Two Legendary Adelphi Olympians"—will feature Olympians and Adelphi track alumni June Griffith Collison '81, MBA '84, and Dennis Collison '80.
The couple will discuss overcoming barriers and finding success at Adelphi University. The conversation will be held on Friday, February 3, at 4:00 p.m. and will be hosted in the Olmsted Theatre in the Adelphi University Performing Arts Center as part of Adelphi University Athletics' 21st Annual Black History Month Celebration.
Standout track student-athletes Dennis and June will be in conversation with Adelphi University Board of Trustees member and former track teammate Curtis Minnis '77. He and the Collisons will reminisce about their time together at Adelphi as members of the Panther cross country and track and field teams and delve into the paths they took after graduation, including the Collisons' participation in the Olympic games.
Both Olympians came from their native Guyana to attend Adelphi and attained success in their respective careers: June in healthcare administration and Dennis in law enforcement. They met as students, married and are the parents of professional basketball player Darren Collison.
The couple have had outstanding careers in international competitions and beyond. Dennis was a 200-meter specialist and competed at the Pan-American and Commonwealth Games. He graduated with a Bachelor of Business Administration and is a retired probation investigator in Los Angeles County, California. June had a decorated track career in which she was once ranked 10th in the world in the 400 meters. In 1993, she was inducted into the Adelphi Athletic Hall of Fame. A seasoned senior healthcare executive with more than 30 years of experience, she is currently the president of Dignity Health-Community Hospital of San Bernardino, California.
After the discussion, a reception, the 75th Track and Field Anniversary Celebration, will be held in the atrium of the Center for Recreation and Sports. Separate registration is required and there is a cost associated with the reception.
The "Sprinting Toward Success With Two Legendary Adelphi Olympians" event is free, but registration is required. Learn more and register.