Last fall, Shoshanah Tarkow '06 brought OnWords, an interactive augmented reality (AR), poetry experience, to life at the 2019 Fall Arts Festival. Since then, two Adelphi seniors, now alumnae, have taken the app to the next level as part of their senior capstone project.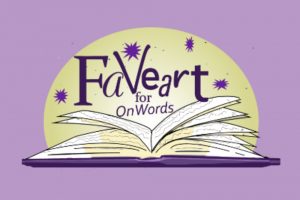 At the start of the Spring 2020 semester, Lee Stemkoski, PhD, professor of mathematics and computer science at Adelphi, connected his students Fabliha Hossain '20 and Victoria Grinthal '20 with Tarkow to develop a multi-platform prototype for OnWords. Hossain and Grinthal eagerly took on the challenge, creating FAVEART for OnWords (an acronym for "Fabliha and Victoria Explore Augmented Reality Technology"), an AR visual web application used for creating animated texts of literature and history for educational purposes.
How it Works—Developing an Augmented Reality Scavenger Hunt
"As technology has evolved, the project was designed to allow educators to show students the importance of literature and history through animated text in the real world," said Grinthal. "Specifically, the application would give educators the ability to personalize texts based on various topics and place them on a physical 'Path' built with either AR markers or geolocations."
According to Grinthal and Hossain, through FAVEART for OnWords, educators, called "Pathmakers," could customize the Path and text for each location. Their students, called "Explorers," would follow the Path on their laptop or mobile device to physically view, explore and experience the given text. Various routes and security conditions were also implemented based on the roles of the users.
"Fabliha and Victoria have successfully coded and designed a working prototype, bringing my vision for OnWords even closer to becoming a reality—could not have been more pleased with the result." said Tarkow, who is also co-creator of the theater production company Like Fresh Skin (which recently virtually staged Too Solid Flesh with Adelphi students and alumni).
Dr. Stemkoski, who oversaw the capstone project, expressed his pride in how his students' final project came out. "Fabliha and Victoria did an amazing job on this project," said Dr. Stemkoski. "The FAVEART project makes cutting-edge augmented reality technology available and accessible to the masses. It is a stellar example of how technology and the arts and humanities can come together to create meaningful and powerful experiences. Fabliha and Victoria are a very talented pair of students that were able to combine their creativity and design aesthetics with their expertise in software engineering to produce an application with incredible potential for outreach."