As FEMA recommends, a family should have a "go-kit" for an emergency, make a plan, and stay informed.
By Dana E. Boccio, Ph.D., Assistant Professor, Derner Institute of Advanced Psychological Studies
Mental illness is extremely common, with approximately 1 in 5 adults experiencing a mental health condition each year.  Despite the statistics suggesting that most of us will be touched by mental illness in some way—whether it be personally or through our relationships with family, friends, and coworkers— talking about mental health can be challenging.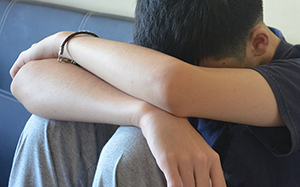 Stigma continues to interfere with open discussions surrounding psychological difficulties.  Ask yourself this:
Would you know if others around you are struggling with mental illness?
Do you talk with others in your life about your own mental health? Their mental health?
Would you feel comfortable sharing with others that you had a mental health problem?
Starting a conversation about mental illness can illicit discomfort, but it can be the first step in directing a person to resources that may be of help.  Considering that less than half of adults in the U.S. with a mental health condition received psychological services last year, such conversations can serve as a critical starting point for intervention. 
Similarly, talking about suicide can be anxiety-provoking, but starting this conversation could save a life.  More than 40,000 Americans die by suicide ever year, and 90% of these individuals had a diagnosable mental disorder at the time of their death.  Suicide is preventable if the warning signs are noticed and appropriate psychological assistance is provided.  The following recommendations may prove helpful in initiating a conversation about the possible experience of suicidal thoughts (also termed "suicidal ideation").
Do
Don't

Be direct – ask directly about any thoughts of suicide.
Calmly gather information. Get details – explore if the person has a plan, how specific it is, access to means, previous suicide attempts.
Reflect the person's concerns and let him or her know you care.
Communicate hope – ask if anything has helped before.  Emphasize the person's worth and previous coping skills.
Highlight alternatives to suicide.
Create a specific action plan that connects the person to helpful resources (e.g., counseling center).
Follow up.

Worry that you're going to plant ideas in a person's head by asking about thoughts of suicide.
Appear judgmental, act shocked, or lecture the person.  Asking, "How could you even think about doing that?" is not helpful and will only shut down the conversation.
Minimize their concerns or provide false and flippant reassurance (e.g., saying "Everything will be fine" can come off as dismissive).
Be sworn to secrecy.  This is a not a secret that should be kept.
Don't let feelings of embarrassment, shame, or discomfort interfere with having a conversation that truly matters.  For more information about suicide, including important warning signs that may signal impending suicidal behavior, check out the following websites:
The American Association of Suicidology
The American Foundation for Suicide Prevention
The Suicide Prevention Resource Center