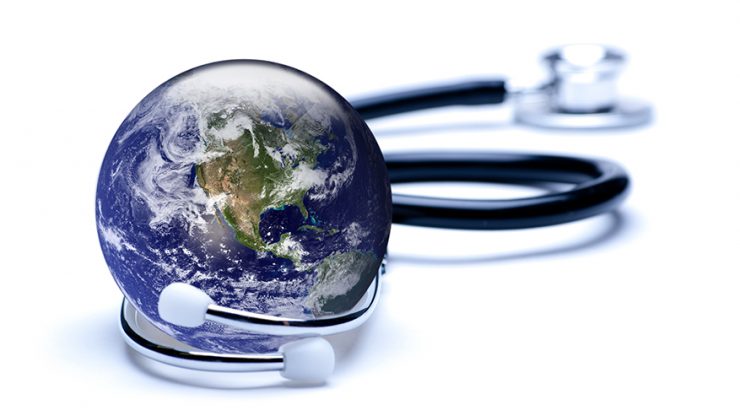 The COVID-19 pandemic—and the more recent rise of monkeypox—have brought an often overlooked field into sharp focus: public health. At Adelphi, the work of our Master of Public Health (MPH) students and faculty has become even more important , and they have stepped up to serve.
Our students worked at the Department of Health in New York throughout the crisis, assisting in contact tracing, epidemiology and emergency management. Faculty members worked with organizations nationally and internationally and have emerged as public authorities quoted by news organizations.
Now the MPH program has earned recognition as one of the country's premier programs. In June, it was accredited by the Council on Education for Public Health, an independent agency overseen by the U.S. Department of Education. Cited for its success in identifying, preventing and solving community health problems, it is one of only a handful of accredited programs in New York state.
"This accreditation highlights the high quality of the curriculum design and the educational experience of the students," said Maria-Pilar Martin, MD, director of the MPH program and assistant professor in the College of Nursing and Public Health. "It also opens up important opportunities for students."
With this accreditation, students can now apply for federal fellowships at the Centers for Disease Control and Prevention (CDC) and they can take the Certification in Public Health regulated by the National Board of Public Health Examiners.
New programs for new public health needs
The program's success is leading to an expansion of offerings designed to meet the growing need for public health professionals.
A new online MPH program will launch in Spring 2023, bringing educational opportunities to students and professionals across the country.
"We're really trying to reach a specific sector of the population: high-level professionals who don't have time to travel to campus," Dr. Martin said. "We're making the MPH program more accessible to them."
Adelphi is also launching a dual degree, pairing the MPH with a Master of Applied Mathematics and Data Science. This will provide students with specialized training in the growing field of epidemiology and biostatistics.
"Our students will be completely prepared to work in data analysis and research across different settings like healthcare organizations, pharmaceutical companies, departments of health and the CDC," Dr. Martin said. "The dual degree will also allow us to apply for grants in these high-demand fields."
The MPH curriculum has also evolved to support students' growing interest in pandemic-related areas. For example, students can take elective classes in epidemiology, as well as earn certificates in emergency management and community health.
"Nationwide certification allows students to further build their studies in these areas, which helps when they apply for jobs," Dr. Martin said. "We have current students that are working with the local department of health in part-time positions just supporting pandemic activities."
Advocating for public health during the pandemic
Adelphi faculty members played a critical role as public health advocates during the height of the COVID-19 crisis.
In Spain, Dr. Martin worked with the Spanish Medical Association and the Spanish Society of Epidemiology to recruit and screen qualified healthcare volunteers in disease prevention. In Ecuador, she conducted COVID-19 research among indigenous populations.
She also conducted qualitative research with focus groups in the Hispanic community in central Queens, New York. "It was one of the most enlightening and rewarding experiences," she said, "getting their perspectives and learning about the barriers to accessing healthcare among segments of the population that are voiceless."
K.C. Rondello, MD, University epidemiologist and clinical associate professor in the College of Nursing and Public Health, also worked with government officials on disaster planning and established himself as an authority on public health over the past few years.
"Public health has been and always will be at the center of human beings' health and wellness," Dr. Rondello said. "While the pandemic has brought public health to the forefront of the public's attention, this is work that has been done for hundreds of years."
Adelphi's MPH program will continue to build on those years of impact and experience, fostering new opportunities for leadership—at home and abroad—in the increasingly vital field of public health.