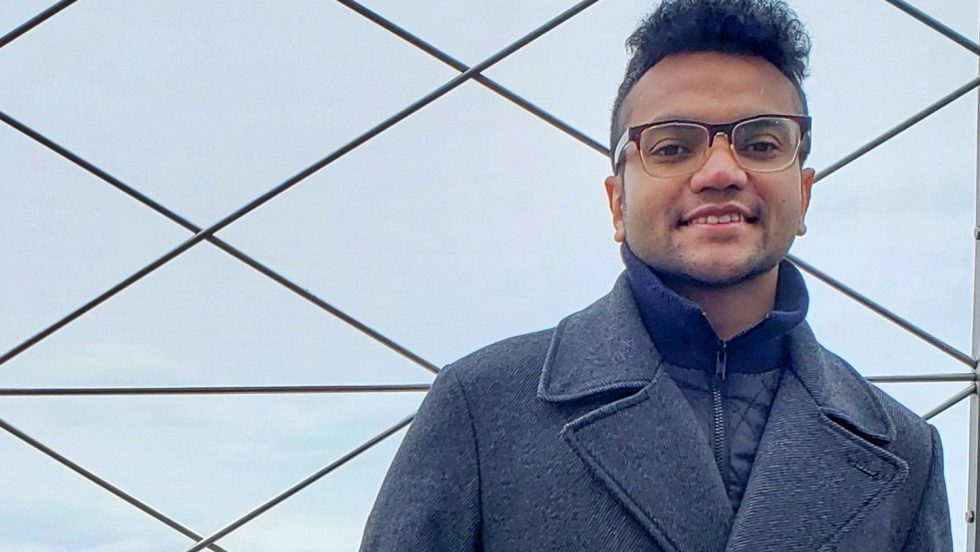 Five student entrepreneurs pitched their business ideas in a virtual Shark Tank-style competition hosted by the Robert B. Willumstad School of Business.
Five student entrepreneurs from Adelphi University on April 30 in a virtual Shark Tank-style competition hosted by the University's Robert B. Willumstad School of Business. The contestants pitched their business ideas via Zoom to a panel of five judges in hopes of winning $11,000 in cash prizes.
Adelphi students Elena Garcia (Maven Media), Duc Le (Roommate Exchange), Abie Rawad Akhand (Eden), Samrat Malik (Auto Fire Hazard Control System) and Gabriel Balestero (Mind Sports Training) vied for an attempt to get their business plans off the ground, each of them eyeing the grand prize.
The competition opened up with a two-minute elevator pitch from each of the students, who tried to sell the idea of their business plans to "sharks" Pawneet Abramowski, MBA '07 (founder and principal, PARC Solutions LLC), Andy Bailen '78 (managing director, 3Pe Consulting LLC), Anita D'Amico, PhD '84 (CEO, CodeDx, Inc.), Graziela Fusaro (director, Adelphi University Innovation Center) and Michael Hurley '06, MBA '09 (senior strategic account manager, App Annie). Michal Davydov, a finance major at Adelphi, served as moderator for the event.
The elevator pitch was followed by the presentation of business plans. The sharks wasted no time and asked the contestants their share of tough questions, requiring projections and explanations on situations of business hardship. Only three of the students won prizes after being judged by the sharks, but they all made a great impression and found the competition to be a worthwhile experience.
"In my opinion this program must be implemented in more and more schools," said Malik. "This made me realize what it is to be in the shoes of a person who is beginning to start up a business, and what amount of research and dedication it takes to get things right."
Malik won the best two-minute elevator pitch in addition to winning third place overall. Garcia came in second. The grand prize of $5,000 was awarded to Akhand, whose business plan idea, Eden, blew the judges away.
Eden is an all-inclusive online marketplace for services. It stands to be a platform where users can find high-quality services at the lowest possible cost, all enabled by proprietary technology powered by Augmented Reality. Eden is a revolutionary idea that will reshape how e-commerce is thought of.
"I've always dreamed of changing the world with my technology and I am honored to be recognized for my vision," said Akhand.
Being devoted to his local community, Akhan has served in multiple leadership positions on and off campus. He plans on continuing his education at Adelphi for graduate school, studying finance.
"I'm extremely passionate about our school and love to represent all Adelphi has to offer," said Akhand.