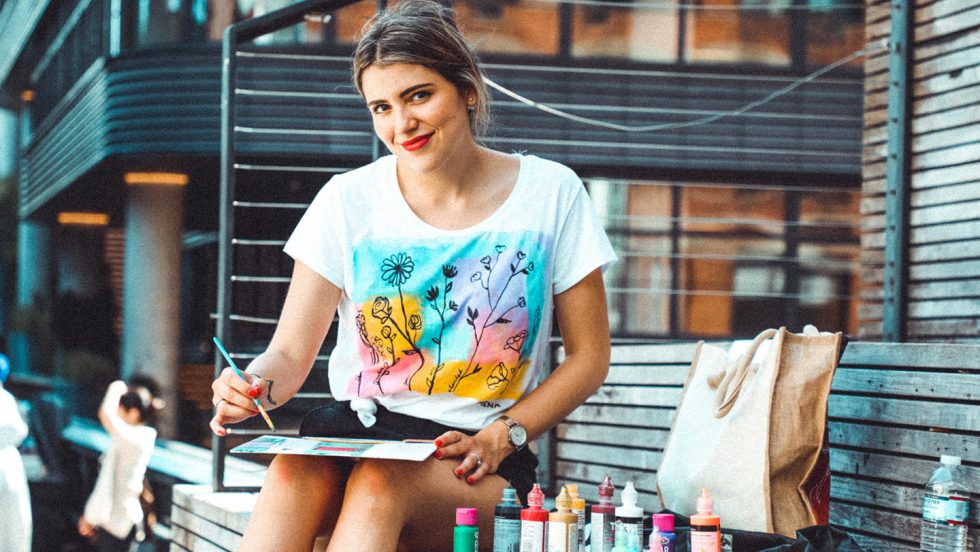 Alma Lorena Monreal Munoz is a painter and designer who has been honored as a young entrepreneur in her hometown of Hermosillo, Mexico. She's also a winner of this year's You Are Welcome Here Scholarship, coming to Adelphi for our five-year BBA/MBA program.
The big skies, golden light, colorful plants and exotic animals of the Sonoran Desert live large in the artwork and imagination of Alma Lorena Monreal Munoz.
Growing up in Hermosillo, Mexico, Monreal, 21, would ride her horse into the desert surrounding the city and admire the array of native creatures against a backdrop of vibrant sunsets. When she started painting as a child, those are the images that flowed so naturally onto her canvases.
Three years ago, Monreal combined her love of painting, the desert and fashion into a business when she launched her own line of hand-painted apparel and accessories. She painted prickly pear cactus, deer, desert flowers and more on shirts, denim jackets and bags. She rented a booth at a craft market in her hometown and sold her merchandise on weekends.
Customers snapped up her colorful creations. She did so well that the Instituto Sonorense de la Juventud, a local enterprise and youth development organization, recognized her as a successful young entrepreneur and, a year later, honored her at a ceremony for women entrepreneurs. "Being acknowledged was great for me," she said.
Monreal got attention in the United States, too: She received Adelphi's You Are Welcome Here Scholarship for international students. The award is given annually and is renewable. It covers at least 50 percent of a student's tuition. This fall, she's moving to New York and entering Adelphi's five-year BBA/MBA program to study accounting.
While she loves art, she says she never intended to major in it.
"I always wanted to study something related to business, and when I learned more about accounting, I really liked it," Monreal said.
Her goal: She plans to use the business skills she learns to market and produce her art.
An Artist Learns to Love Accounting
This won't be the first time Monreal has been to New York. Her family has friends in Merrick, New York, on Long Island, and throughout her teen years she would come to the United States for long summer stays with them. Last summer, while there, she took a continuing education art class at the School of Visual Arts (SVA) in Manhattan.
Monreal painted live models at the school's studio and plein air streetscapes around Manhattan. Even though she's been painting her entire life, the SVA class was the first time she's ever received formal art training.
"It was such a great experience," Monreal said. "I was able to paint, see the city and work on my language skills. It made me want to move to New York."
Her family friends suggested she study at Adelphi and took her for a campus visit. Monreal liked what she saw.
"I loved the diverse student body and how they included international students and the events they create to have a campus full of activities," she said. "When I realized they have a five-year MBA in accounting, I knew it was for me."
On a Path to Being a Businesswoman and Artist
Monreal is still painting her apparel line and selling it on Instagram at @mena.paintings. She'll keep doing that while she's in college, although she'll be far from the market in Hermosillo. She also plans on taking more weekend classes at SVA once she gets into the college groove at Adelphi.
Monreal will live with her friends in Merrick and commute to Adelphi's campus in Garden City. She will miss Mexico, but is looking forward to living in New York.
"I am excited for what is coming," she said. "I think there are a lot of opportunities and things to learn. It will lead me on the best path to integrate being a businesswoman and an artist."
Once she graduates, she wants to combine her skills into a two-country existence where she has a studio in New York and a retail store in Hermosillo, selling her line of products at both locations.
"That way I can always stay close to my family in my hometown and sell internationally," she said. "I can have Mexico and New York—two places I love."