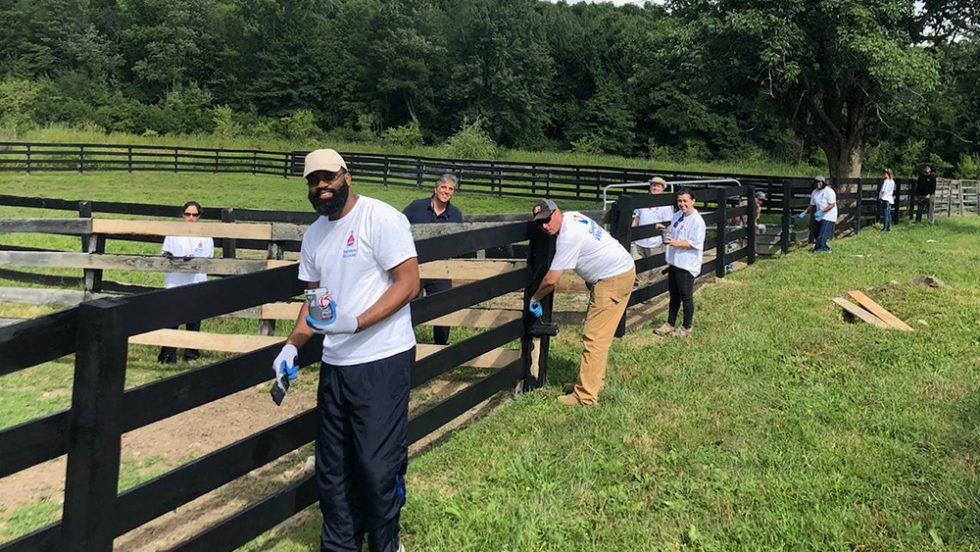 Graduate student and Air Force veteran Gavin Walters is not only doing research on the disparities in VA benefits offered to veterans—he runs a nonprofit that assists former service members who have mental health issues.
Gavin Walters, a graduate student in social work, had dreamed of being in the Air Force since he was a teen. He was in ROTC in high school, and joined the service as soon as he graduated.
But soon after enlisting, Walters began having seizures. He was medically discharged in 2003, 10 months after joining. More than 15 years later, he still suffers from headaches and fatigue.
The kicker: "It took me 10 years for the Veterans Administration to award me my benefits," he says. "That's a short time compared to some veterans who have waited much longer."
The experience changed his life and his priorities, giving him a new mission: helping veterans like himself.
Walters, 35, now runs a nonprofit called Veterans Bridging Communities (VBC) that assists vets with mental health issues. He and two other veterans, Jessica Bugbee Porro and Marc Kobierowski, founded the organization in 2018. He also works full time as a case manager for the Westchester Community Opportunity Program, where one of his duties is finding affordable housing for veterans.
His research project for his master's degree in social work at Adelphi's Hudson Valley campus focuses on veterans, specifically the benefits the U.S. Department of Veterans Affairs (VA) offers reservists and National Guardsmen, as well as the reasons those vets don't use benefits they qualify for. His own experience in the military and as a caseworker has shown him how important VA benefits are and how hard they can be to get.
"I wanted to track the difference and maybe find a solution," he says.
Walters interviewed 25 veterans and found that only about a quarter of them had used housing assistance benefits, like VA loans. Walters says they didn't understand the benefits or know they were eligible, or they weren't clear on how to apply.
"The best way to help would be to work with collaborating agencies and veterans' programs to educate military personnel," he says. "They say knowledge is power, so when you inform people about what matters, you are informing them about their future."
Walters presented the findings of his research at this year's Research Day at Adelphi.
Beyond his studies, Walters spends a lot of time working on Veterans Bridging Communities, his nonprofit that puts veterans suffering from mental health issues to work on projects in and around Clintondale, New York, where Walters lives. Right now VBC is cleaning barns and repairing fences at the SquirrelWood Equine Sanctuary in Montgomery, New York, which rescues, rehabilitates and re-homes horses and other farm animals. The animal sanctuary helps people, too, through equine-assisted therapy for veterans and their family members.
Walters swings a hammer and wields a shovel at the farm alongside the other vets. He says the combination of fresh air, companionship of fellow vets, interaction with the community and the soothing presence of animals is good for the psyche.
"We provide an environment that lets vets and the community enjoy a shared cause," Walters says. "[A vet] may have social anxiety or PTSD, but when they are around animals, there is an unspoken bond, a healing and calming connection."
Vets aren't Walters' only cause. In 2015, he formed the Changing Hearts Organization, Inc., a nonprofit that helps at-risk teens in the New York cities of Mount Vernon and Wappingers Falls by providing them with school supplies and college scholarships.
"Some of these kids didn't even have pencils and paper. They were struggling to do well in school while experiencing life challenges," Walters said. "Why not give them a chance?"
Walters said Adelphi has supported him in ways other educational institutions haven't.
"Before I came to Adelphi, I went to two different online colleges. I didn't do well because of my health and the disconnect I felt, sitting there alone at a computer with no support," Walters said. "Adelphi gave in-class interaction and support from my professors. They knew my name and cared if I succeeded."
That support has been invaluable, he said. "It helped my self-confidence, and it's helping me reach my goal of getting my degree."
After graduation, Walters wants to help senior citizens in addition to teens and vets.
Walters is working on a proposal to build affordable housing for the elderly in Clintondale that would have on-site access to eligible services and benefits.
"It would be one-stop shopping, a combination of affordable housing and a senior center," Walters said.
"Helping others gives me strength," he continued. "It's what gives my life meaning."