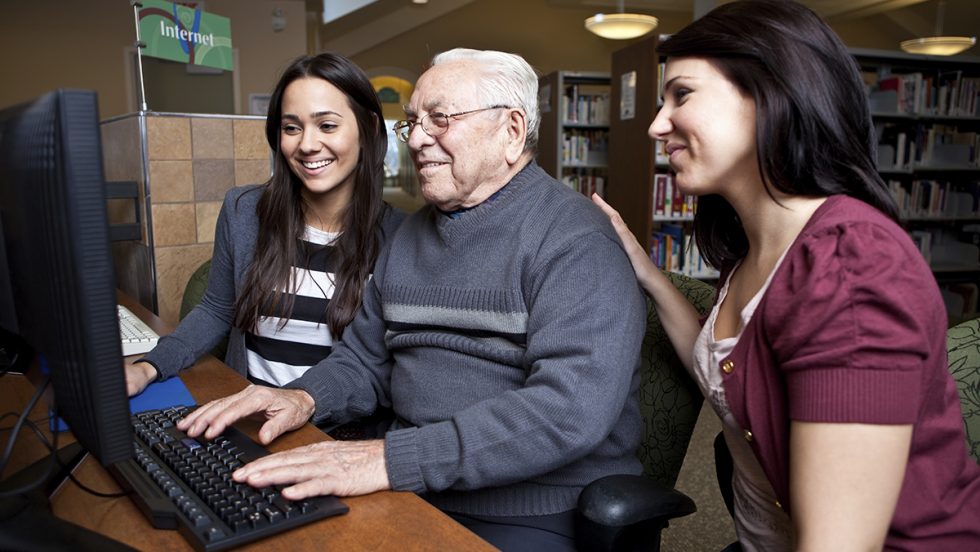 A generous gift to our School of Social Work will help graduate students gain knowledge and practical experience in the field of gerontology.
The data is clear: America is turning gray. And Adelphi is rising to the challenge.
The percentage of the population over the age of 65 has more than doubled in the last century, creating an acute need for social workers who specialize in assisting older adults. The new Goidel Gerontology Fellowship in Social Work seeks to fill the gap. It's a unique program that encourages students who are pursuing a Master of Social Work (MSW) to work in the field of aging. The Goidel Fellowship, the first of its kind in New York state, will support up to 10 MSW students per year.
"I wanted to incentivize social work students to pursue a track in geriatrics and gerontology because many students go into this discipline thinking they want to deal with children," said Wendy K. Goidel, JD, the sponsor of the program and a founding and managing member of Goidel Law Group's Estate Planning and Elder Law Center. "We want to educate students about the benefits of working in gerontology, as there's an alarming shortage of professionals in the field of geriatrics at a time when this demographic is the largest-growing one in the United States."
The Silver Tsunami
In the 1980s, just one in 10 Americans was over the age of 65. By 2030, one in five Americans will be over the age of 65. And by 2070, nearly a third of the population will be over the age of 75. The number of professionals trained to care for older adults has not come close to keeping up with the need. "A recent study found that 70 percent of social workers had worked with older adults, but only 14 percent had special training in geriatrics," said Daniel Kaplan, PhD, associate professor of social work at Adelphi.
That's a problem because older adults have needs that fall outside of traditional MSW training. "There are a lot of mental health, health, social, economic and housing-related issues that are quite unique for older adults. Providers need to have an awareness of all of that in order to provide competent care," Dr. Kaplan said.
One of the goals of the Goidel Fellowship is to show MSW students that working with older adults is rewarding. "Students hear about gerontology as a specialty and they say, 'Wait, does this mean I'm going to be always working with people who are dying?'" said Brad Zodikoff, PhD, associate professor of social work at Adelphi. "Certainly death is a part of aging, but most older adults are living very long lives. They're keen on aging in place in the community and they're trying to live their best life. As a social worker, you can help them do that."
Specializing in gerontology doesn't necessarily mean that one will work exclusively with older adults, either. "Older adults don't exist in a vacuum. They're part of the family system," said Philip Rozario, PhD, interim dean of the University's School of Social Work. "A social worker will be dealing with a group of people connected to the older adult, including their adult children and their grandchildren."
The Goidel Fellowship additionally aims to bring visibility to older adults and their needs. "Older adults are overlooked, which is a problem in our society and societies all over the world," Dr. Kaplan said. "We want students to realize you can build a fulfilling career working with older adults. Not everything about aging is negative."
Stipends, Speakers, Internships
Goidel fellows will receive $2,000 stipends for the year they're in the program. They'll take three electives that focus on gerontological care, including a survey class on issues faced by older adults, a course on practice in healthcare settings, and a course that focuses on dementia and other cognitive impairments.
They'll attend monthly colloquia with guest speakers who address topics related to gerontology. The inaugural slate of speakers will cover topics like geriatric psychiatry in emergency room settings, long-term care, and participatory arts interventions for people with dementia. "We're giving our fellows the chance to study issues affecting older adults deeply so they'll be competent in their work in the future," Dr. Rozario said.
Goidel fellows will also get field experience. Wendy Goidel currently has an Adelphi MSW student interning at her law firm, which includes a licensed clinical social worker, Connie Wasserman, on staff. "Doing geriatric social work isn't just about working in an agency, hospital or nonprofit setting," said Wasserman, who works with clients to provide a holistic approach to elder law and estate planning . "There are so many other avenues in which a master's degree can be valuable and where students can achieve a much greater return on their educational investment."
The initial cohort has eight fellows, and the school hopes to increase participation in the future.
"We are in the midst of a radical transformation in our society's demographics," Dr. Kaplan said. "Every industry, the government and all of us have to figure out how to take advantage of what older adults have to offer our society and how we meet the needs of these older adults."
The Goidel Fellowship will produce social workers who can help answer those questions. "We need to prepare our students for the world of work they will be facing as professionals," Dr. Kaplan said. "Teaching them to deal with an aging population has benefits that help all of our society."