Edith Calhoun, M.S.W. '57, D.S.W. '82, helped countless underserved students get a "Head Start".
"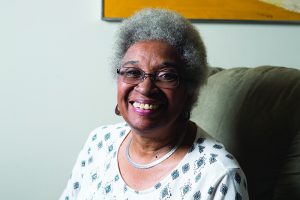 It was a little scary," said Edith Calhoun, M.S.W. '57, D.S.W. '82, about being raised in the segregated South. "You knew there were boundaries and you had to be brave." Those words epitomize this woman who found the courage to overcome obstacles to forge a career in social work that expanded the Head Start program and earned her a 2017 Lifetime Achievement Award from the National Black College Alumni Hall of Fame.
Courage to stand up for what's right runs in Dr. Calhoun's family. Her father was a prominent Baptist minister who fought against segregation in public schools and allowed the NAACP, at the time considered a radical group, to use his church for meetings.
Her mother was a teacher and social worker who attended Spelman College with the mother of a boy Dr. Calhoun refers to as "M.L." and the rest of us call Martin Luther King Jr. "My father and Reverend King were very active in the state Baptist Convention," she recalled.
She remembers the days "the KKK could put in the paper whose houses to drive by" and how she rode segregated trains to get to Talladega College in Alabama, the state's oldest historically black private liberal arts college. She moved to New York for her master's in social work because universities in the South would not allow a black student to enroll in graduate school.
But through it all, Dr. Calhoun never let overt or covert racism derail her mission to improve the lives of children in need.
After obtaining her bachelor's degree from Talladega, she decided to come to New York, and to Adelphi. "I enjoyed my experience at Adelphi," she said. "I liked the people; I liked the teachers. It was just a nice community…a nice atmosphere."
After earning her master's degree, she embarked on a multifaceted and ever-exciting social work career that included working as a psychiatric social worker at Kings County Hospital and 17 years with the New York University (NYU) Institute for Developmental Studies. She returned to Adelphi to earn her doctoral degree and warmly remembers her faculty mentor, Ralph Dolgoff, D.S.W. She then served as an assistant professor in the School of Social Work and as director of graduate admissions at the University.
Pioneering Head Start
Among her many accomplishments was her development of the Parent and Community Involvement program as part of the Institute's research and demonstration program that served as the forerunner of the Office of Education's  Project Follow Through and Head Start, the federal program that delivered educational, health and social services to underprivileged preschool children and their families. Dr. Calhoun served as a consultant to a number of public and private agencies throughout the United States, the Virgin Islands and Panama.
When asked what advice she would give to teachers, social workers or mental health professionals who are just starting out in their careers, particularly people of color, Dr. Calhoun responded, "I think you really have to know who you are, know your history and have a sense of self-confidence. You have to get through painful situations. You have to know your business, your craft. And you have to have a sense of dedication."
As for our progress toward racial equality? "There are still subtle kinds of discrimination, still a lot to be done," she said, adding that while much has changed for the better, "We may have turned the corner, but we have not gotten far off the block."
---
For further information, please contact:
Todd Wilson
Strategic Communications Director 
p – 516.237.8634
e – twilson@adelphi.edu